UPDATE: HgEvo V1.2 is now 95% complete.
The system is running (albeit with CPU and RAM at stock spds) on a daily basis and there are no more major mods or HW changes planned at the moment (4870 will be next GPU upgrade in a few months).
The only work left to do is get the RAM and CPU OC'ed, mod a 5.25" optical drive somewhere into the case somewhere (no rush on this) and possibly get a new side-panel made (the originals
do
fit now so its not really necessary).
I plan on holding off on OC'ing until this Thursday when Intel releases more DTS info for 45nm CPUs. I need time to sort out this new BIOS.
Anyway, here's some pr0n for ya...
Version 1.2:
95% complete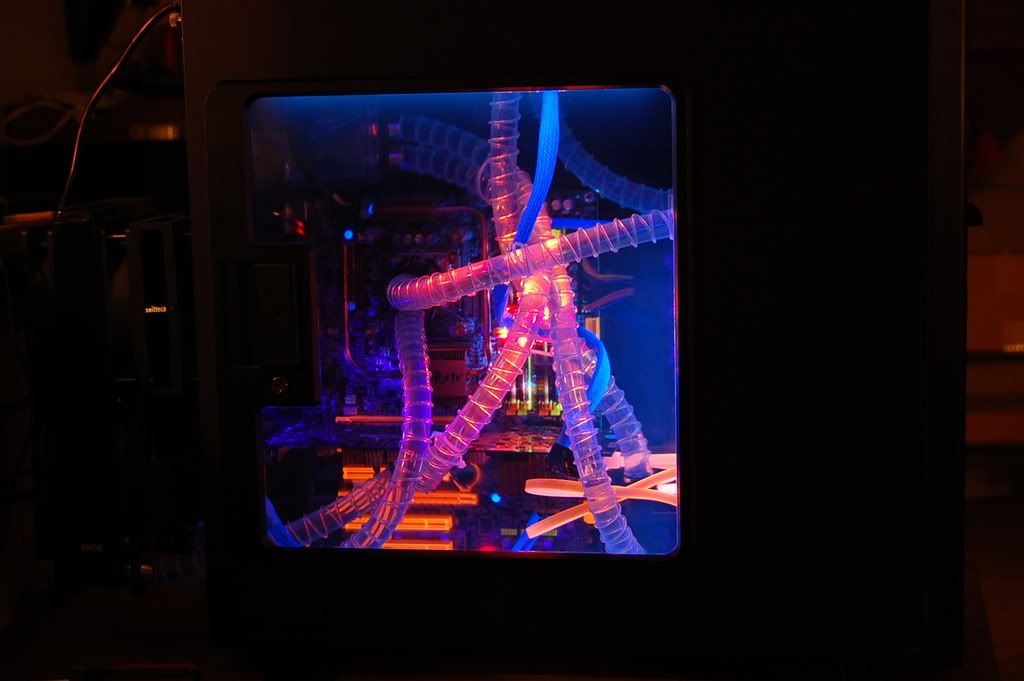 front panel and rad lighting
lights on...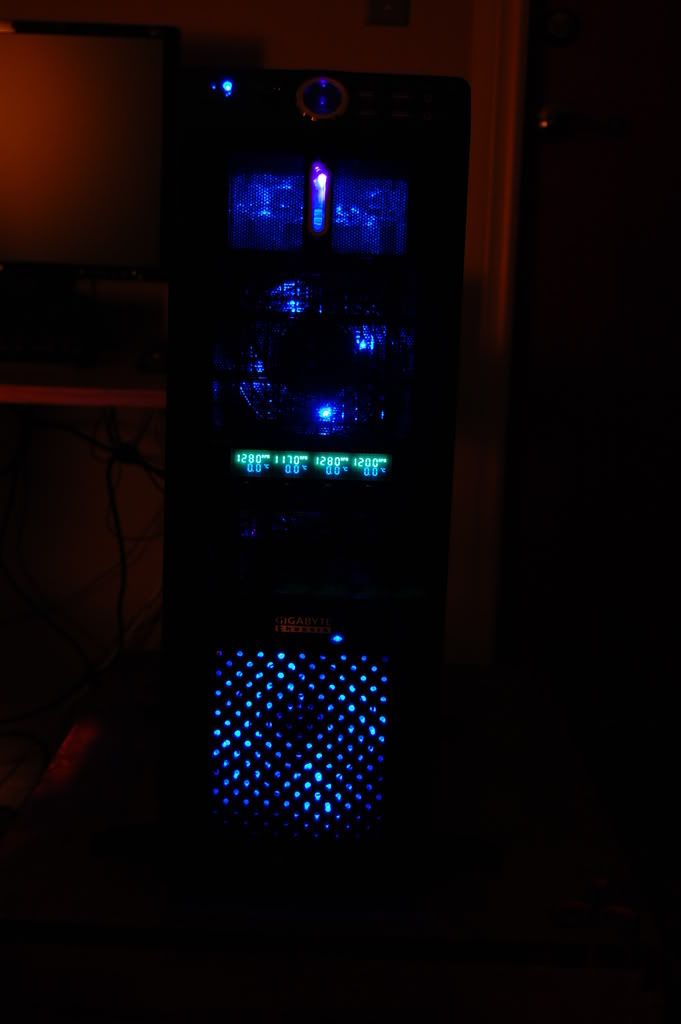 ...and running 'dark'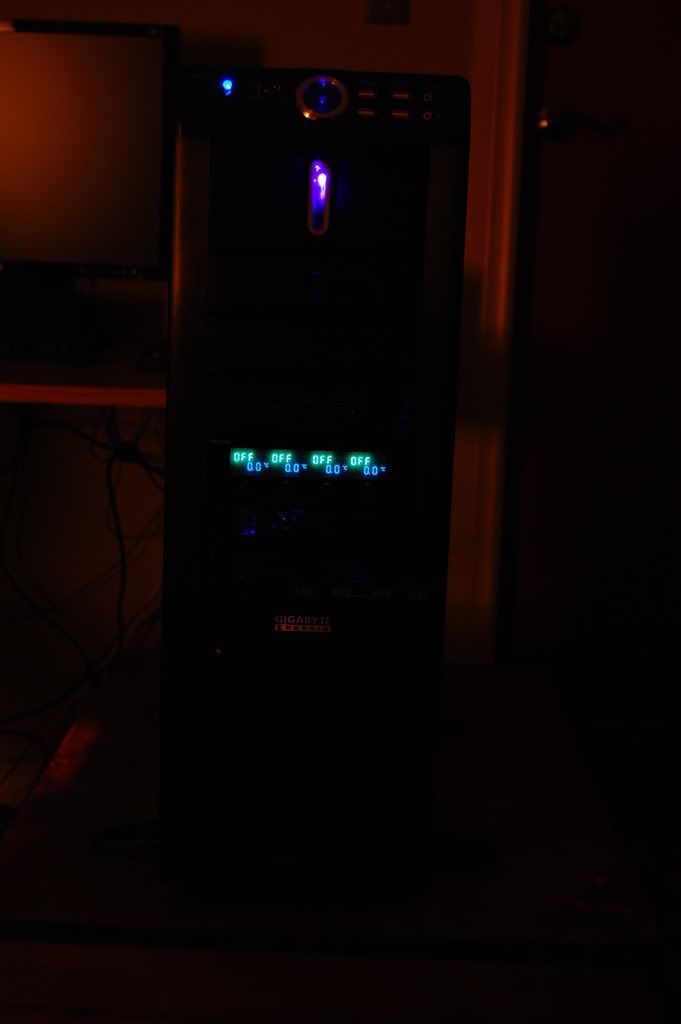 Version 1.1:
completed... (top part was at metal shop at the time of the photo)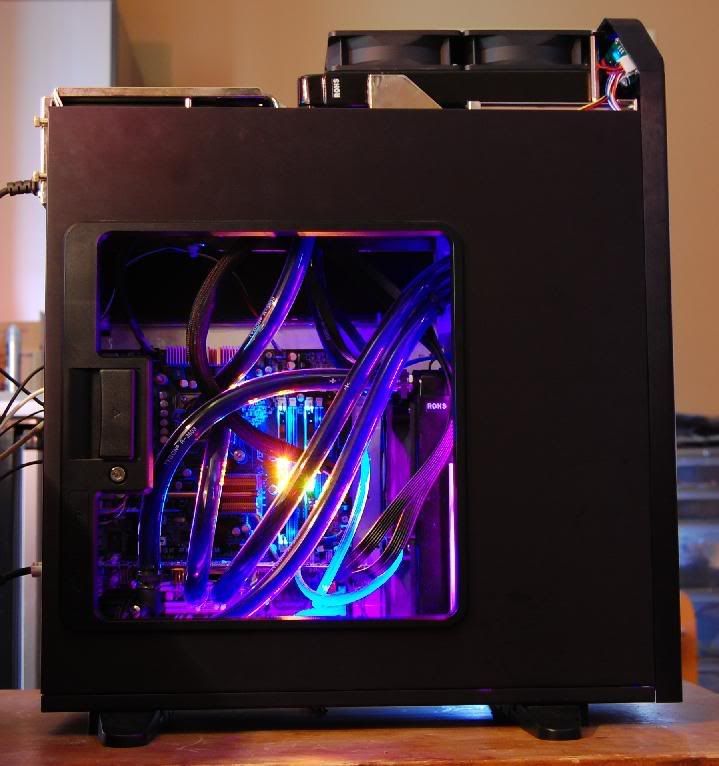 Version 1.0:
original built-in WC system that came with the case...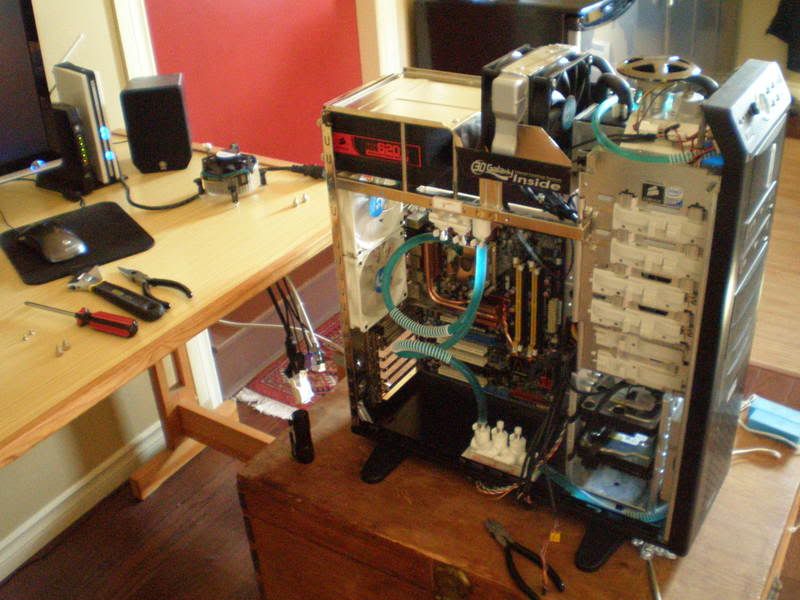 *************************************************
Mercury is an element on the periodic table, it's symbol is Hg. HgEvolution is an appropriate name for this project (last name change, I promise) given its long evolutionary process. It's been more than 6 months since the work started...
To explain the naming process:
This case came with a built-in water cooling loop that was definitely poor quality. The stock cooling system is considered version 1.0.
I designed and built a custom loop for the case which ran well for a 3 months. This loop required some minor mods and the finished product considered version 1.1. This first post covers the entire build of version 1.1 to completion.
It didn't take long for me to plan some upgrades to the loop and more mods to the case. These ideas evolved into version 1.2, which is now almost fully complete. The log commences below...
*************************************************
This is my first work log, as such it may not as detailed and well-documented as some of the logs posted here. Ill try to keep the writing short and let the pics speak for themselves. I finished the first custom loop 2 months ago, during which time I broke my wrist, which is why I didn't post this log at the time... Also I got a new camera (DSLR finally) about a month ago so photo quality improves greatly from that point on!
Built this rig about 6 months ago (2nd ever build, 1st water). I was making good money at the time and I bought this case more for the design and aesthetics than for the cooling system (which is knew was average-mediocre).
Gigabyte 3D Mercury
.
Didn't take to long for me to hate the built-in WC system. I planned a custom loop for CPU and GPU with these parts:
- MCP-655 pump
- Swiftech MicroRES
- DD MC-TDX CPU waterblock
- Swiftech MCW60-R w/ ram and mosfet sinks for GPU
- 2x Swiftech MCR220 rads (Version 1.2 use a MCR120 as well)
- all TYGON 1/2" ID 3/4" OD tubing
- all D-Tek fittings
And so commence the photos...
the stock setup before before work started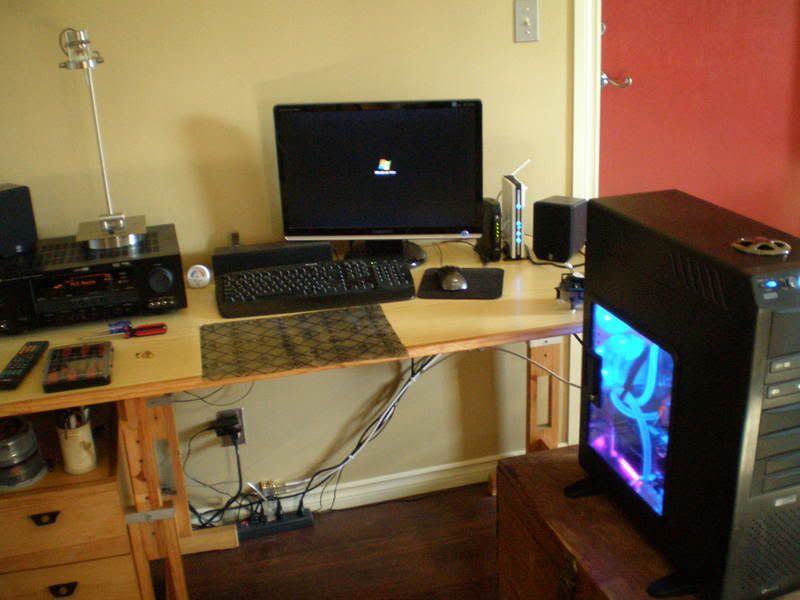 8800GTX with stock cool and Crucial RAM
Just finished draining and removing most of the built-in cooling system: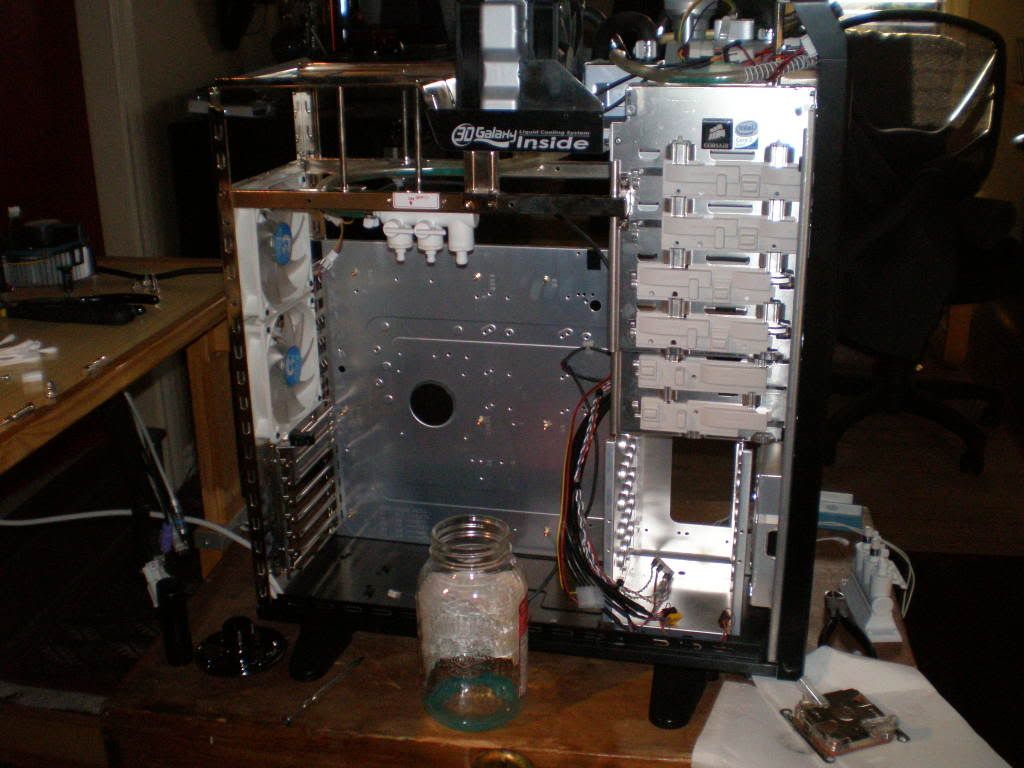 Nasty tubes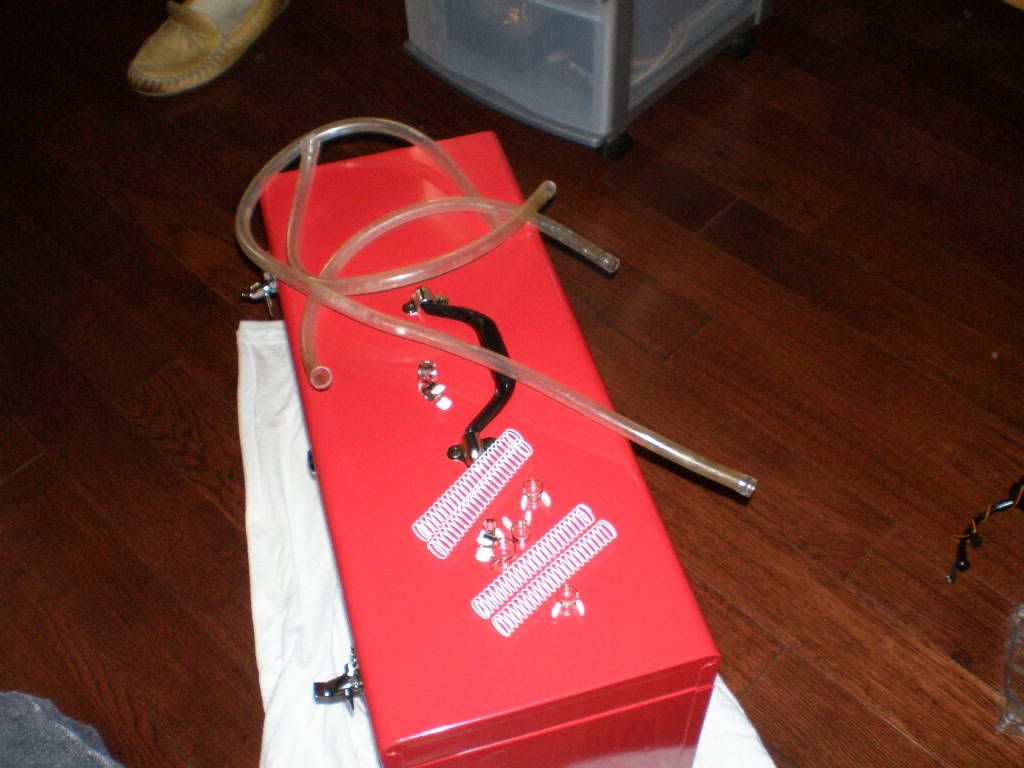 Stripped Mercury case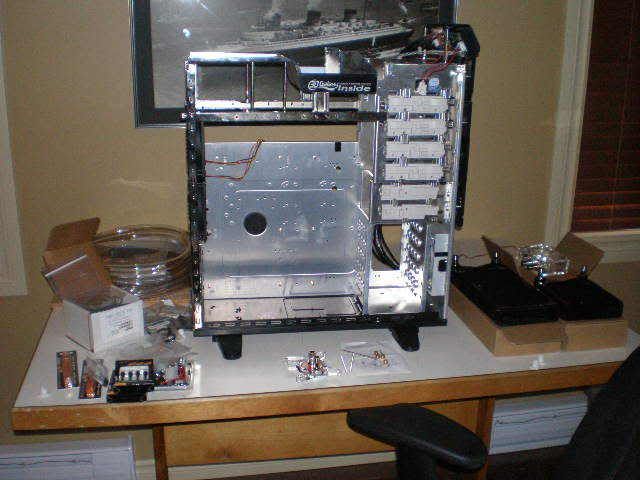 WC parts 1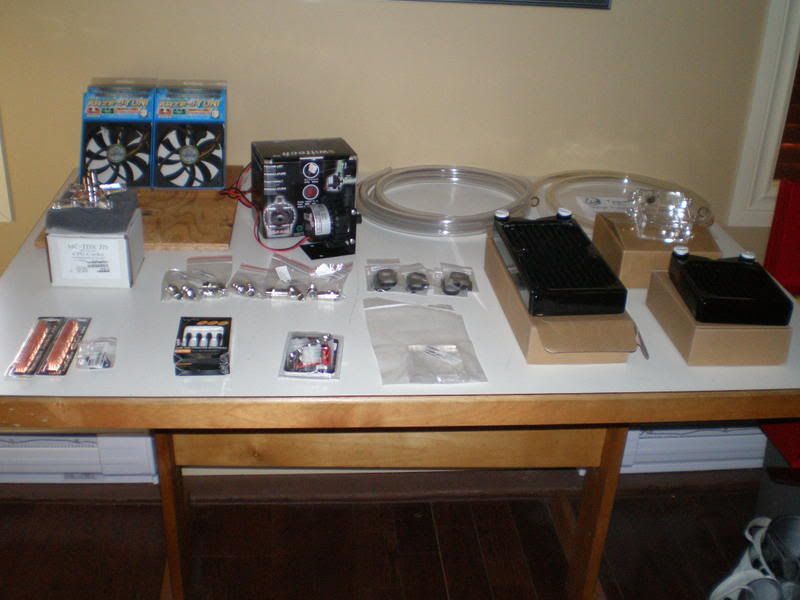 WC parts 2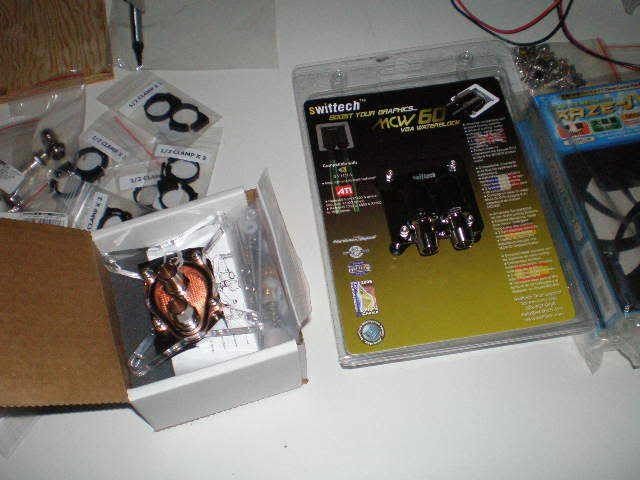 Need some holes cut...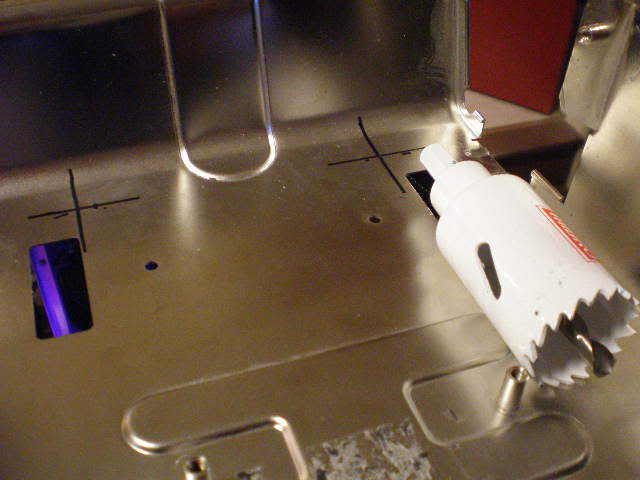 Holes cut, pilot bit broke on the 2nd hole so it skipped around a bit...
Tested out how my loop design would work with cheapo hardware store tubing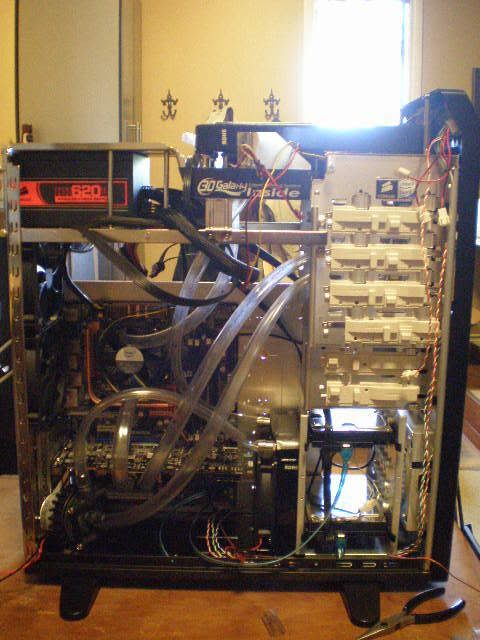 Res placement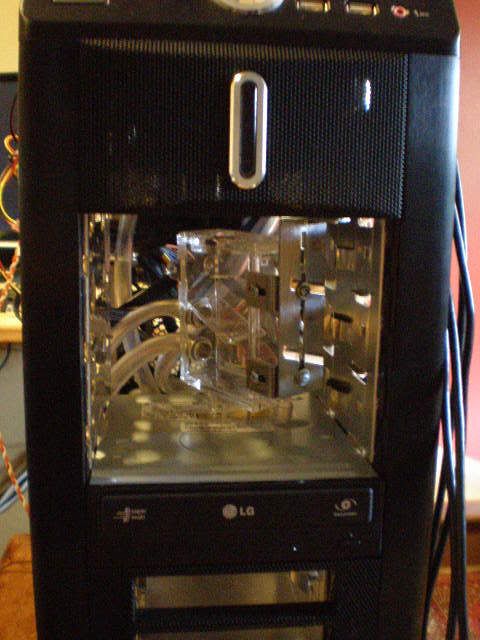 Pump placed with vibration-reduction pad and Tygon starts going in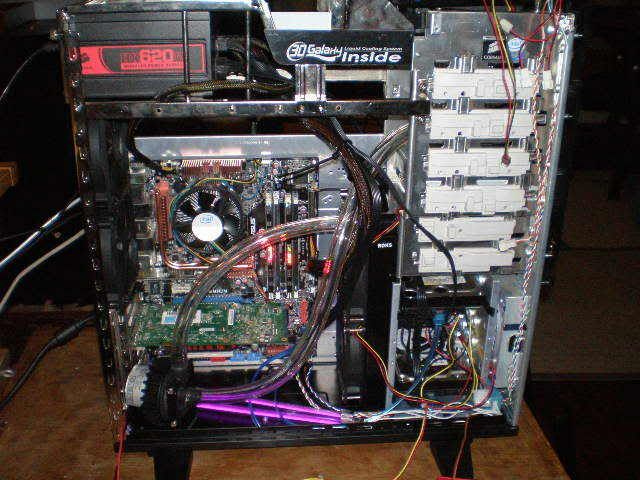 Little more Tygon...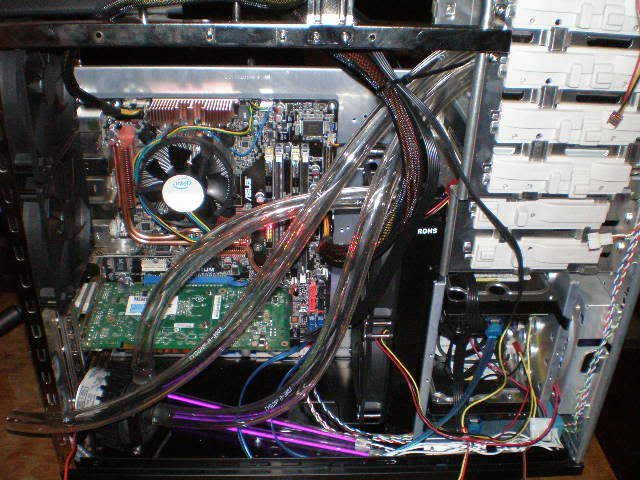 About half the tubing complete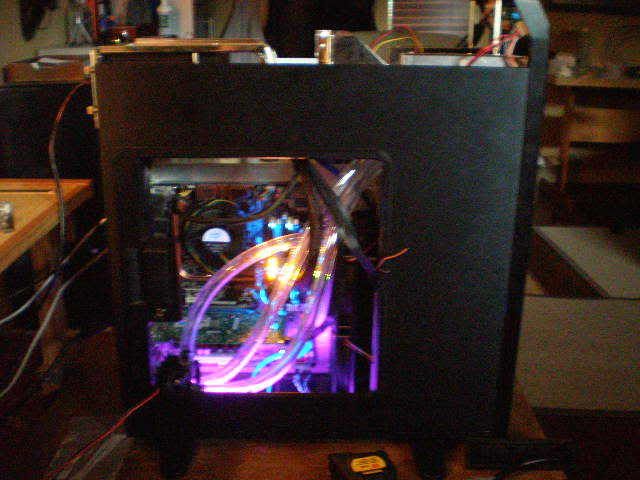 At this point I broke my wrist, so all the rest of the work was done with essentially 1-handed. The thumb on my right (dominant) hand was immobilized by the cast so it was really hard to pick things up or be precise with movements with that hand. Using a screwdriver or pliers was impossible. Anyway, it was tough, but rewarding!
Stripping the GTX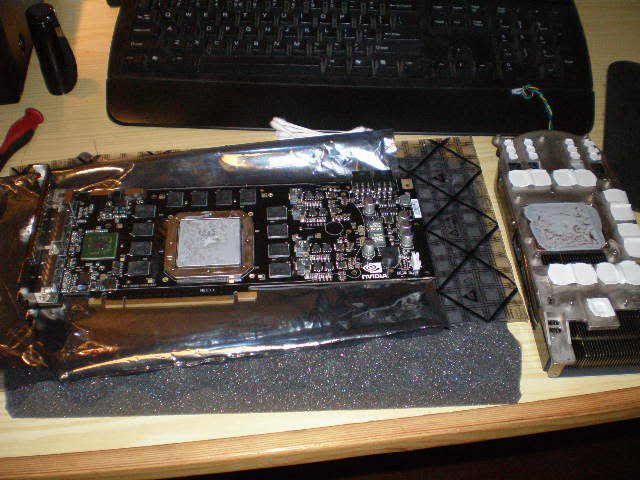 GTX with block and ramsinks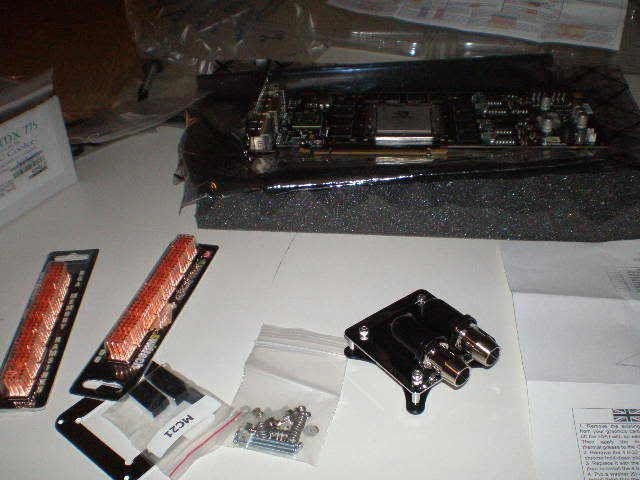 GTX waterblock installation
GPU WB, on prepping for ramsinks (I used a little AS5 and a little Arctic Silver Thermal Adhesive to prevent the ramsinks from falling off)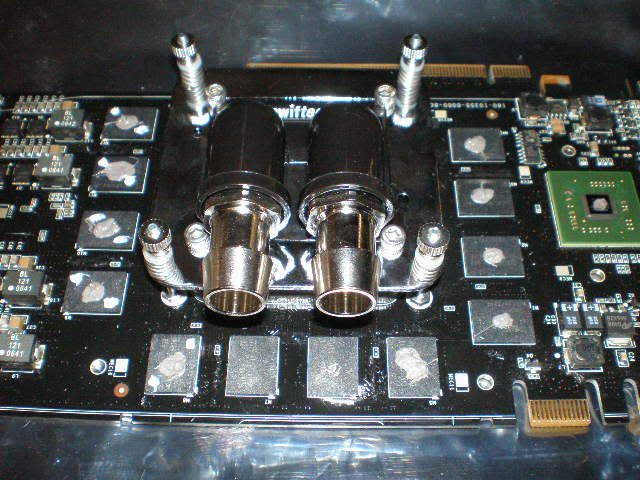 GPU ready to go. I ended up not using the 2 ramsinks right under the fittings, they didn't fit at all with the 3/4" OD tubing. Probably not a great idea to run them without any type of heatsink on them but... oh well. I also removed the GPU waterblock after this point because I needed to test for leaks.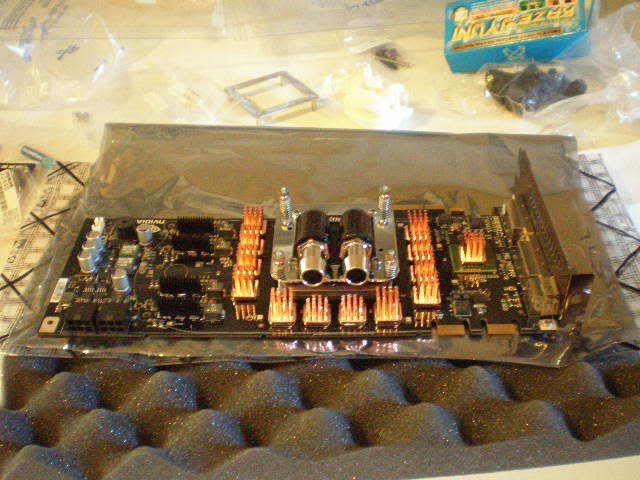 Ready to be filled!
Full and leak testing. I tested for 9hr. No leaks!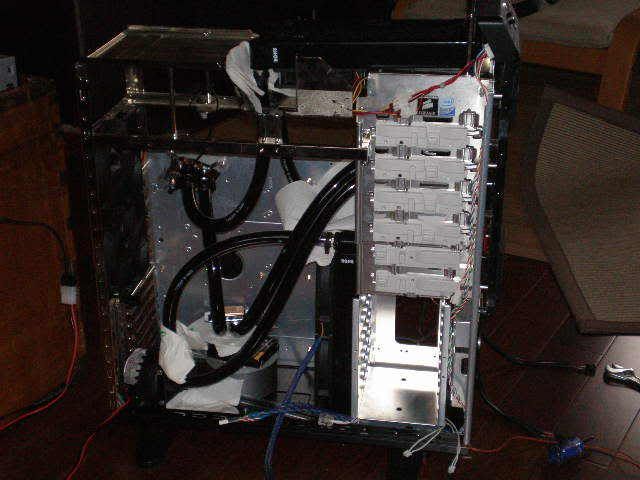 Mobo ready to go in... this is going to be hard. GPU was even harder!
Mobo in finally
GPU in and starting to plug stuff in. This took like an hour. I had a friend helping me but because of the cast I couldn't really get in there to do the job properly...
Running! (as you also might notice this was after i got my new camera)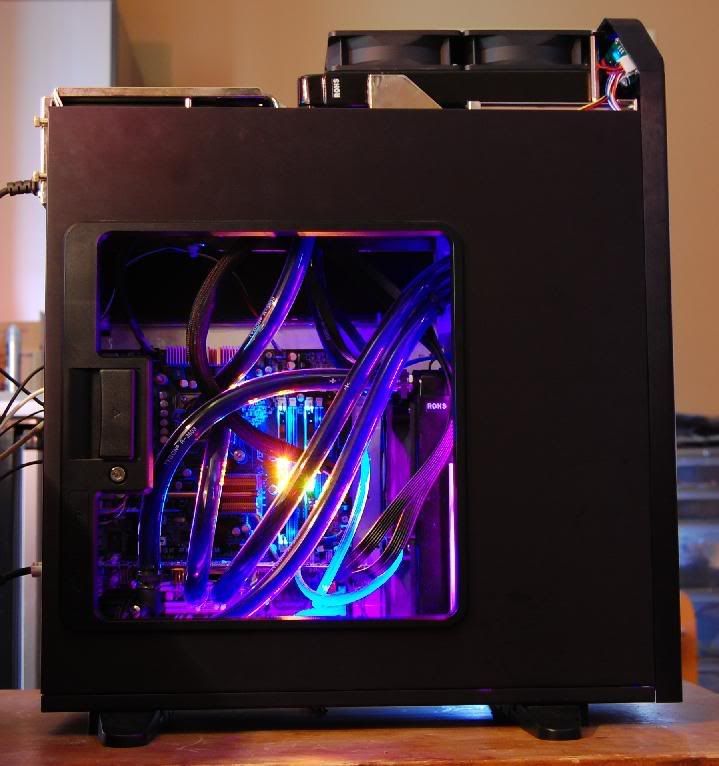 A couple weeks later I finally got the roof part of the case cutout to provide ventilation for the radiator in the roof.
Roof with cutout template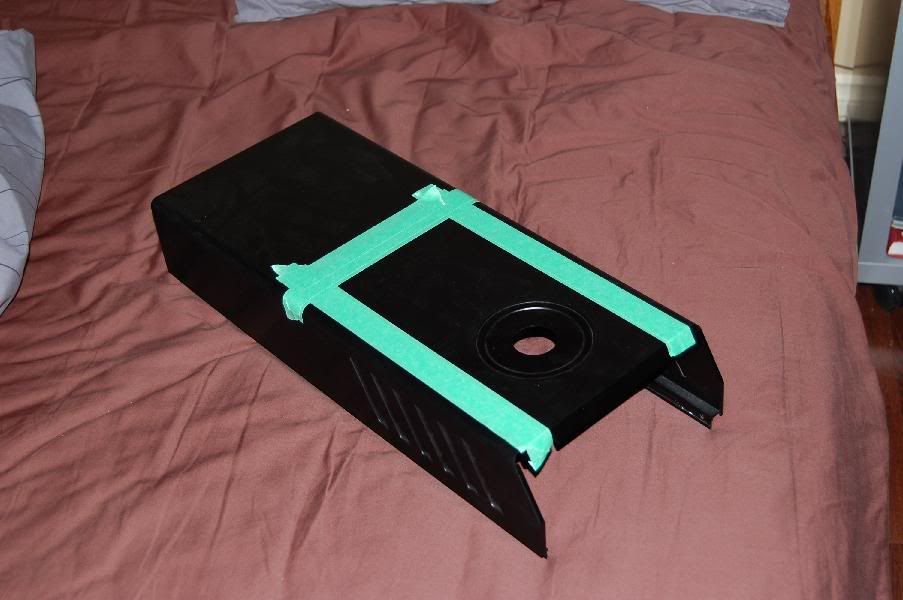 Took the piece to a local sheet-metal shop who cut it with their waterjet machine. Its not perfectly centered with the fans because the case is slightly out of alignment up there but I don't care. The cuts are perfect and they only charged me $45!
Top of case assembled (a little dirty I know)
My plan is to get a custom-made acrylic sheet and mount it on risers above the top fans. The acrylic would be drilled out ventilation holes that match the ventilation holes on the front of the case. A question for someone who has worked with acrylic... If I create a template with all the relevant measurements included, can an acrylic shop copy the template onto a finished piece? I assume they use some sort of router or CNC machine and that a computer controls it, maybe I'm wrong.
This concludes part 1 of this log. Part 2, Version 1.2 has just been begun but Ill end this post here. I will post with updates on V1.2 as I go...
Edited by MCBrown.CA - 10/17/08 at 12:37pm
CPU
Motherboard
Graphics
RAM
920 D0 | 4104MHz@1.23V
Big Bang XPower
5850 | 880/1050
6GB Sector 7 | 1728MHz
Hard Drive
OS
Monitor
Power
F115
W7P64
245BW
SPI Magna 1kW
Case
cardboard (case/loop in prog)
View all
hide details
CPU
Motherboard
Graphics
RAM
920 D0 | 4104MHz@1.23V
Big Bang XPower
5850 | 880/1050
6GB Sector 7 | 1728MHz
Hard Drive
OS
Monitor
Power
F115
W7P64
245BW
SPI Magna 1kW
Case
cardboard (case/loop in prog)
View all
hide details