thanks for the tip about the plastic clamps...
K heres a pic to show placement for the single rad in the front
ive pulled the resevior out of the case and removed the pump from its (extremely) sticky vibration-reducing pad. I had to use a fully extended Xacto knife to cut the pad through the middle then I pulled the pump off... In the photo the pump is in the same place as it was for the build, but its not stuck there.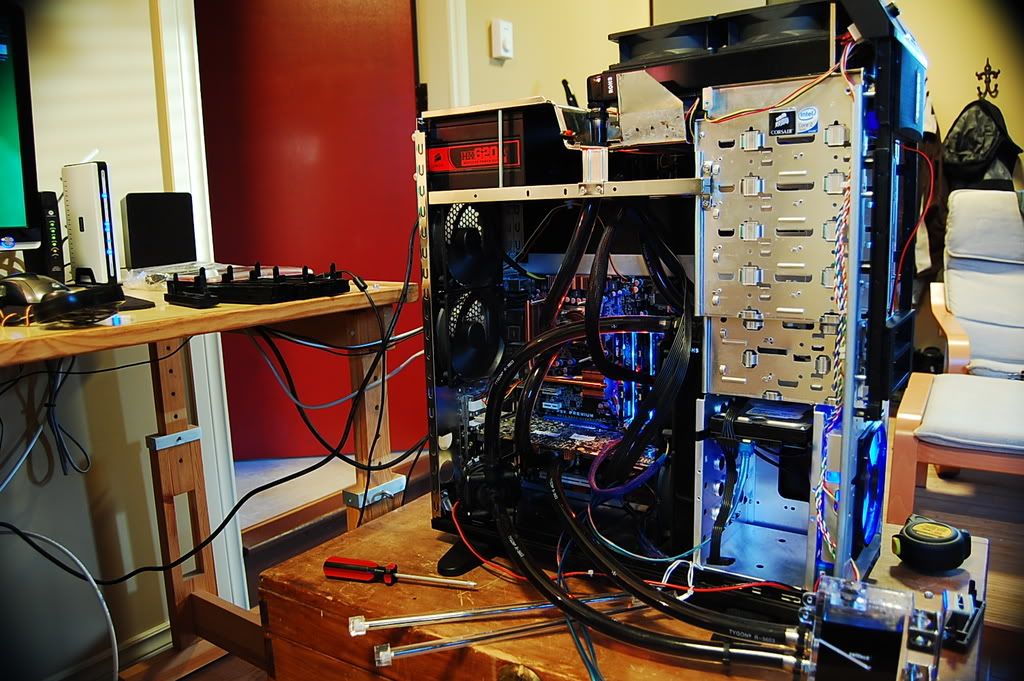 I plan on moving the mobo etc, to my spare case tonight and maybe draining the loop...
CPU
Motherboard
Graphics
RAM
920 D0 | 4104MHz@1.23V
Big Bang XPower
5850 | 880/1050
6GB Sector 7 | 1728MHz
Hard Drive
OS
Monitor
Power
F115
W7P64
245BW
SPI Magna 1kW
Case
cardboard (case/loop in prog)
View all
hide details
CPU
Motherboard
Graphics
RAM
920 D0 | 4104MHz@1.23V
Big Bang XPower
5850 | 880/1050
6GB Sector 7 | 1728MHz
Hard Drive
OS
Monitor
Power
F115
W7P64
245BW
SPI Magna 1kW
Case
cardboard (case/loop in prog)
View all
hide details