Nice work on this bro!!! For a first/second timer, it's pretty darned good!
In regards to this picture: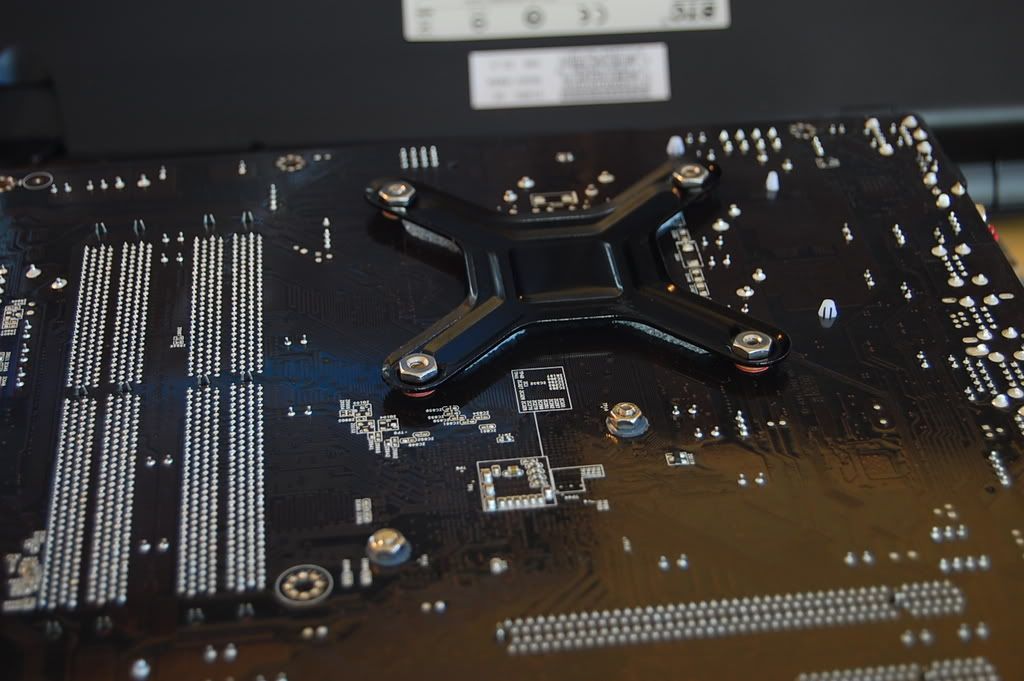 Can somebody please clarify this for me? I believe that the orientation should have this part flipped so that the flat part is flush with the back of the mobo. This not only raises the holes for the bolts(that you ground off) for a more secure connection, but provides a little more rigidity for the CPU block mounting. Well, that's the way I've been mounting my hardware for years. I'm now questioning my methods.
CPU
Motherboard
Graphics
RAM
Intel Q6700 @ 3.6
Asus P5K Deluxe Wifi
eVGA 8800GT KO
4x1GB Tracer PC2-8500
Hard Drive
Optical Drive
OS
Monitor
2x74GB Raptor+1.5TB Samsung F1s
DVD-RW
Vista Ultimate x64
Samsung 22"
Keyboard
Power
Case
Mouse
M$ Elite
FSP Group (Fortron) FX Series FX700-GLN-E
Antec 900 (CyberDruid Custom)
M$ Elite
View all
hide details
CPU
Motherboard
Graphics
RAM
Intel Q6700 @ 3.6
Asus P5K Deluxe Wifi
eVGA 8800GT KO
4x1GB Tracer PC2-8500
Hard Drive
Optical Drive
OS
Monitor
2x74GB Raptor+1.5TB Samsung F1s
DVD-RW
Vista Ultimate x64
Samsung 22"
Keyboard
Power
Case
Mouse
M$ Elite
FSP Group (Fortron) FX Series FX700-GLN-E
Antec 900 (CyberDruid Custom)
M$ Elite
View all
hide details