thanks for the love fellas!!
Seems not too many people are following this build, maybe because I didn't use a work-log creator or something... better luck next time, I guess
I am not at home this weekend so I can't test the rig (such bad timing!). I have booted into windows, but I've also had a couple BSODs and the system likes to hang at the POST sometimes. I'll have to iron out these kinks next week. Maybe a BIOS update will help...
Anyway heres a shot of the GPU block installed and the CPU in the socket waiting for the waterblock. TIM got a little smeared, as you can see...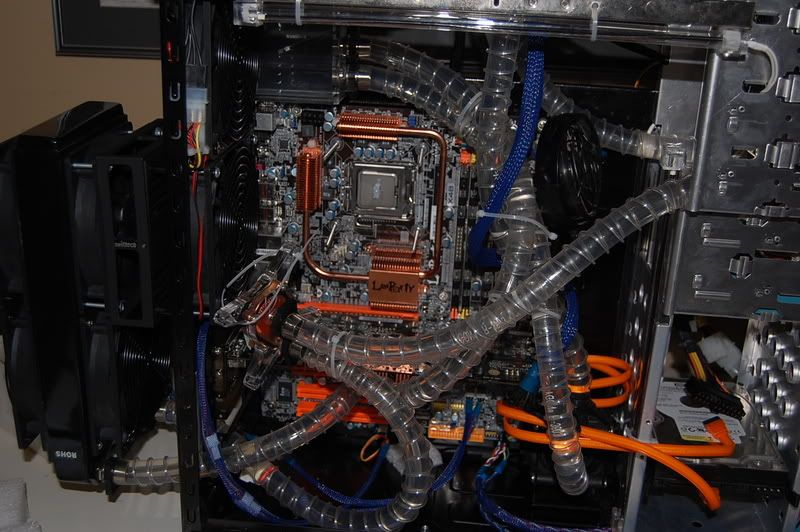 K, here's a shot of the rig running! The Tracer LEDs look amazing on the tubing and the tube coils. The UV effects look way better at night but I haven't run the rig at night yet, so no photos... yet
Here's a screenie showing the CPU stats and load temps at stock speed.
Clock: 2.83GHz
stepping: C1
stock voltage: 1.18v
VID: 1.250v
These temps are higher than I would have liked. I might need to do a remount and lap the CPU.
Idle temps are definitely not right as they show the same temps as load. Also when I test the sensors using RealTemp they show '0' activity.
I've hear that some 45nm quads have wacky sensors. I'll have to do some reading up on OCing 45nm quads in general next week...
If anyone can give me some tips I'd greatly appreciate it!
THx
M
Edited by MCBrown.CA - 8/16/08 at 7:05pm
CPU
Motherboard
Graphics
RAM
920 D0 | 4104MHz@1.23V
Big Bang XPower
5850 | 880/1050
6GB Sector 7 | 1728MHz
Hard Drive
OS
Monitor
Power
F115
W7P64
245BW
SPI Magna 1kW
Case
cardboard (case/loop in prog)
View all
hide details
CPU
Motherboard
Graphics
RAM
920 D0 | 4104MHz@1.23V
Big Bang XPower
5850 | 880/1050
6GB Sector 7 | 1728MHz
Hard Drive
OS
Monitor
Power
F115
W7P64
245BW
SPI Magna 1kW
Case
cardboard (case/loop in prog)
View all
hide details