PROJECT: Legacy

Hello OCN! After many, many months of lurking through work logs, I've finally decided to start my own. I hope you all enjoy what you will see here in the coming weeks as Project: Ad Extremum takes shape. This project is dedicated to OCN and specifically those who have helped me with their words of wisdom because without them, none of this would be possible.
PRELUDE:
Through my years in building PCs, there's always been a desire to build "the one" watercooled rig for my own uses. In the past year, I've spent many, many hours searching for the right watercooling case. I would stare at photos trying to visualize component placement and tubing 'flow'. I even tried out a Mountain Mods case and just couldn't live with it. It was well-built and did its job but it didn't live up to what I had worked out in my head long before. I knew then that I was going to have to modify (gulp) a case if I was ever going to get it just right.
Eventually, thanks to OCN's "Online Deals" section, I learned of the Rocketfish. As soon as I pulled up a shot of the interior I knew it was the case I had been looking for. For $47 I bought two...just in case.
DESIGN GUIDELINES:
-- All watercooling MUST be internal
-- Modifications will follow the understated nature of Lian Li's factory cases
-- Both hard drive racks MUST remain.
THE PROJECT:
Here are some teasers...
The RadGrillz.
If I said I wasn't a little aprehensive about taking a jigsaw to the beautiful top of this case I'd be lying. Slow and steady wins the race. For those thinking about doing this with I give you this advice:
-- If possible, find a saw with variable speed.
-- Try a 32 tpi (teeth per inch) blade and take your time.
-- Double up on the masking tape and there will be no stray scratches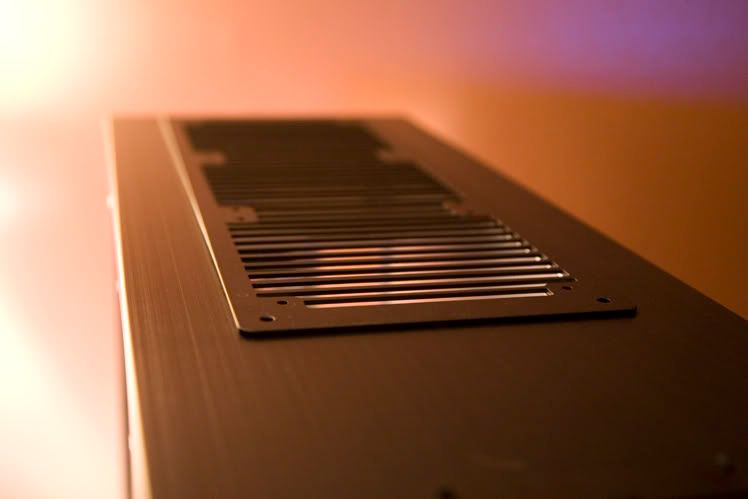 Center Divider / False Floor
Thanks to SumOn3 and the epic "Dark" Desire build for inspiring this false floor. For the record, I clearly stated in his thread I was going to steal some of his ideas
This is what happens when some 3/8" angle, 5052 aluminum sheeting (cheap off ebay -- thanks again Sum0n3), and 1/8" rivets "get together":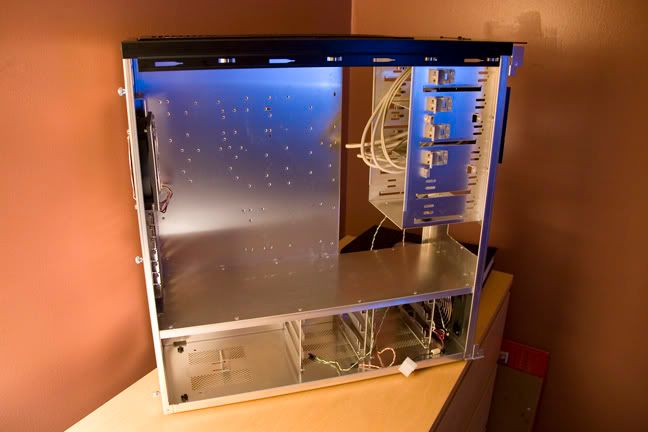 We'll get a little closer. Through some really tedius measuring and filing, I was able to get it within 1/32" of being parallel with the bottom of the case. I made a jig for the rivet drilling to make sure their placement as well as the finished edge was as precise as possible. It attaches to the Rocketfish in three places via angled aluminum: the front, back, and motherboard tray. What results is a lightweight yet VERY rigid center divider.
The pump will then mount below the 5 1/4" bays where the 3 1/2" bays used to be. This allows me to keep the second hard drive cage in place for future upgradeability.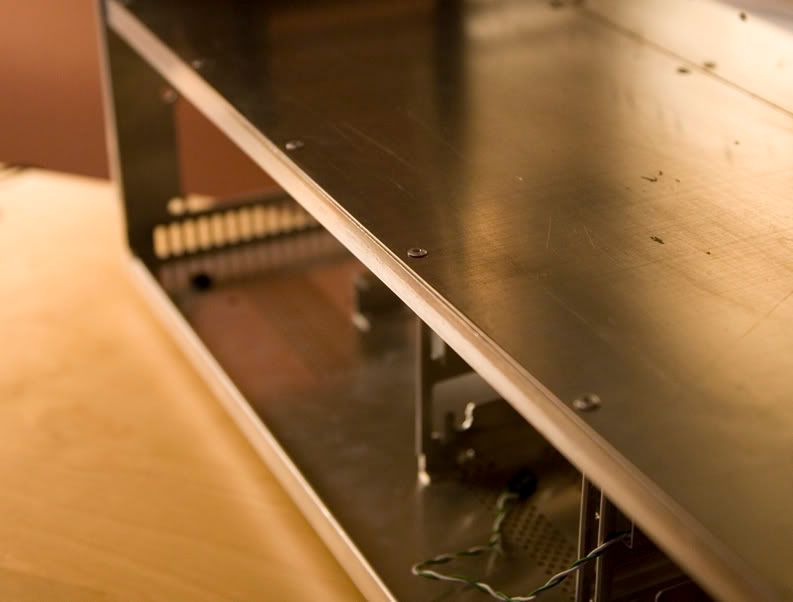 NEXT TIME...
Pump placement!
Edited by MNiceGuy - 2/17/09 at 8:43pm