Quote:
ATI's introduction of the Radeon HD 4800-series GPUs has upset the status quo in no uncertain fashion. Blistering compute power and incredible memory bandwidth from a 256-bit bus means that small-die RV770s are fundamentally better than the Radeon HD 3800-series they replace.

Looking towards the competition, the only way that NVIDIA's been able to compete against the salvo of keen pricing and the Radeon HD 48x0's efficient, powerful architecture is to reduce prices across the board- and that incredibly telling in itself.

Bottom line: we'd be happy to recommend the Radeon HD 4850 at the £125 mark; it's a fundamentally better design than the 18-month-old technology of the GeForce 9800 GTX and, even with the new pricing factored in, makes for a better all-round performer. The Radeon HD 4870 extracts the most out of the architecture through, in the main, super-fast memory, and we'd give it a tentative recommendation, waiting to see just how partners employ the GeForce 9800 GTX+

ATI's back in a big, big way in the sub-$300 space. NVIDIA, apart from price-chopping, what's new, huh?

Then, of course, there's the twin-GPU R700, as well. Just take a look at HD 4870 CrossFire performance and you'll appreciate where it will sit in the pecking order.
http://www.hexus.net/content/item.php?item=13972&page=1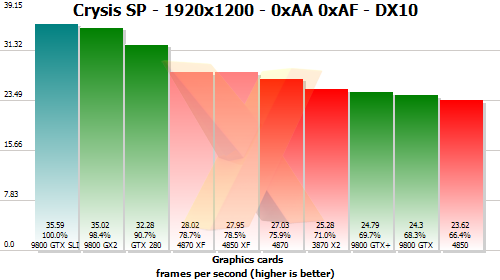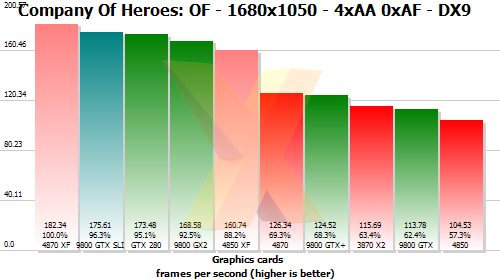 Edited by Torched-Geek - 6/24/08 at 11:36pm
CPU
Motherboard
Graphics
RAM
AMD Phenom X3 8450
Biostar 790gx
ATI 4850 512mb
OCZ 4gb DDR26400 5-5-5-18
Hard Drive
OS
Monitor
Power
Samsung Spinpoint 640gb
Vista Premium x64/Fedora 10
Viewpoint 22" LCD
OCZ Modxtreme 600w
Case
CM690
View all
hide details
CPU
Motherboard
Graphics
RAM
AMD Phenom X3 8450
Biostar 790gx
ATI 4850 512mb
OCZ 4gb DDR26400 5-5-5-18
Hard Drive
OS
Monitor
Power
Samsung Spinpoint 640gb
Vista Premium x64/Fedora 10
Viewpoint 22" LCD
OCZ Modxtreme 600w
Case
CM690
View all
hide details