Details Here
Quote: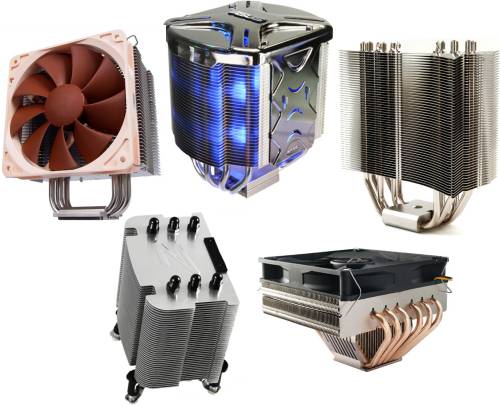 First off, I want to thank all the companies that supplies heatsinks for our testing. I also want to thank OCZ for supplying copious amounts of their Freeze thermal paste for our roundup. It proved easy to apply and clean off, and we plan to use it again in the future.

This article can be considered the first of many cooler roundups that we plan to do. In the coming months, we'll see what new coolers have hit the market and add them to the 22 we've tested here. There are many exciting models coming out now and within the next few months, so I look forward to testing them out first-hand.

I also want to add that Zalman did provide us with the 8700, 9500 and 9700 coolers, but they were not compatible with our test motherboard. The heatpipe on the ASUS P5E3 motherboard would just not allow the mounting hardware to work. While they are still decent coolers, with the popularity of heatpipe based motherboards, Zalman needs to redesign their mounting methods.

Secondly, I want to stress the fact that our test bed and test methodology really put the maximum stress on all these coolers. Also, many of them were either created before the Quad-Core CPU was mainstream or they were just not designed for the Core 2 Quad Extreme that we used for testing.

Given the stock speed of 3GHz, even most of the coolers that failed will still work well for the casual overclocker. Add to that equation a high-end PC case with great airflow and your results can vary from ours. My testing was meant to punish the weak and reward the strong so that you got the best idea of just how good the current crop of coolers is.

The two biggest surprises of all my testing were the Arctic Cooling Freezer 7 PRO and the OCZ Vanquisher. For their price range, they are amazing coolers. They were able to beat quite a bit of the competition while remaining the cheapest on the market. The Freezer 7 PRO is definitely the top dog for under $30 and has been as cheap as $20 on sale. If you have a limited budget, it is this editor's choice.

The next surprise was the SilverStone NT08. For a still unknown product, it performed amazingly well. As of press time, the little information I could find for it did not state much and I am not even sure if they still plan on releasing it. If they do and release it for around $50, there will be a serious new contender for the top spot.

As for the Thermalright Ultra 120 Extreme and the Tuniq Tower 120, the results were pretty much as expected. These coolers trade blow for blow and are even still amongst the best possible air cooling-solutions to date. Considering the Tuniq Tower 120 can be had for $50 I must award it the overall editor's choice for our testing.

The most important thing I would stress when looking for your next CPU cooler is to make certain you have all your priorities in mind when shopping. The Tuniq may be the best, but can it fit in your case? Are you overclocking? How quiet do you want your system? Do you mind removing the motherboard to install a cooler? Exactly what do you expect from you new cooler? Those and any other questions MUST be raised before you buy or you can easily be disappointed with your choice. Always remember that bigger is not always better.