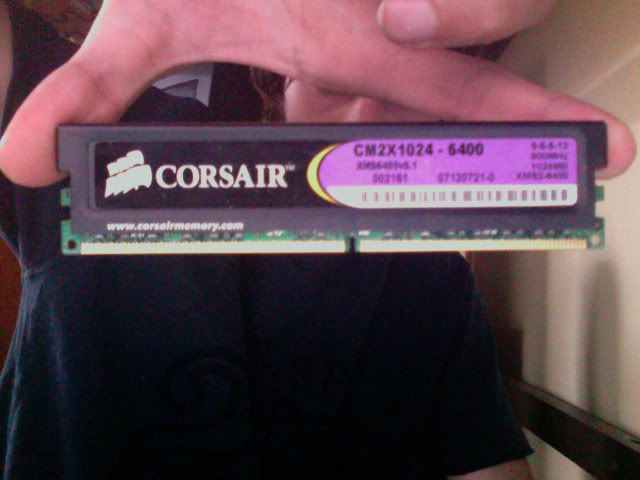 I have four sticks of Corsair XMS2 1GB DDR2 Ram.
The specs are:
PC-6400 800MHz
5-5-5-12 timings
I'm not 100% sure of the condition since I haven't used them in a year but they worked when they were in my system. I'm not using them and they have been collecting dust (not literally) so I thought I'd give them away. All you need to do is pay shipping.
I'll leave this open until the 11th of july, and that will give me time to set up a pay-pal and anyone who wants it to post.
A second thought: Should I split this up and make two giveaways for 2gb of ram instead? What do you guys think?
EDIT: ON REQUEST I'M SPLITTING THIS UP SO THERE ARE TWO WINNERS. EACH WILL RECEIVE 2 STICKS.
EDIT 2: For those of you who don't use paypal, suggest other ways to pay for shipping and I'll consider it.
EDIT 3: If you want in, it would really help if you could copy the current list of people from the last person's post, then add your name to the list. That way I won't have to track what looks like it could be over 30 pages by the 11th.

Edited by Gri3f3r - 6/27/08 at 7:31am
CPU
Motherboard
Graphics
RAM
E8400@4.05ghz
DFI LANPARTY DK P35-T2RS
Radeon HD 3870 X2
G.SKILL 4GB(2 x 2GB)
Hard Drive
OS
Monitor
Keyboard
250GB
Vista Premium x64/XP Pro SP3
Samsung 226BW
G15
Case
Mouse
Mouse Pad
CM690
G5
Steal Pad
View all
hide details
CPU
Motherboard
Graphics
RAM
E8400@4.05ghz
DFI LANPARTY DK P35-T2RS
Radeon HD 3870 X2
G.SKILL 4GB(2 x 2GB)
Hard Drive
OS
Monitor
Keyboard
250GB
Vista Premium x64/XP Pro SP3
Samsung 226BW
G15
Case
Mouse
Mouse Pad
CM690
G5
Steal Pad
View all
hide details