More expensive than I would like, was looking for more around 225 but I guess with barbs and all...
I put this up in 5 minutes basted on what I thought was the best at
www.DirectCanada.com
My limit is 240 on the rad, though.
Everything gonna work together? Like the sizes and all?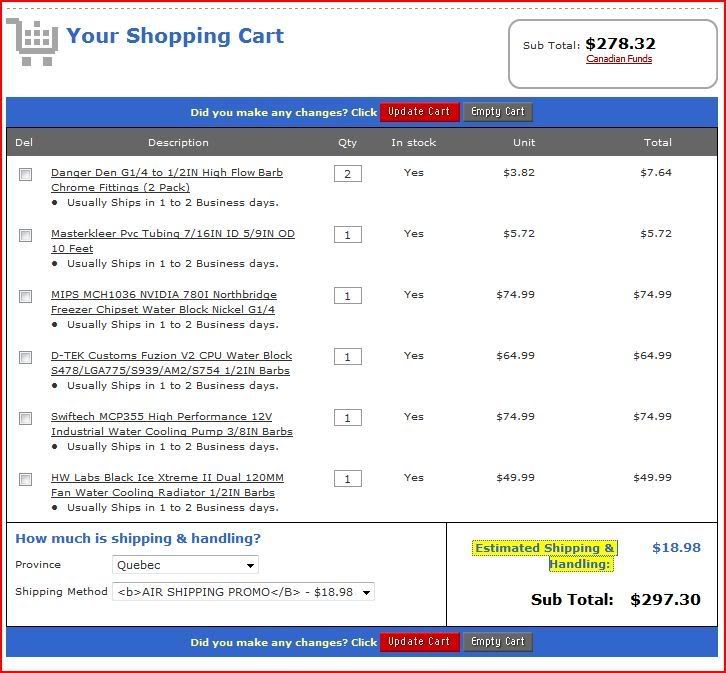 CPU
Motherboard
Graphics
RAM
i7 930 3.6ghz 1.146v
EVGA x58
GTX470 water
6GB 1600mhz 6-8-6-18 1.6V
Hard Drive
OS
Monitor
Keyboard
SSD (80+60GB) HDD (2+2TB)
Windows 7 x64
24" + 22"
G15
Power
Case
Mouse
M12D 850W
800D
G9
View all
hide details
CPU
Motherboard
Graphics
RAM
i7 930 3.6ghz 1.146v
EVGA x58
GTX470 water
6GB 1600mhz 6-8-6-18 1.6V
Hard Drive
OS
Monitor
Keyboard
SSD (80+60GB) HDD (2+2TB)
Windows 7 x64
24" + 22"
G15
Power
Case
Mouse
M12D 850W
800D
G9
View all
hide details