Well I just wanted to rip a CD into my music collection as I reliased I have not got this one one here and I get this in both Media player and itunes: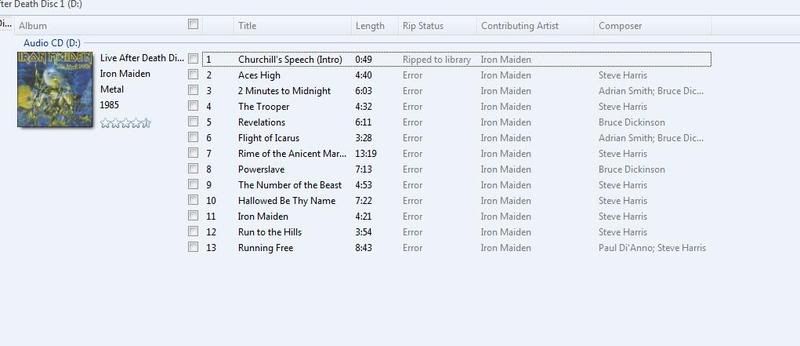 What has happened? I can't rip audio CD's beyond the first track I think. It misses out the whole middle section. This also happens with another CD I decided to try and rip.
The drive is an
NEC AD7170S Serial ATA 18x18 DVD±RW Dual Layer ReWriter
and is now about a year old.
Has the drive gone bad?
CPU
Motherboard
Graphics
RAM
Intel Core i9 7900X @ 4.70Ghz 1.2v
MSI X299 Gaming Pro Carbon
2 x eVGA Nvidia GTX1080Ti SC2 SLI
32GB Corsair Vengeance LPX 3000Mhz
Hard Drive
Cooling
OS
Monitor
Sandisk Ultra II 960GB SSD
Custom Water w/ EK XE360 & EK XRES 140 D5 & EK ...
Windows 10 Pro
Acer Predator XB241YU 144Hz 1440p
Keyboard
Power
Case
Mouse
Razer Blackwidow Chroma V2
Corsair RM1000x w/ Sleeved cables
Modded Corsair 750D
Razer Deathadder Elite
Audio
Creative Soundblaster ZxR
View all
CPU
Motherboard
Graphics
RAM
Intel i7 950 @ 4.2Ghz
ASUS Rampage III Extreme (EK Full Coverage Block)
2 x ASUS GTX480's (EK Full Cover blocks / Black...
12GB Corsair Dominator GT 1866Mhz
Hard Drive
Optical Drive
Cooling
OS
2 x 128GB Crucial C300 SSD (RAID 0) & Samsung F...
Pioneer DVR215D
Heatkiller 3.0 Full Copper / Black Ice 360GTS
Windows 7 Pro
Monitor
Power
Case
Audio
3 x Samsung P2450's
Corsair HX1000 (Sleeved Red)
Modded TJ07
ASUS Xonar STX
View all
hide details
CPU
Motherboard
Graphics
RAM
Intel Core i9 7900X @ 4.70Ghz 1.2v
MSI X299 Gaming Pro Carbon
2 x eVGA Nvidia GTX1080Ti SC2 SLI
32GB Corsair Vengeance LPX 3000Mhz
Hard Drive
Cooling
OS
Monitor
Sandisk Ultra II 960GB SSD
Custom Water w/ EK XE360 & EK XRES 140 D5 & EK ...
Windows 10 Pro
Acer Predator XB241YU 144Hz 1440p
Keyboard
Power
Case
Mouse
Razer Blackwidow Chroma V2
Corsair RM1000x w/ Sleeved cables
Modded Corsair 750D
Razer Deathadder Elite
Audio
Creative Soundblaster ZxR
View all
CPU
Motherboard
Graphics
RAM
Intel i7 950 @ 4.2Ghz
ASUS Rampage III Extreme (EK Full Coverage Block)
2 x ASUS GTX480's (EK Full Cover blocks / Black...
12GB Corsair Dominator GT 1866Mhz
Hard Drive
Optical Drive
Cooling
OS
2 x 128GB Crucial C300 SSD (RAID 0) & Samsung F...
Pioneer DVR215D
Heatkiller 3.0 Full Copper / Black Ice 360GTS
Windows 7 Pro
Monitor
Power
Case
Audio
3 x Samsung P2450's
Corsair HX1000 (Sleeved Red)
Modded TJ07
ASUS Xonar STX
View all
hide details