Quote:
Originally Posted by
Licht
That's the only way teleportation seems to be possible. And if it is exactly the same i don't see an issue, it was one place earlier, now it is effectively somewhere else.
No, what you linked is not teleportation at all.
Straight from the IBM page (I added the red boxes):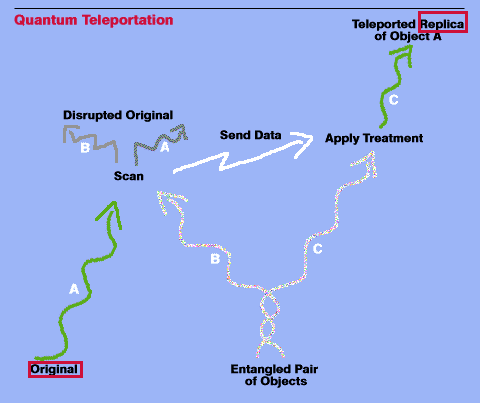 The difference is the original object does not move at all, but an exact replica is then created at the receiving end.
The reason why I say that isn't teleportation, is that after the process is complete, you now have
two
objects, one at both the sending and receiving end. So it's more of cloning/duplication.
CPU
Motherboard
Graphics
RAM
Q6600 G0
GA-EP45-UD3P Rev. 1.0
Sapphire 4850
4x 2GB DDR2-1066
Hard Drive
Hard Drive
Optical Drive
Cooling
WD1600AAJS
Random IDE
Sony DVD Burner
Tuniq Tower 120
Cooling
Cooling
Cooling
OS
6x 120mm Scythe SY1225SL12SH Fans
Thermalright T-RAD2
2x 92mm Scythe DFS922512M-PWM Fans
Windows 7 Ultimate x64 SP1
Monitor
Monitor
Keyboard
Power
Acer 19" @ 1400x900
Sceptre 19" @ 1280x1024
Cherry G81-7000LPAUS-2 (MY Switches)
Corsair 650TX
Case
Mouse
Mouse Pad
Audio
Antec 900
Razer Diamondback 3G
A black one with a cat in a hammock
Asus Xonar D1
View all
hide details
CPU
Motherboard
Graphics
RAM
Q6600 G0
GA-EP45-UD3P Rev. 1.0
Sapphire 4850
4x 2GB DDR2-1066
Hard Drive
Hard Drive
Optical Drive
Cooling
WD1600AAJS
Random IDE
Sony DVD Burner
Tuniq Tower 120
Cooling
Cooling
Cooling
OS
6x 120mm Scythe SY1225SL12SH Fans
Thermalright T-RAD2
2x 92mm Scythe DFS922512M-PWM Fans
Windows 7 Ultimate x64 SP1
Monitor
Monitor
Keyboard
Power
Acer 19" @ 1400x900
Sceptre 19" @ 1280x1024
Cherry G81-7000LPAUS-2 (MY Switches)
Corsair 650TX
Case
Mouse
Mouse Pad
Audio
Antec 900
Razer Diamondback 3G
A black one with a cat in a hammock
Asus Xonar D1
View all
hide details