Source
Quote:
Seems to have been an age since we captured a sneak-peak at akasa's Omega chassis at CeBIT '08. So long, in fact, that we'd almost began to think the case would never show.

Today, we've had the reminder of all reminders; akasa tells us Omega is now shipping, and it'll be available in store from July 15th at a suggested retail price of £119.95+VAT.

If, like HEXUS, you'd lost track of this one, here's a little reminder. Omega is akasa's professional PC case, designed for "pro-gaming systems and high performance workstations."

The Omega, pictured below, is said to be the evolution of akasa's previous chassis' Mirage and Eclipse. "Mirage was described as the coolest case ever, Omega just got cooler," says Akasa.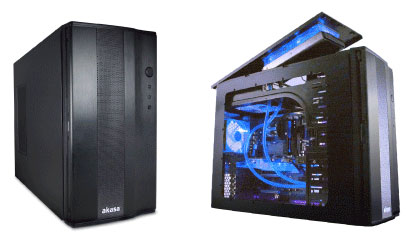 The innards are optimised to house your water-cooling kit, and the case features a solid-aluminium front panel with full-height mesh ventilation. There's room up top or on the side panel for further fans or water-cooling radiators, and the chassis can house up to six 12cm fans in total.

Providing easy access to your gear, Omega has removable aluminium sides, top and front panels, as well as a stainless-steel removable motherboard tray.

If you'd like to see it a little closer, and with an exclusive Scan.co.uk paintjob, take a look at our sneak-peak from CeBIT earlier this year:

Video

Omega's official specification is detailed below:
Colour Anodized Smooth black
Chassis frame 1.5mm aluminium
Removable side and top panels 1.2mm aluminium
Front panel 3.0mm aluminium door with ABS structure
Slide-out motherboard tray Mirror finish stainless steel
Compatible motherboard types ATX, Micro ATX & Extended ATX
5.25'' external bays 4
3.5'' removable external bays 2
3.5'' removable internal bays 5
Fans included Two 120x25mm fans (front and rear)
Fan Speed 1200 RPM
Fan airflow 47.98 CFM
Fan noise 23.1 dB(A)
Dust management Washable air intake filter
USB ports 2
IEEE1394 ports 1
HD Audio 1 in / 1 out (AC'97 backwards compatible)
eSATA ports 1
Dimension 460 x 240 x 560mm (H x W x L)
Weight 8.6kg
Product code AK-BKCSE-05
Theres a video on their site too.