Something is fishy, and I don't like it...
First of all, I got two Seagate 320Gb 7200.10's in RAID 0....
I average 136Mb...
I was thinking about getting two Western Digital 640Gb's and RAID those...
But I also was thinking maybe I can go VelociRaptor's in RAID 0...
After looking around here for some bench's... This is what I found... and something is definitely not right...
TWO VelociRAPTOR's in RAID-0 @ 128K stripe gets... ( 153.1MB/s )
TWO 640Gb AAKS in RAID-0 @ 128K stripe gets... a WOMPING ( 208.4MB/s )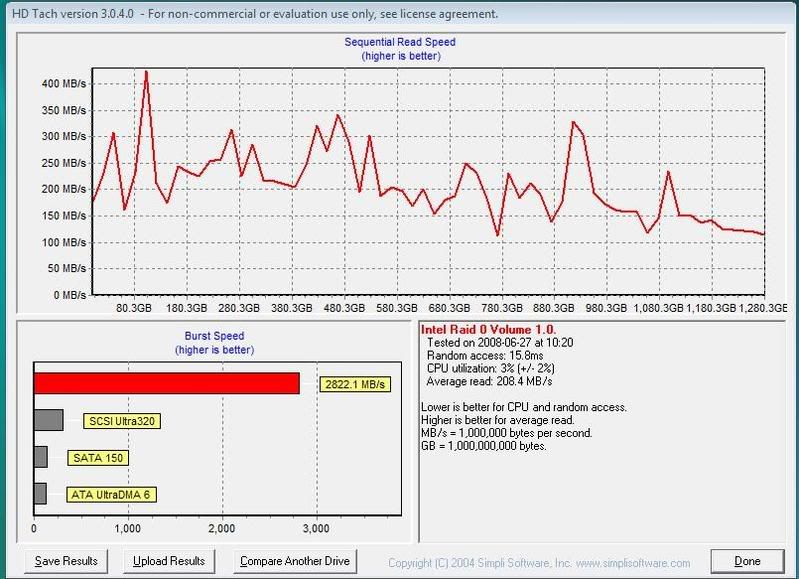 Is it just me or does this not seem right... I am so confused... MaxiShines MAXIMUM performance gained with the VelociRaptors RAID-0 @ 32K stripe was 204.2MB/s - and - STILL cannot beat 640Gb AAKS score of 208.4MB/s...
What is going on? am I going nuts?
Edited by digitalsaru - 7/8/08 at 4:20pm
CPU
Motherboard
Graphics
RAM
Intel Q6600 @ 3.2Ghz
Abit IP35 Pro
eVGA 8800GTS 512mb
2Gb Crucial Ballistix Tracers 1066
Hard Drive
Optical Drive
OS
Power
2x Seagate 320Gb 7200.10 RAID-0
Samsung SH-S203B DVD Burner
Vista Ultimate 64
Corsair HX1000W
Case
Antec 900
View all
hide details
CPU
Motherboard
Graphics
RAM
Intel Q6600 @ 3.2Ghz
Abit IP35 Pro
eVGA 8800GTS 512mb
2Gb Crucial Ballistix Tracers 1066
Hard Drive
Optical Drive
OS
Power
2x Seagate 320Gb 7200.10 RAID-0
Samsung SH-S203B DVD Burner
Vista Ultimate 64
Corsair HX1000W
Case
Antec 900
View all
hide details