I thought I would preface this post by telling you exactly what this computer is going to be used for so that I am not inundated with posts about my motherboard choice. This is not a gaming PC, though that will certainly be one of its functions. I work for a game developer, and do a lot of heavy crunching in my spare time, which might range from graphic to video editing, 3D rendering, or any number of other intense applications. I am also planning on using this system as a primary server on my home network where it might stream video to or debug XBOX 360s, XBOX 1s via XBMC, or host files for use on the other PCs around my house. Finally, as mentioned above, I will be gaming on this system as well. Certainly very few games will be able to take advantage of all of its processing power, and I know that the chipsets are not amongst those which are ideally suited to gaming, but I have a feeling that raw power should suffice for most games. With that out of the way I would like to introduce my
Dual Quadcore Opteron SLI Build
. I haven't settled on a name yet, so brownie points to anyone who can come up with a decent idea for one. (hint: My desktop at work is called Cerberus, inspired by its triheaded video display, and my laptop is Orthus, his little brother)
Parts list:
Motherboard =
Tyan Thunder n6650w(S2915A2NRF)
Processor =
AMD Opteron 2352
x2
CPU Cooler =
Noctua NH-U12P
+
Socket F adapter
x2
Memory =
8GB of Kingston 240-Pin DDR2 SDRAM ECC Registered DDR2 800
Graphics Card =
EVGA 8800GT SSC
x2
Case =
Custom X-Clio a380BK
Case Fans =
Noctua NF-P12-1300
PSU =
Corsair HX1000W
Other parts = Cheapo SATA DVDRW, some fan silencers and a grill from Xoxide, thermal compound, HDDs scavanged from around the office and home(Untill I get some Raptors to RAID).
All parts have been ordered, and are on their way. I will try and price out all parts at retail value to give you an idea of its actual value. I have assembled what has already arrived at home and grabbed some quick pics
(That is right, no smoke and mirrors here, I'm all legit)
.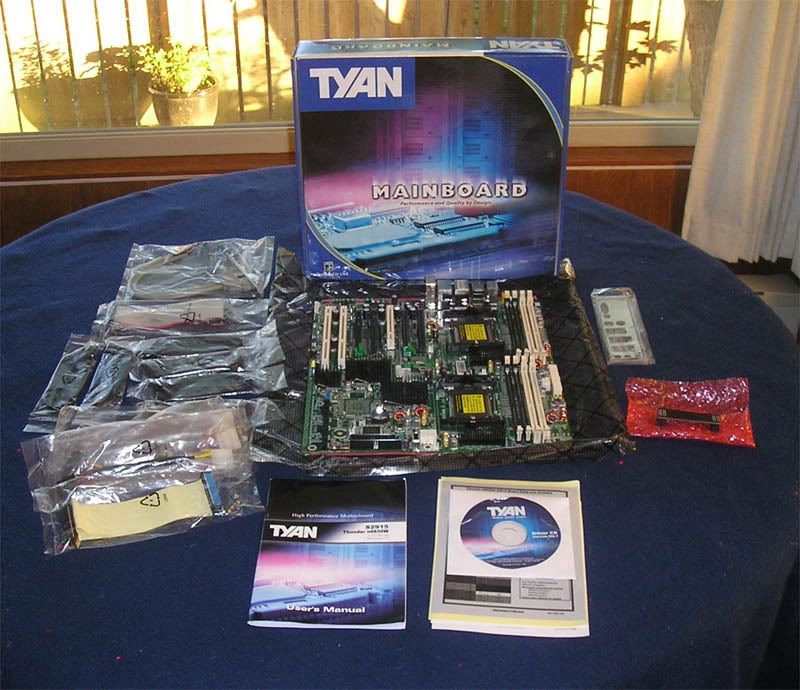 The mobo, with all the cables I might ever need supplied. How nice of Tyan!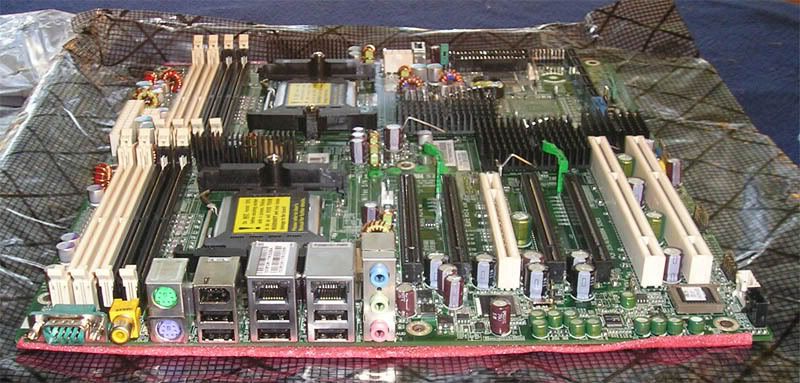 The back of the mobo. I dig the S/PDIF on what is supposed to be a server/workstation board


The SSCs. An ebay purchase, so I was glad to find out they work 100% and look shiny too.(note the reflection of the box on the card)


A close up of one of the SSCs. (BTW, these benchmark almost exactly the same as the XFX 8800GT Alpha Dog XXX at stock speeds)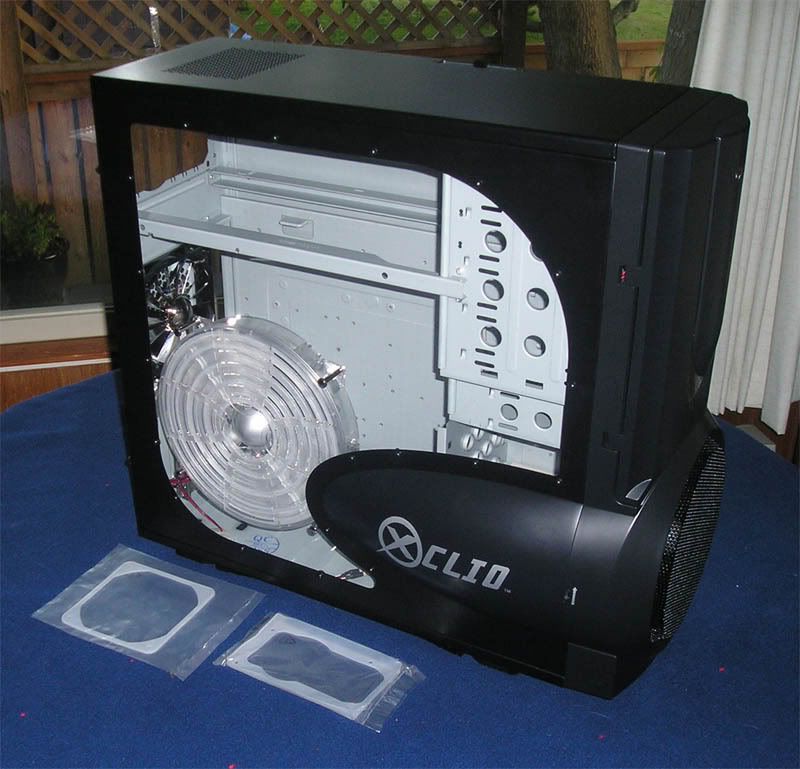 The case. Lots of room for the EATX mobo.


The second 250mm fan, and also the unmistakable silhouette.


Top of the a380 for reference. The flash really greys out the plastic
.

And here is the custom part of the case.
I will be installing a second 120mm exhaust right about where the grill is sitting. The grill should look stock(color difference is due to flash) when it is installed on the inside. I am going to epoxy the grill and fan into place so there are no screw heads on top of the case. The hole will be laser cut. Fingers crossed that the local sign shop doesn't mangle my case.
Well there it is. I have to update the BIOS on the mobo before my processors arrive. Turns out the board requires an updated bios to use the quad cores. Luckily I built a friend of mine a similar system on the Tyan n3600b mobo a few months ago, and I can 'borrow' one of his dual core CPUs long enough to get the BIOS installed.
Please leave your comments below! I would love to hear what you think. Also, I will update this as the parts of arrive and get benches up as soon as it is assembled and the HDD is built.
Special thanks to shinji2k for clarifying the PSU compatibility and suggesting a fairly priced 1000w unit.
Also, thanks to all the trustworthy eBayers who made this possible, as well as the retailers found in my product links
Edited by Dracc - 7/24/08 at 12:27am