Quote:
Originally Posted by
JustusIV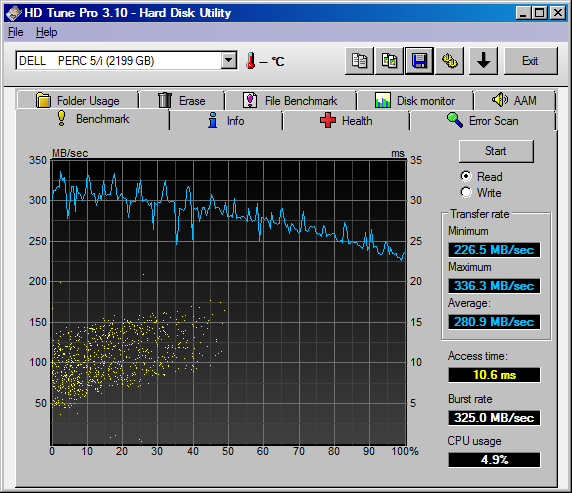 I posted this earlier but here it is again.
This is with 4 x 1TB drives.
I disagree with this, if it was disks you would still get fallout through the first part of the drives not a line. See mine still falling off from 1% on
Well that doesn't make sense... you have worse average than I do
Quote:
Originally Posted by
JustusIV
Raid 5?

*EDIT*
Like i said earlier, i am currently expanding my raid to Raid 5 5x1TB. Will post benchies when completed. 7hrs to go.
Oh haha, RAID 5 is a tad different than my RAID 0....
anyhow Ill ask again, do I lose data from changing stripe size?
Ive also completely remove the BBU and my computer... anyone else have this thing where the MegaRAID manager is very slow?
Stuff from my log:
BBU Disabled; changing WB logical drives to WT (WHAT IS THIS??)
Battery Removed (uhh, it was never in since boot?)
CPU
Motherboard
Graphics
RAM
AMD Phenom 9950 Black Edition @ 3.0Ghz
Gigabyte mATX 785G?
HD3200 IGP *Passively cooled*
2x1GB WINTEC Crap, 2x2GB Patriot | DDR2 800 1.9v
Hard Drive
OS
Monitor
Keyboard
Western Digital AAKS Series 500GB
Windows 7 Enterprise x64 Custom Cooked for SPEED
Samsung 58" B650 1080p Plasma
Logitech DiNovo Mini
Power
Case
Mouse
Silverstone 350Watt Silent PSU
Cooler Master 590
Logitech DiNovo Mini
View all
hide details
CPU
Motherboard
Graphics
RAM
AMD Phenom 9950 Black Edition @ 3.0Ghz
Gigabyte mATX 785G?
HD3200 IGP *Passively cooled*
2x1GB WINTEC Crap, 2x2GB Patriot | DDR2 800 1.9v
Hard Drive
OS
Monitor
Keyboard
Western Digital AAKS Series 500GB
Windows 7 Enterprise x64 Custom Cooked for SPEED
Samsung 58" B650 1080p Plasma
Logitech DiNovo Mini
Power
Case
Mouse
Silverstone 350Watt Silent PSU
Cooler Master 590
Logitech DiNovo Mini
View all
hide details