Just thought I'd show you how to connect your computer's speakers to your xbox seeing as many people use their computer monitors to game as well.
This guide is based on using your computer setup to run both your xbox and PC together with the same display/sound devices.
--------------------------------------------------------------------------------------
*Note*
If you have an amp, or a sub with the standard RCA inputs, then you should be fine hooking up your speakers. However if your Red and White audio cables on your xbox 360 cant reach the amp/sub, you can get one of these :
http://www.radioshack.com/product/in...entPage=search

Just get a set of av cables and hook up with the coupler, and to your sub/amp.
USING YOUR COMPUTER SPEAKERS
For those of you who want to use your computer speakers, this is what you do.
What you need:
- Either a "RCA Female to 3.5mm Female Adaptor" or a "RCA Female to 3.5 Male Adapter".
- I will explain how to use either one.
METHOD 1
RCA FEMALE TO 3.5mm Female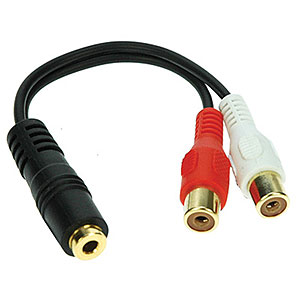 1. Simply connect your xbox 360 red and white cables into the corresponding slots, and your green speaker wire (from your computer speakers) to the female 3.5mm part of the adapter. The only downfall with this cable is that you will have to take the speaker wire out of your computer and into this adapter when you switch from PC to Xbox.
METHOD 2
RCA FEMALE TO 3.5mm MALE
I for one like this method better, and this is what I use.
To use this adapter, do the following:
1. Plug in your adapter into the Microphone slot on your soundcard/onboard audio on your computer.
2. Connect your xbox 360 red/white cables to the other side of the adapter.
3. On your computer, make sure your Microphone playback volume is on, and high enough for your satisfaction. To do this, follow these steps:
XP:
Control Panel (category view)> Sound, Speech, Audio Devices>Sound and Audio devices>Advanced (in device volume section)> Now you should be in master volume, go to options>Properties> Make sure Microphone is enabled in playback
Vista/Windows 7:
Plug the adapter into the LINE IN slot instead of the microphone slot.
Control Panel>Hardware and Sound>Realtek Audio Manager>Line In>Raise the Playback volume.
*Note that Realtek Audio Manager is obviously only if you have their drivers.*

And yes, your computer does need to be on for this to work. I suggest muting some windows sounds such as MSN, AIM etc. before you go in game.
Good luck.
Edited by shibbiness - 8/25/09 at 10:42pm
CPU
Motherboard
Graphics
RAM
i7 3770k
Intel DP67BG Extreme
HD 7950 Boost
8GB GSKILL Sniper
Hard Drive
OS
Monitor
Keyboard
WD Black 640GB
Windows 7 Ultimate
2 x Acer 22", 1 x LG 22"
Logitech G15
Power
Case
Mouse
Mouse Pad
AX860
P182SE
Corsair M60
Xtrac Ripper XXL
View all
hide details
CPU
Motherboard
Graphics
RAM
i7 3770k
Intel DP67BG Extreme
HD 7950 Boost
8GB GSKILL Sniper
Hard Drive
OS
Monitor
Keyboard
WD Black 640GB
Windows 7 Ultimate
2 x Acer 22", 1 x LG 22"
Logitech G15
Power
Case
Mouse
Mouse Pad
AX860
P182SE
Corsair M60
Xtrac Ripper XXL
View all
hide details