Ok, so in the shadow of Syrillian's wonderful acrylic Q & A, I will take this thread on for bondo and fillers. This first post certainly get reformatted and added to as this goes on, so bear with me with the initial stuff. I'm not through condensing all the pics I have (I'm taking shots as I go through my Sanguineus mod of the stages) but here is what I have so far. So now, lets go!
Table of Contents
1. What is bondo and how does it work?

2. Precautions

3. Preparation, mixing, and cleanup

4. Sanding and working



_+_+__+_+__+_+__+_+__+_+__+_+__+_+_
1. What is bondo and how does it work?
"Bondo" is an umbrella term generally used to describe all body fillers. The generic 'bondo' is a two part fiberglass/polyester resin filler with a hardener. There are also other various types of 'bondo' with specialized uses. These can include fiberglass reinforced bondo (has strands of fiberglass in the resin), 'metal glaze' (is formulated to bond to bare metal), and others.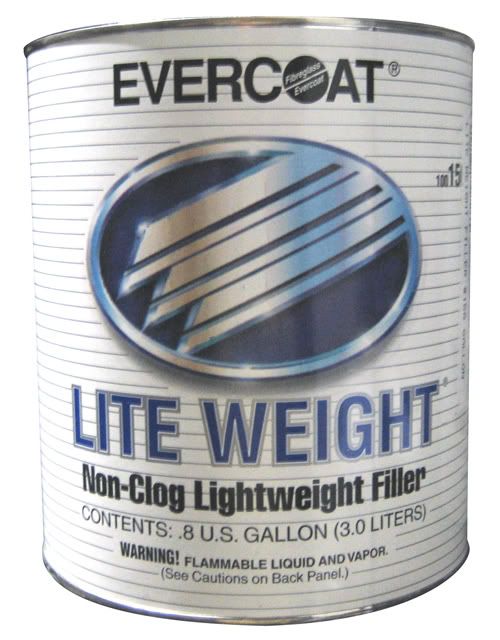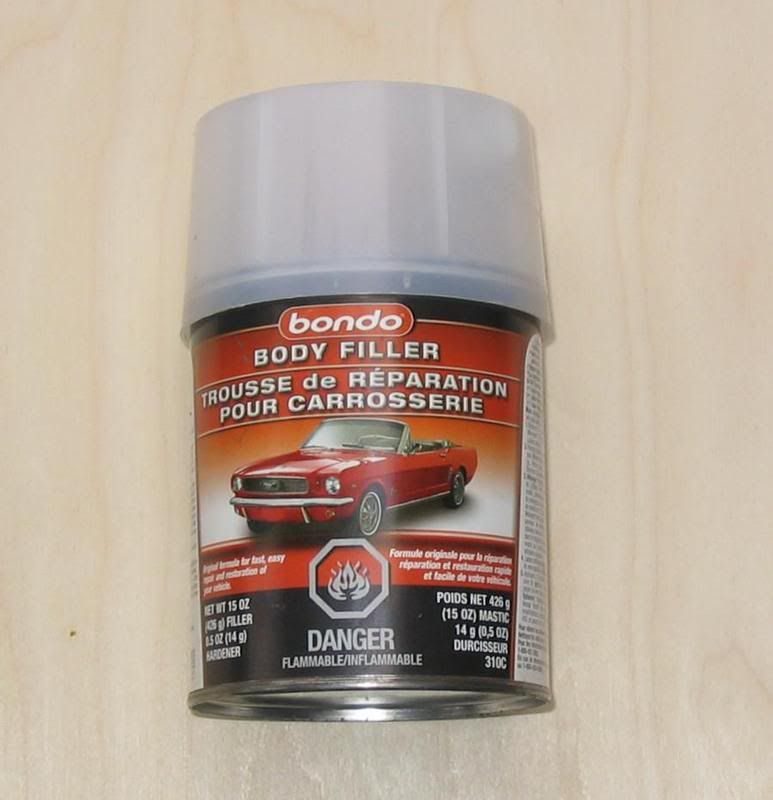 These are the regular polyester filler types. No fiberglass strands or anything special.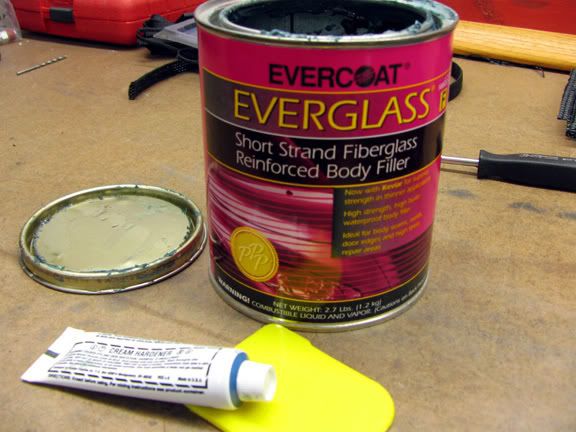 There are a few pictures of the reinforced fiberglass fillers.
And this is a specific brand of metal glaze.
So, now we know what is is, how does it work?
Quote:
Bondo is a polyester resin product that when mixed with a hardener (an organic peroxide), or catalyst, turns into a putty which then sets and becomes rock-hard.
Source-Wikipedia
So the basic is, you take a small amount of the resin filler, add in an even smaller amount of hardener then mix it and apply to the surface you are filling. The hardener is the catalyst and causes the resin to cure hard. Depending on ambient temperature and how much hardener you mix in, curing time will vary, more on that later though.
2. Precautions
You should only use bondo in a well ventilated area and avoid breathing in directly the fumes associated with it. Sand in a well ventilated area as well, dust particles can be breathed in and are dangerous. If you don't have a well ventilated area, a cannister mask should be used while spreading/mixing. It can also be worn when sanding, but a paper mask will also suffice. ( I need sources,input here. Feel free to pitch in.)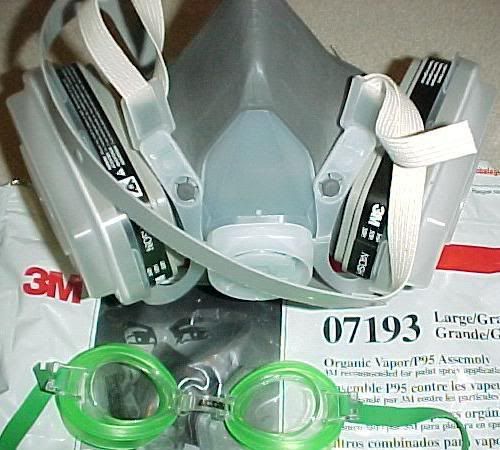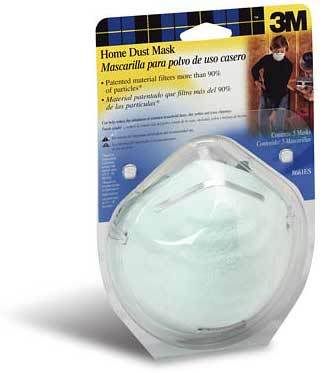 3. Preparation and Mixing
Prep
You have to have a well sanded, clean piece to apply to bondo to. For whatever you are applying the filler to, be sure to give it a good sanding with a rough grit paper (80-180 grit). Also, sand past the area you plan to fill, when you spread the filler you will go past anyway, be sure the excess is on a well sanded area.
Clean the piece and make sure it is dry! I have seen some people suggest cleaning with alcohol prep first, but I personally have never had a problem with just wiping it clean with a rag and being sure to get all the dust off.
Mixing
You can use the guides on the cans for mixing. But me, as a general rule, use this mental guide.
*Any amount of resin bondo smaller than a quarter = small dab of hardener (think a bit smaller than pea size amount)
*Any amount larger than a quarter = thin line of hardener across the center of the resin (think putting on thermal paste. not out to the edges, just a thin line across the middle)
I'll grab some pics later for this spot as well showing the amounts more graphically.
Now, I should also note here that bondo is thermosetting. It cures with heat. This means if you are in a hotter climate, you need to use less hardener than opposed to someone in a cooler climate. The ambient temperature will effect how much hardener to use and the curing time. This is just a "do it" kind of learning thing. Get a test piece of wood or cardboard and practice mixing the bondo and seeing just how much hardener you need for your area. This is the best way to know, just do a few test tries, this is a good time to practice using your bondo spreader as well. The smoother you can spread the bondo before it cures, the more sanding you can save yourself.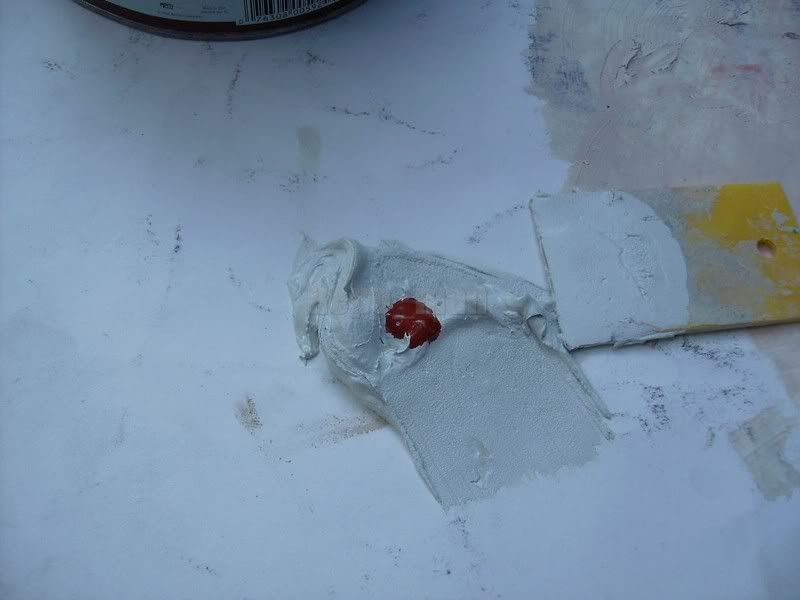 Here's about a 2 inch bit of resin bondo. This was marginal so I used a larger dab in the middle as opposed to the pea sized.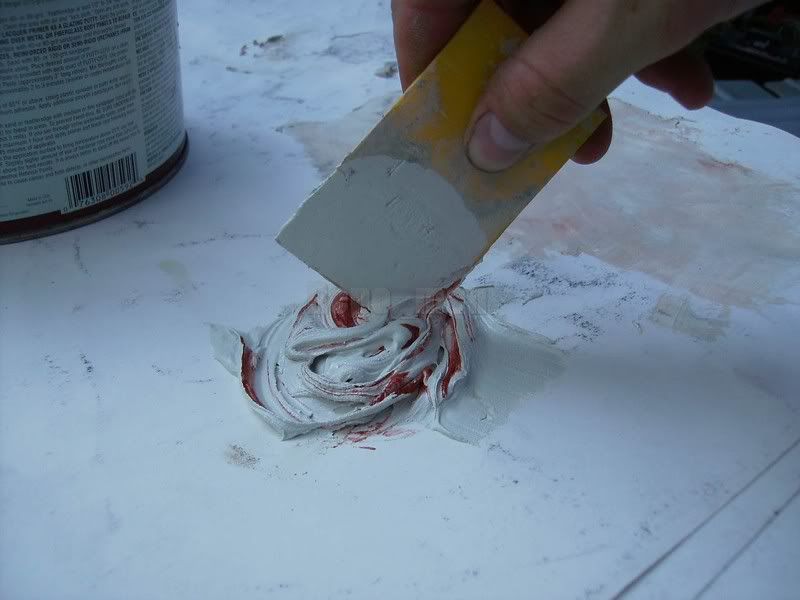 Now what I do is, using the edge of the spreader, stir the mixture together in a circle briefly.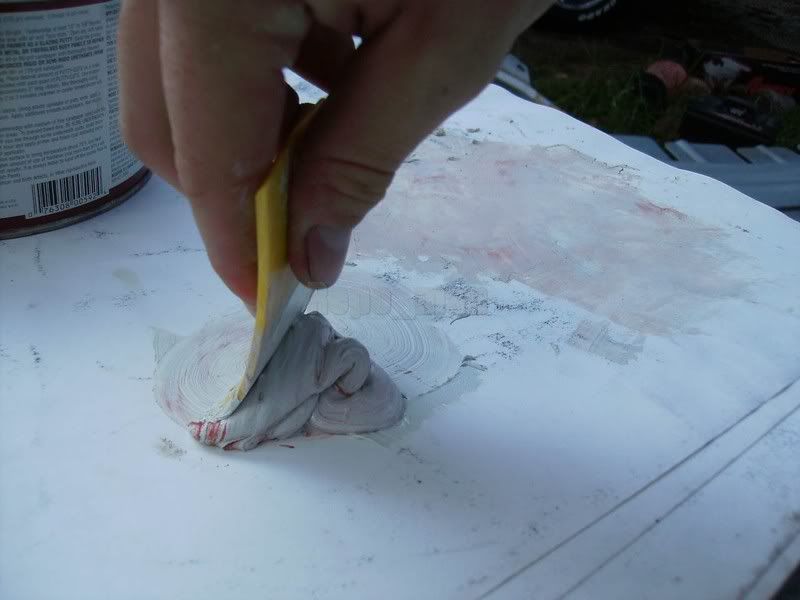 Now scoop the bondo up and spread it back out. Repeat this scooping and spreading until you have a uniform color.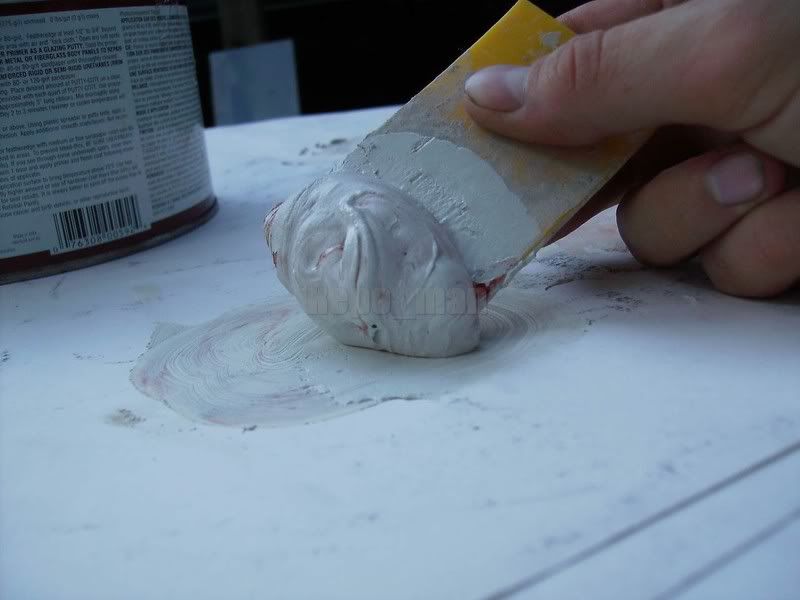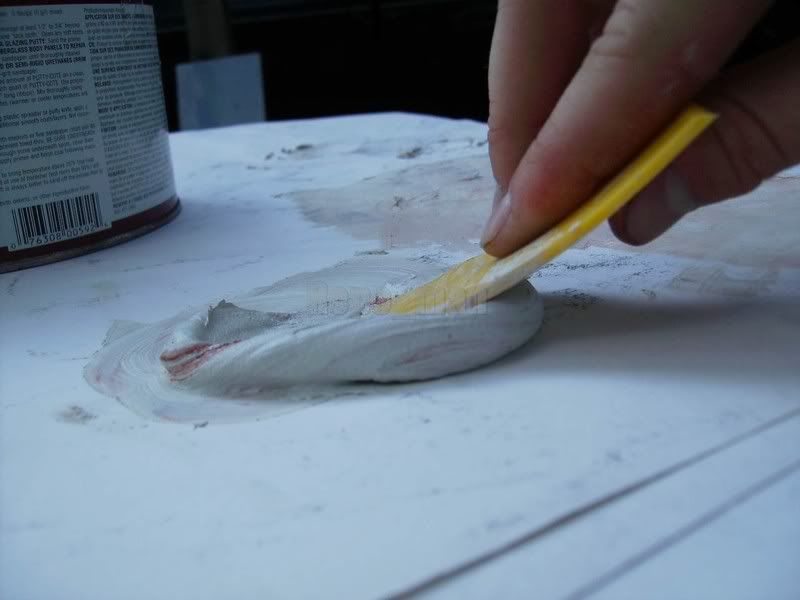 Cleanup (tips from ILOVEPOTtery)
""If you'd like to clean up your putty knives, soak them in acetone or paint thinner. I had let the Bondo cure for about 40 minutes, soaked my knives for ~10 in paint thinner and was able to clean them up real nice.
You might want to cover up your cleaner container so the fumes don't get you
. Always use acetone, paint thinner, and similar solvents in a well ventilated area!""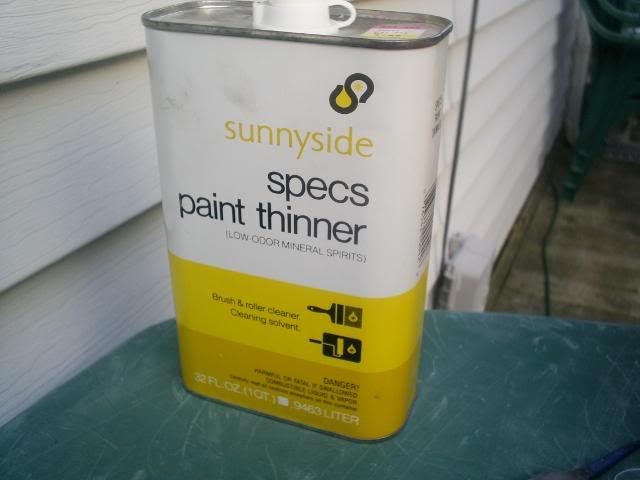 After ~10 minutes of soak time, the bondo came off the knives with light scraping & bending.
I personally would like to add, if you put your spreaders into the thinner immediately after use (rather than waiting the 40mins or so Pottery did) they clean easier. Get an old towel and use it to whip the filler off. This will keep bondo from sticking on your spreaders and gunking them up. Be forewarned though, the filler will harden in the towel and after so many uses, it will become just covered in old bondo and you'll have to throw it away,lol.
4. Sanding and working
[/SIZE]
Now that you have your bondo mixed and applied, let's sand it. There are various grits to use when getting your bondo smoothed out.
*60-80grit - Very abrasive, this will knock down all the ridges and lumps you have. Use this to sand down to the general shape you want.
*100-220grit - A bit less abrasive, takes out the deep scratches left by the first sanding and smooths out the filler more. Also feathers down edges at the bondo's edges.
320grit - The last grit you should use before priming. This takes out the other scratches from the previous grits and gives a nice finish for the primer to stick to.
Here are some tips from my build log I'm going to paste in until I can come back and rework this.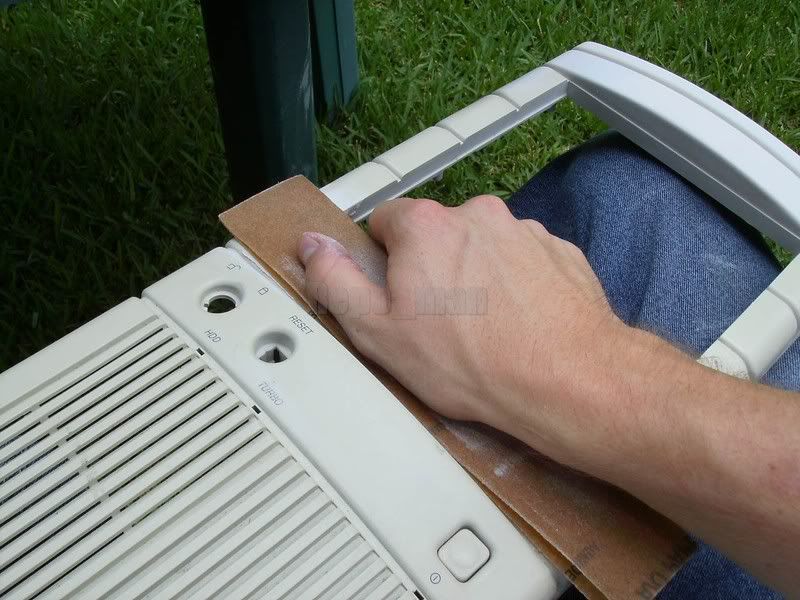 This is on my front bezel, I'm filling in the floppy drive. Here in this pic I already have a few layers of bondo built up.
Now, you see how I'm holding my hand? With the edge of my thumb/palm having the most contact? That's not the way to do it. Let me show you why-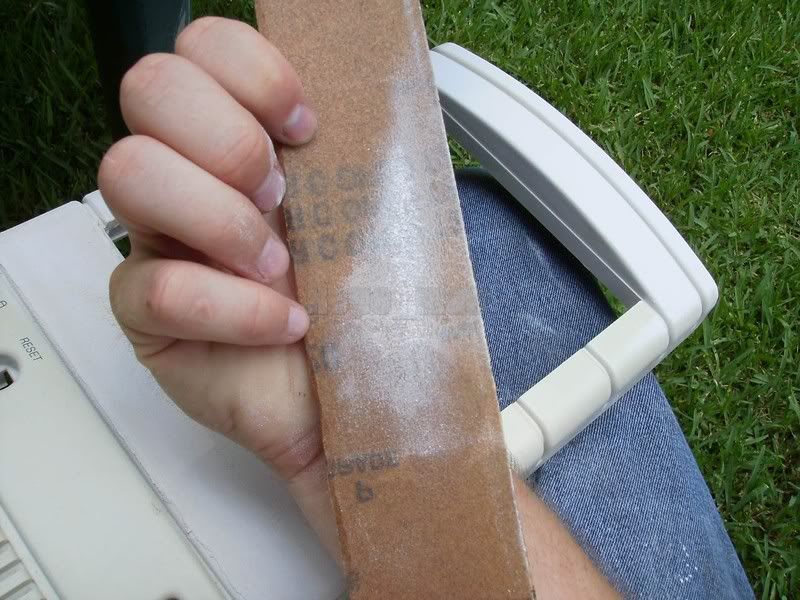 You see how uneven the sanding area is? Ideally you want the largest and most uniform contact area possible, this keeps you from sanding grooves or high/low spots in your bondo. This is why you use a block, usually not your hand (on flat surfaces. rounded surfaces are completely different in the approach somewhat).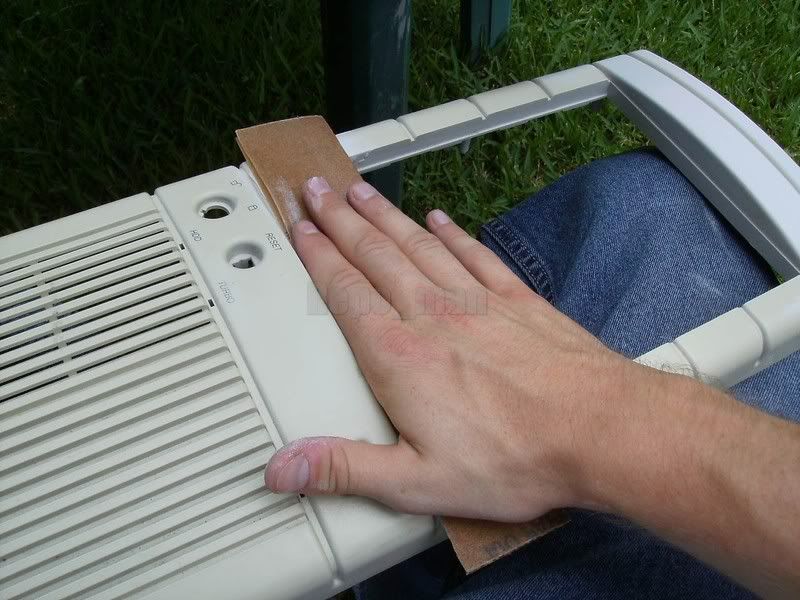 Now you see how I'm holding my hand? With my fingers and palm all making contact? This way you can 'feel' the surface and also have a flatter area your sanding with.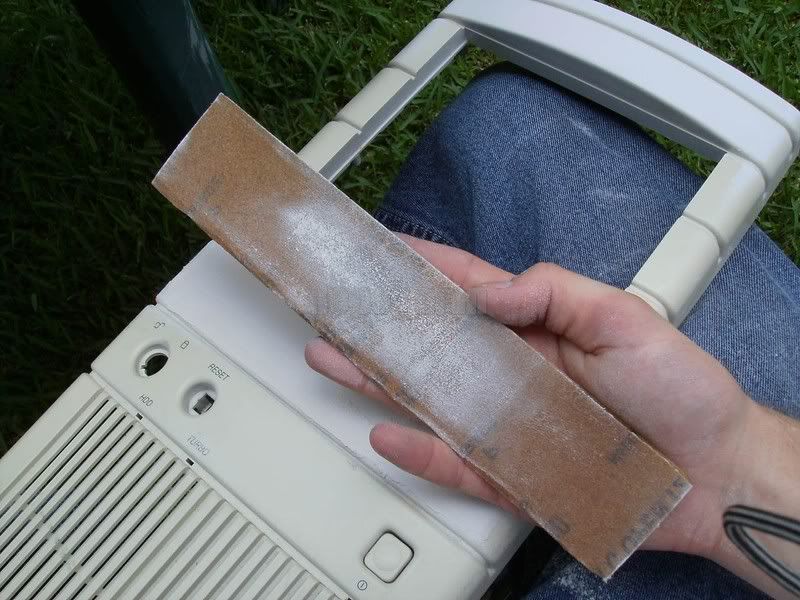 Notice how much more area you're sanding with now? (My middle finger had too much pressure, you can see that in the paper, you want even pressure though.) This maximizes sanding and helps you get your filler smoother.
Now, that was fine and dandy, but I really need a block. I don't have one at the house, so I made one, and don't laugh, it works!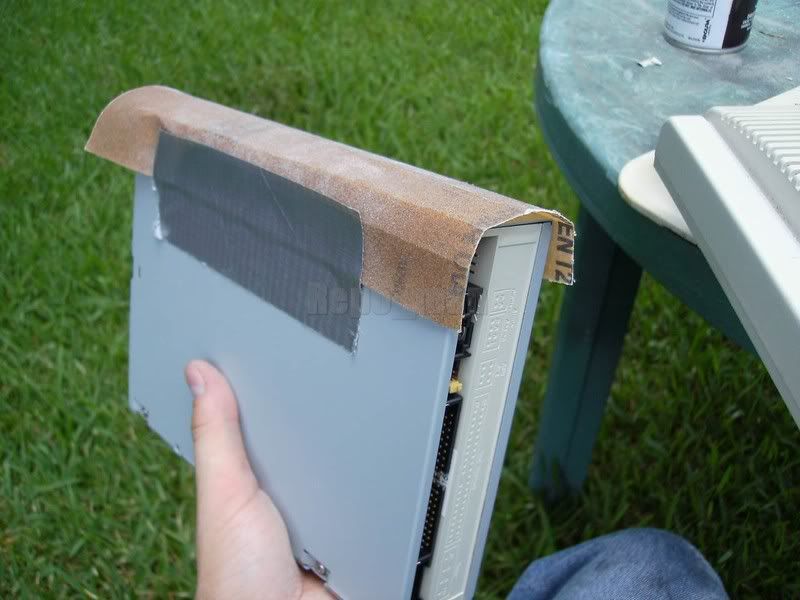 Yes. It
is
an old ROM drive. I just taped the paper on at the edges. Hey, it works! I did remove the front bezel though so the side was completely flat.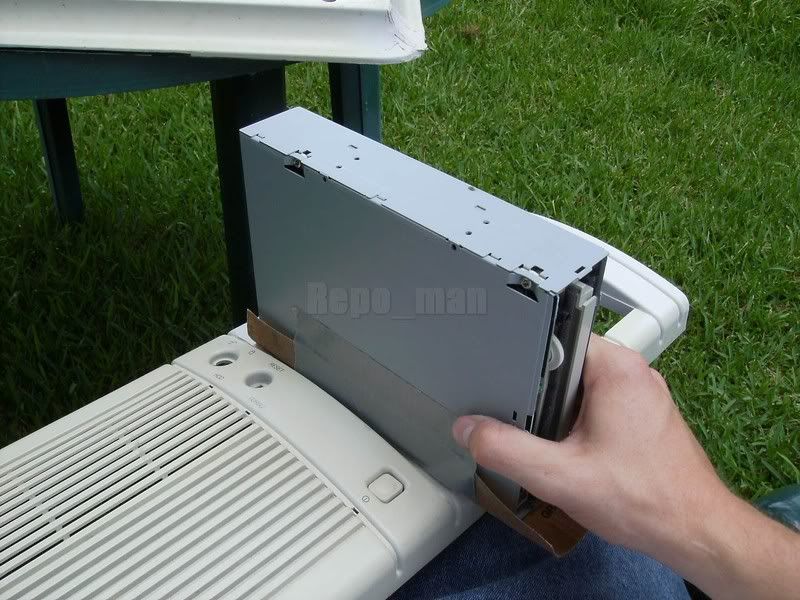 Using the 'block', I made back and forth passes, sanding the filler. Also go in a "X" pattern if you can, this avoids any seams you might sand in going just one direction.
This evened out my hand sanding pretty well. But I wanted to be sure. Here's my next tip. Use some spare paint you have (preferably black, it shows up better, I used gray, that's all I had) and spray the filler with it. Doesn't have to be a good even coat, just enough to show up.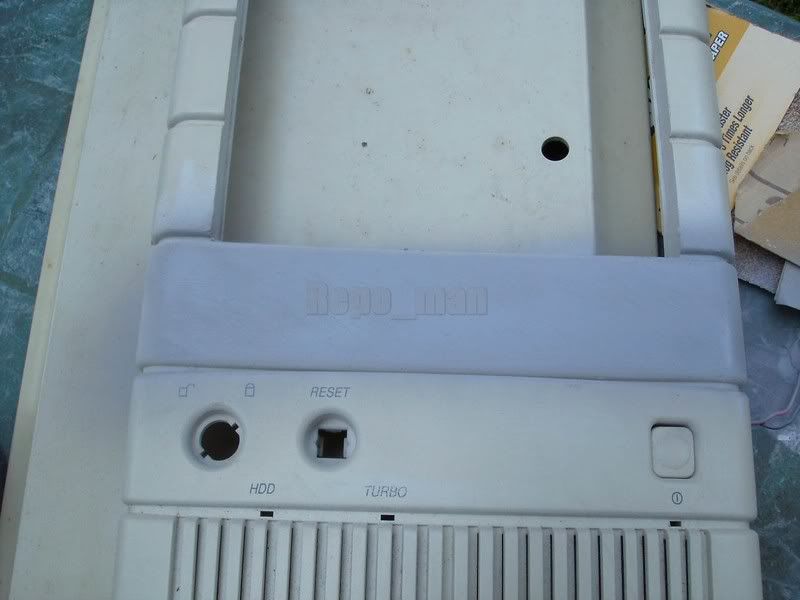 Like this. Now that you have the paint on it, resand with whatever you're using (hand, block, ROM drive...
)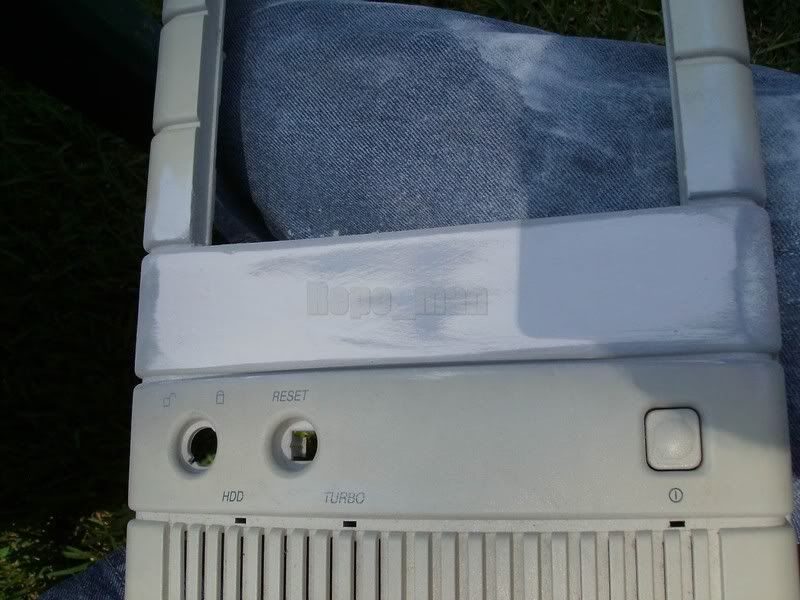 Now here you can see that even though it seemed even, I have a clear low spot in the middle. Obviously since the paint wasn't sanded off here, it was lower than the rest. Depending on how many coats of filler you have one, you can either A. put a small coat of filler in the low spot OR B. keep sanding until it is smooth. I went with B. since I already have a few build up coats on it.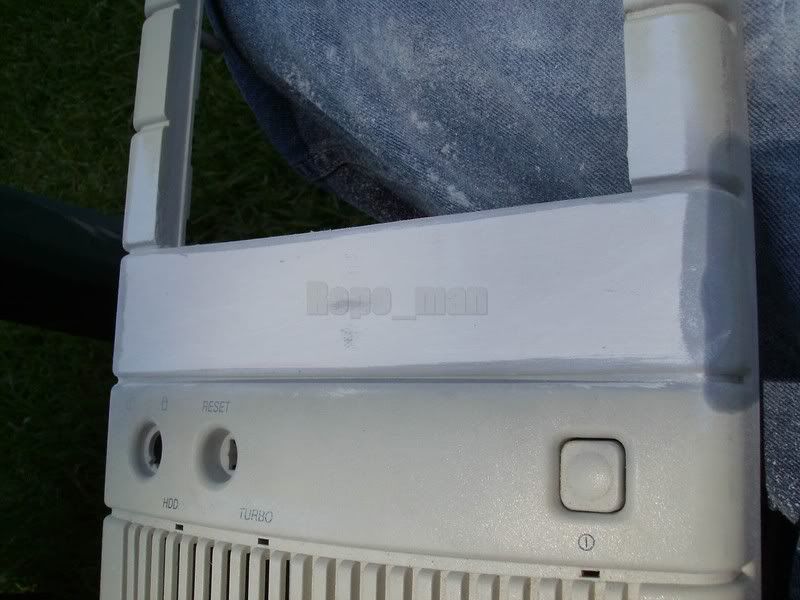 See how even it is now? Perfect! (or close to it
)
Ok, thats all for now, since I posted this prematurely I'll have to come back and reformat the last part. I have to go in a second, but I'll be back later tonight and catch up.
Edited by repo_man - 8/6/08 at 7:40am