Quote:
Originally Posted by
dkmyirl
Hi Cannibal,
I also have a Radeon 4870 and the latest version of nvidia tools (6.05 )will not work for me, gives me an error looking for an nVidia GPU.
I still have the files for a previous version of the nvidia tools (6.02) which does load even with the ATI card installed so I have been able to access the multiplier section.
My MOBO is the M2N32-Sli Deluxe so I'm not 100% sure if this will be the same for you but might be worth a try.
You can get 6.02 here:
http://www.nvidia.com/object/nvidia_...ools_6.02.html
Quote:
Originally Posted by
Gyro
It should install the cpu/mb/memory part of the tools,without the vid drivers.

It also appears that the new bios 5001 does not have a fix for the 955/965 use of dual plain power,so the continued use of the tools to set the multi looks to be still required.Probably a hardware limit of the chipset.

Good luck

The nv tools should install as a stand alone program, because the chipset is nvidia it will just install the cpu/mb/memory sections.
Quote:
Originally Posted by
ijozic
If you want to set it via the nTune, you need to borrow an Nvidia card, install the Nvidia display drivers and the Nvidia System Tools, create a profile in Nvidia Control Panel performance tab with the correct multiplier values and set it to be loaded on the system start up. After that (if it's working correctly), you can uninstall the Nvidia display drivers and put the ATI card back.

This is what worked for me, but I haven't tried using that CPU tweaker tool.
Hi Gyro, Dkmyirl, Ijozic: I had a very good luck day yesterday and my old-death 8600gt came back to life again
, so I left it installed and started to install video drivers + ntune, with some different possibles combinations (new drivers + 6.02 ntune / old drivers + 6.02 ntune / etc) and I realized that old ntune control panel has been changed (a lot!). So, this is what i get when I'm into control panel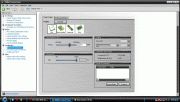 As you can see, I'm not able to change cpu multiplier, your control panel also looks this way? or you have the "old-classic" control panel??
I'm getting exhausted, trying for HOURS to make it run at least @ stock frequency
any idea about what I'm doing wrong?
Edited by cannibal - 4/16/10 at 9:59am