Final Pictures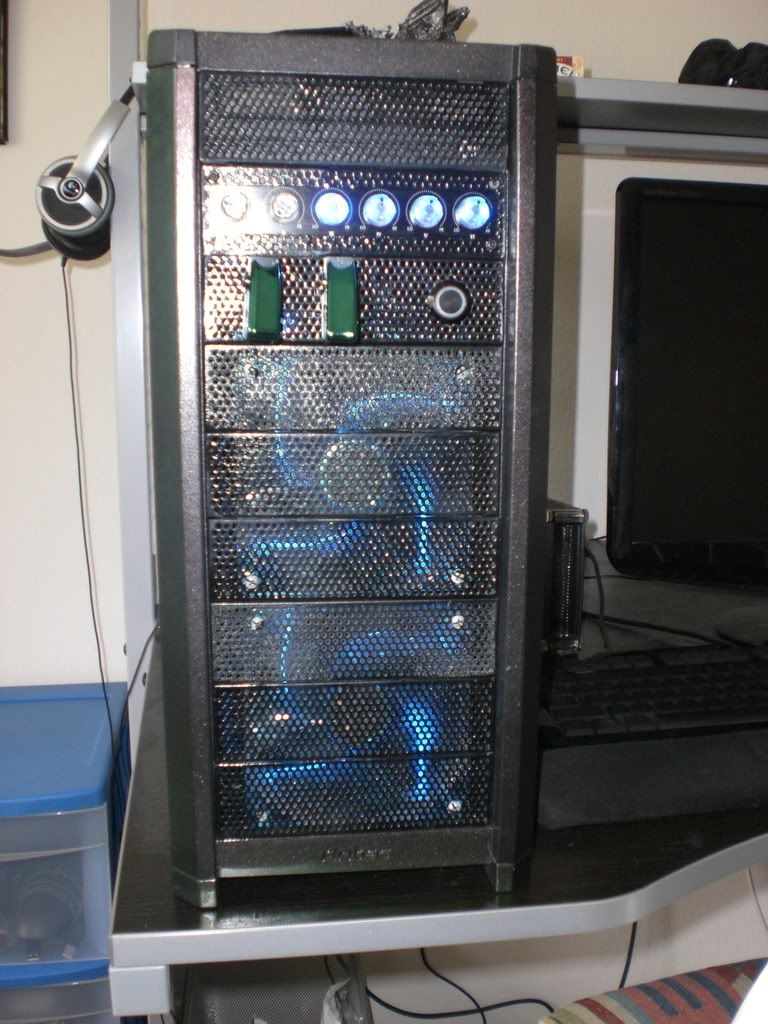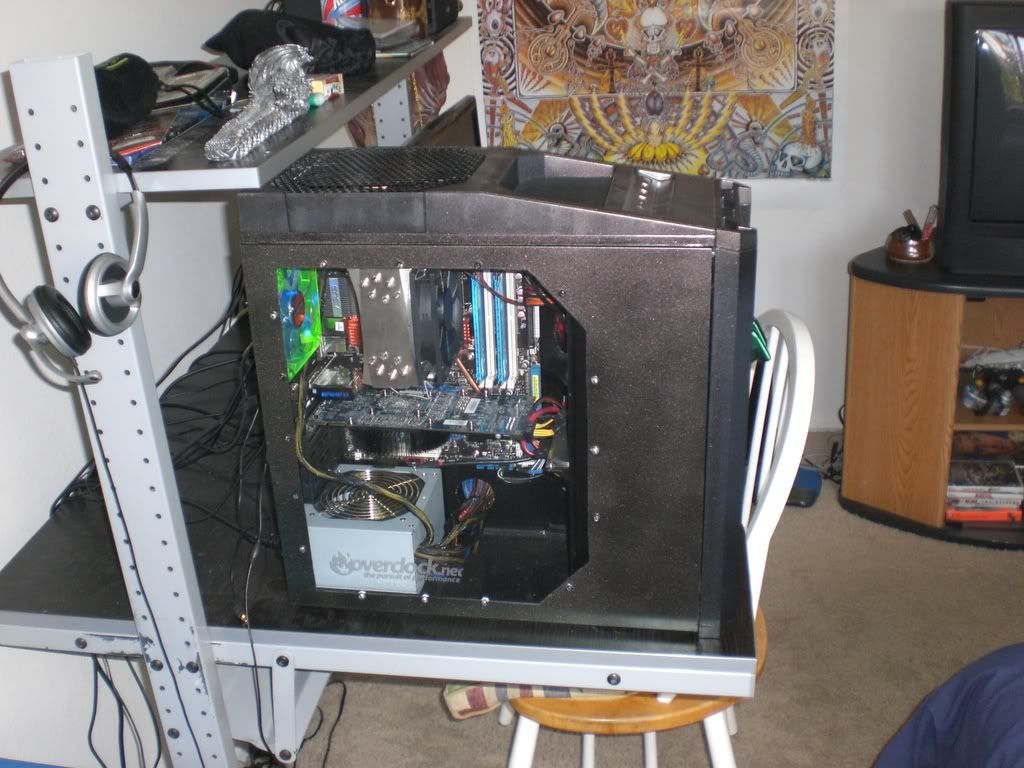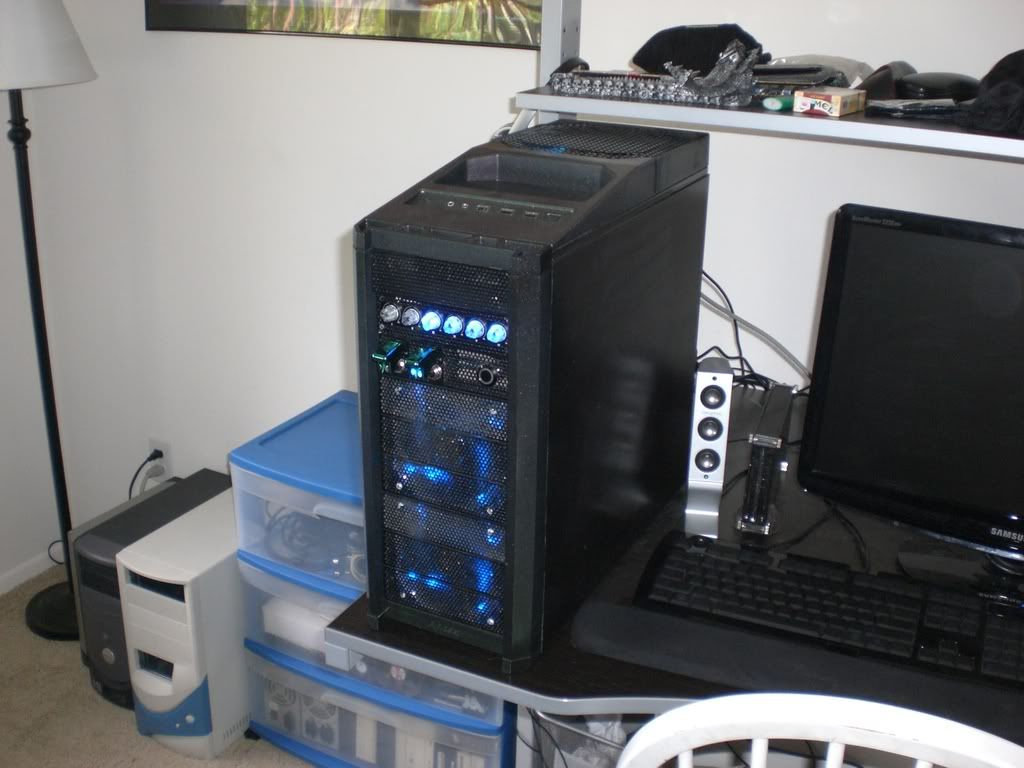 Updates
Day 1-Prep work.
Day 1.5-Waiting for things to get started.
Day 2-Slow goings.
Day 2.5-L2Cut.
Day 3-Things start to pick up.
Day 3.5-Paint practice and a long session of filing.
Day 4-God i hate Filing.
Day 4.5-Good news.
Day 5-Layin wires.
Day 5.5-Switch panel.
Day 6-Finishing the front panel.
Day 6.5-Tasty green paint.
Day 7-Lapping.
Day 7-continued.
Day 7.5-Painting 95% done.
Day 8-Things start to take shape.
Day 8.5-Back from vacation.
Day 9-And the work continues.
Day 10-Temporary Final Shots.
Final Update-Good to be done.
Hello and welcome to Wildfire99's very first build log! First off i want to thank the community here for inspiring me to do this case mod and for teaching me the skills required to be able to do this.
Today we will be learning how to modify a antec 900. I know that a lot of people have done this before so ive tryed to think of a few mods that i think will make mine stand out from the rest. As of the time of this posting i have very few of the build components and im very financialy strapped so updates may be sporadic(chance i wont get any money for a month or i might get about $500 on monday we will have to see but i will eventualy finish this mod). the name Maleficent Emerald Dream put simply means evil green dream for those who are vocabularly impaired.
Hardware
Case: Antec 900
PSU: Silverstone 700w modular
Mobo: x38 Maximus Formula
CPU: q9650
Ram: G.skill 2x2gb 1066
HDD: Seagate 500gb
HSF: True
OS: Vista Ultimate 64 bit
Graphics: HIS 4870
Edited by wildfire99 - 3/3/09 at 2:16pm
CPU
Motherboard
Graphics
RAM
E5200 :(
Maximus Formula x38
9600GSO :(
G.Skill 2x2gb ddr2 1066
Hard Drive
Optical Drive
OS
Monitor
Barracuda 7200.12 500GB
Samsung DVD Burner /W Lightscribe
Windows 7 64bit
17" CRT :(
Keyboard
Power
Case
Mouse
Razer Lycosa
Corsair 850TX
Modded Antec 900
Razer Lachesis
Mouse Pad
Audio
Rocketfish Dbl-sided Anodized Aluminum
Logitech CRAP speakers.. :(
View all
hide details
CPU
Motherboard
Graphics
RAM
E5200 :(
Maximus Formula x38
9600GSO :(
G.Skill 2x2gb ddr2 1066
Hard Drive
Optical Drive
OS
Monitor
Barracuda 7200.12 500GB
Samsung DVD Burner /W Lightscribe
Windows 7 64bit
17" CRT :(
Keyboard
Power
Case
Mouse
Razer Lycosa
Corsair 850TX
Modded Antec 900
Razer Lachesis
Mouse Pad
Audio
Rocketfish Dbl-sided Anodized Aluminum
Logitech CRAP speakers.. :(
View all
hide details