A few months ago I picked up 2 different cheap thermometers at a local hardware store because I wanted to get an idea of ambient temperatures in my room. I figured I'd average the readings of the two to maybe compensate for inaccuracies in the instruments, seeing as these aren't particularly good.
Anyway, the design of one of them really appealed to me and screamed 'cheap modding possibilities'. It has a digital LCD temperature display and a small temperature sensor with 2 leads...
I just got a Kaze Master fan controller and I was wondering if I could solder one of the long temperature sensors that came with the controller in place of the sensor on the thermometer? This would enable me to monitor temps while having the thermometer mounted in a different spot. Would the LCD still work? Does the sensor + whatever circuitry is on the PCB have to stay together to work correctly?
Here is the longer sensor... it has 2 wires so It would be easy to connect to the thermometer...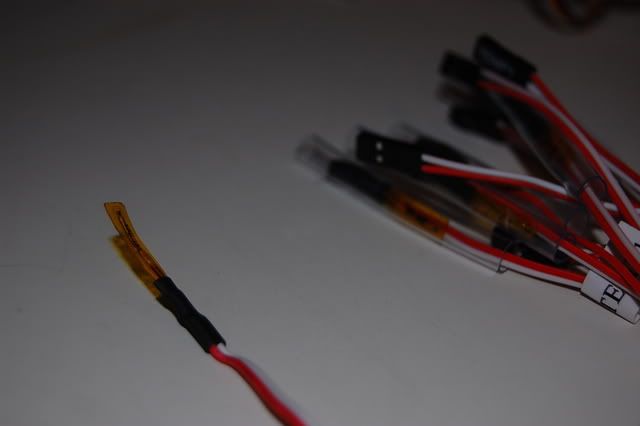 Here is a shot showing the sensor on the thermometer. It's the little black ball on the end of 2 short insulated wires on the PCB.
Here's how I would like to mount these thermometers... could look quite neat when done. I think three could fit right behind the rad and that means I could have 1 to monitor each rad... (camera insists on picking up that rainbow effect on the LCD display but it's not visible)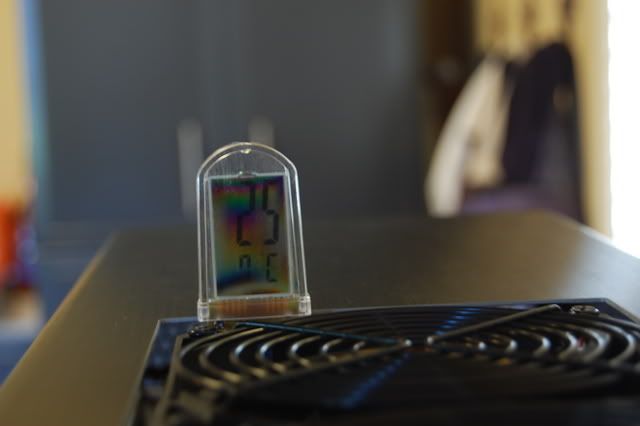 thoughts? would the thermometer have to be re-calibrated for the different sensor?
PS: sorry for sloppy post. I hit the 'submit thread' button prematurely somehow and right then my ISP decides to crap out for 5-10 minutes...:swearing:
Edited by MCBrown.CA - 8/10/08 at 5:22pm
CPU
Motherboard
Graphics
RAM
920 D0 | 4104MHz@1.23V
Big Bang XPower
5850 | 880/1050
6GB Sector 7 | 1728MHz
Hard Drive
OS
Monitor
Power
F115
W7P64
245BW
SPI Magna 1kW
Case
cardboard (case/loop in prog)
View all
hide details
CPU
Motherboard
Graphics
RAM
920 D0 | 4104MHz@1.23V
Big Bang XPower
5850 | 880/1050
6GB Sector 7 | 1728MHz
Hard Drive
OS
Monitor
Power
F115
W7P64
245BW
SPI Magna 1kW
Case
cardboard (case/loop in prog)
View all
hide details