Ok, so I recently bought a 45nm quad for my gaming rig. The CPU came with an awesome low-profile HS that's I never used because the CPU went under water right away.
OK, well this may not be a great HS for a OC'ed quad, but when I saw this thing it almost literally screamed 'GPU mod!!' at me... This has been done before,
here
.
Here's a comparison shot of a stock Q6600 HS and the Q9550 HS (with a pencil for scale). Quite a bit thinner!
Stupid me
broke one of the mounting pins off of the Q9550 fan but I'm not going to end up using that fan anyway. Q6600 fan on left, Q9550 fan on right.
The fan that came with the Q6600 HS fits just fine and doesn't have the mounting pins in the way... lucky! I also have some spare half-height Enzotech ramsinks that I'll use on the memory chips if they'll fit.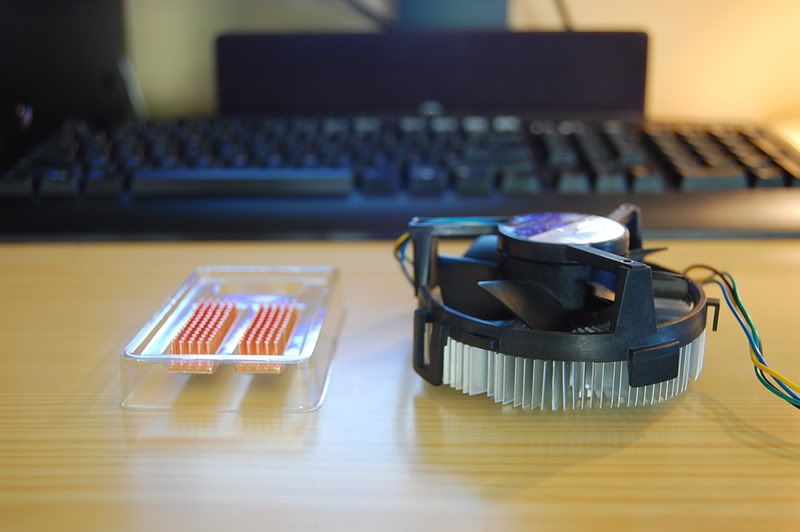 This probably wouldn't be a good HS for a newer high-heat card. Luckily, I have a
secondary rig
that I will be using every day at school (2-year IT program). This rig's GPU is my trusty old eVGA 7900GS KO, which will be the guinea-pig in this project.
I took the stock HS assembly off and cleaned the thermal paste of the chip. I left the thermal padding for the memory chips on the stock HS in case this mod doesn't work out...
As you can see here, the screws that the stock HS was attached with were way too short to the reach the new HS.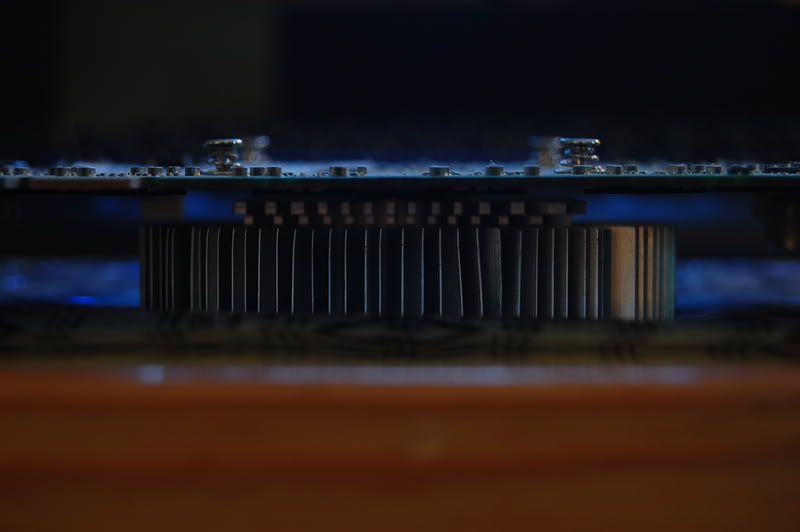 I did some serious digging in my bitz bin to find some screws that might work to mount the new HS. Most were too short. In the photo below the HS is in the sitting nicely on the core but the screws were too short.
I found 2 long screws that look like they'll fit. I will have to buzz about a 1/4" or so off the ends with the Dremel so they won't hit the fan. Also, you'll notice that I had to bend the fins a bit to get the screws in there but I'll bend them back with some pliers when its mounted.
I need to go to a local computer shop and see if they have 2 more screws, but I don't have a car today so progress on this little mod will stop here for the time being...
If anyone has ideas about how to mount this thing, I'm all ears!
Thanks for watchin!
EDIT: Oops! Forgot some important testing info. 7900GS KO stock HS idle: 45 degrees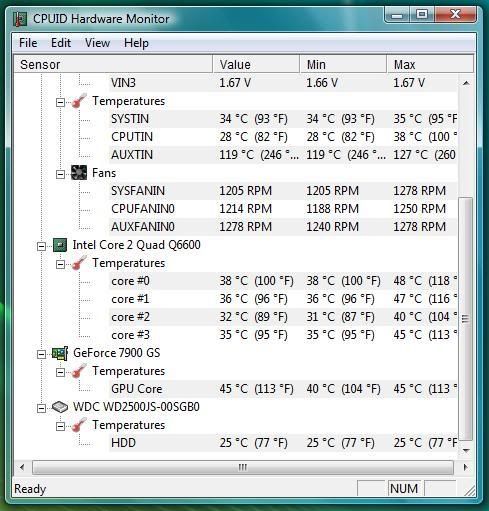 7900GS KO stock HS load: 60 degrees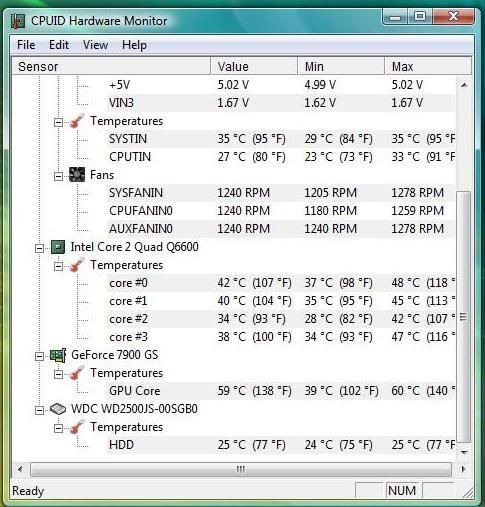 Edited by MCBrown.CA - 9/1/08 at 5:40pm
CPU
Motherboard
Graphics
RAM
920 D0 | 4104MHz@1.23V
Big Bang XPower
5850 | 880/1050
6GB Sector 7 | 1728MHz
Hard Drive
OS
Monitor
Power
F115
W7P64
245BW
SPI Magna 1kW
Case
cardboard (case/loop in prog)
View all
hide details
CPU
Motherboard
Graphics
RAM
920 D0 | 4104MHz@1.23V
Big Bang XPower
5850 | 880/1050
6GB Sector 7 | 1728MHz
Hard Drive
OS
Monitor
Power
F115
W7P64
245BW
SPI Magna 1kW
Case
cardboard (case/loop in prog)
View all
hide details