DFI Lanparty DK P45-T2RS Plus Thread
Firstly a note, this covers only the plus model (mainly because the non plus model had a few issues and the plus is the major revision!)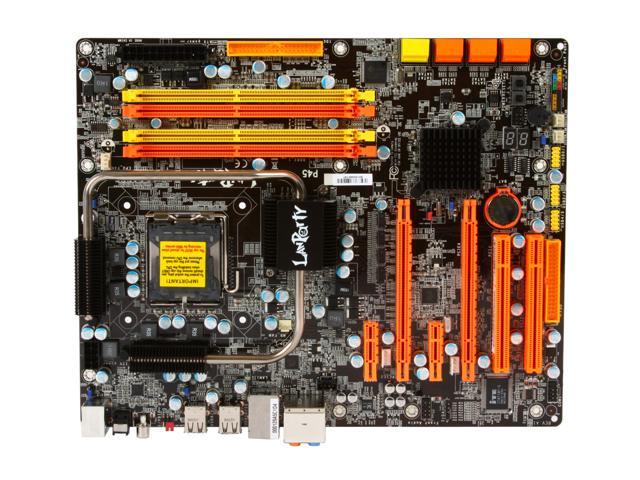 (Sorry for the image off Newegg... Its the only decent top on photo that shows the PCB at the right colour)
DFI Lanparty DK P45-T2RS Plus
Where To Buy
NewEgg
Motherboard Pro
PC Case Gear
Bios/Drivers
Bios Page
Audio Drivers
Chipset Drivers
Drivers Page
Manual
Tech Specs
Quote:
CPU


# LGA 775 socket for: - Intel® Core2 Quad and Intel® Core2 Duo
# Supports Intel Enhanced Memory 64 Technology (EMT64T)
# Supports Enhanced Intel SpeedStep Technology (EIST)
# Supports Intel Hyper-Threading Technology
# Supports 1333/1066/800MHz FSB

Chipset


# Intel® chipset - Northbridge: Intel® P45 Express chipset Intel® Fast Memory Access technology - Southbridge: Intel® ICH10R

System Memory


# Four 240-pin DDR2 DIMM sockets
# Supports DDR2 1066MHz (O.C 1200MHz)
# Delivers up to 12.8Gb/s bandwidth
# Supports dual channel (128-bit wide) memory interface
# Supports up to 8GB system memory
# Supports unbuffered x8 and x16 DIMMs

Expansion Slots


# 2 PCI Express (Gen 2) x16 slots - 2-way CrossFire: One slot operating at x16 (16-lane port) or two slots each operating at x8 (8-lane ports) bandwidth
# 2 PCI Express x1 slots
# 2 PCI slots

BIOS


# Award BIOS
# 8Mbit SPI flash BIOS
# CMOS Reloaded

Audio


# Realtek ALC885 High Definition audio CODEC
# 8-channel audio output
# DAC SNR/ADC SNR of 106dB/101dB
# Full-rate lossless content protection technology
# Optical S/PDIF-out and coaxial RCA S/PDIF-out interfaces

LAN


# Marvell 88E8053 PCIE Gigabit LAN controller
# Fully compliant to IEEE 802.3 (10BASE-T), 802.3u (100BASE-TX) and 802.3ab (1000BASE-T) standards

Storage


# Intel ICH10R chip - Intel Matrix Storage technology - Supports up to 6 SATA devices - SATA speed up to 3Gb/s - RAID 0, RAID 1, RAID 0+1 and RAID 5
# JMicron JMB363 PCI Express to SATA and PATA host controller - Supports up to 2 UltraDMA 100Mbps IDE devices - Supports 2 SATA devices - SATA speed up to 3Gb/s - RAID 0 and RAID 1

Rear Panel I/O


# 1 mini-DIN-6 PS/2 mouse port
# 1 mini-DIN-6 PS/2 keyboard port
# 1 optical S/PDIF-out port
# 1 coaxial RCA S/PDIF-out port
# 6 USB 2.0/1.1 ports
# 1 RJ45 LAN port
# Center/subwoofer, rear R/L and side R/L jacks
# Line-in, line-out (front R/L) and mic-in jacks

Internal I/O


# 3 connectors for 6 additional external USB 2.0 ports
# 1 connector for an external COM port
# 1 front audio connector
# 1 CD-in connector
# 1 IrDA connector
# 8 Serial ATA connectors
# 1 40-pin IDE connector
# 1 floppy connector
# 1 24-pin ATX power connector
# 1 8-pin 12V power connector
# 2 4-pin 5V/12V power connectors (FDD type)
# 1 front panel connector
# 4 fan connectors
# 1 download flash BIOS connector
# 1 diagnostic LED
# EZ touch switches (power switch and reset switch)

Power Management


# Ultimate 4-phase digital PWM with 12 MOSFETs
# ACPI and OS Directed Power Management
# ACPI STR (Suspend to RAM) function
# Wake-On-PS/2 Keyboard/Mouse
# Wake-On-USB Keyboard/Mouse
# Wake-On-LAN
# Wake-On-Ring
# RTC timer to power-on the system
# AC power failure recovery

Hardware Monitor


# Monitors CPU/system/Northbridge temperature and overheat alarm
# Monitors Vcore/Vdimm/Vnb/VCC5/12V/V5sb/Vbat voltages
# Monitors the speed of the cooling fans
# CPU Overheat Protection function monitors CPU temperature and fan during system boot-up - automatic shutdown upon system overheat

PCB


# 4 layers, ATX form factor
# 24.5cm (9.64") x 30.5cm (12")
Overclocking!
Guide to DFI Bios in general
Link
(Please note that there are some differences in the P45 bios compared to the X48 as you would expect, There is no CPU VID Control but rather just the special add that works the same, You just add volts! Also there is no Vcore droop control!)
This board is very capable of 600 FSB as documented on
XS
625 FSB!
More 625 FSB!
Super Pi Record 1M 6,875
A record has been set by Team Italy, This board now holds the SuperPi 1M record, With a FSB of 656 on an E8600! More information can be found
Here @ XS
Also reaching an amazing
652 FSB...
Watercooling!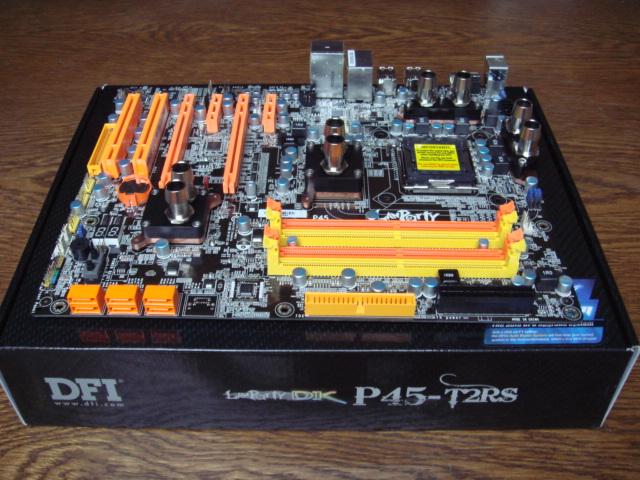 www.anfi-tec.de
have waterblocks made for this board, as shown
Here
Where to buy/more shots!
Northbridge
Southbridge
Mosfets
Thanks to Anfi-Tec
First Impressions is this board does not need a vdroop mod at all... I am quite serious this board has no vdrop and hardly any vdroop unless you are very serious. I am sure vdroop mods will come soon for those in need.
Edited by DaCrusader - 9/20/08 at 2:54pm
CPU
Motherboard
Graphics
RAM
Q9450 @ 3.4Ghz (425 x 8)
DFI DK P45-T2RS PLUS
Palit 9800GT
2GB Corsair XMS2 DDR2-800 @ 850 5-5-5-15
Hard Drive
Optical Drive
OS
Monitor
WD 500GB SataII
LG HD DVD, Blu-ray Combo Drive
Windows Vista Ultimate
Samsung 226BW
Keyboard
Power
Case
Mouse
Logitech Wireless
550w Generic
Lian Li PC-A70B (Soon to be modded)
Logitech Wireless
Mouse Pad
Desk :D
View all
hide details
CPU
Motherboard
Graphics
RAM
Q9450 @ 3.4Ghz (425 x 8)
DFI DK P45-T2RS PLUS
Palit 9800GT
2GB Corsair XMS2 DDR2-800 @ 850 5-5-5-15
Hard Drive
Optical Drive
OS
Monitor
WD 500GB SataII
LG HD DVD, Blu-ray Combo Drive
Windows Vista Ultimate
Samsung 226BW
Keyboard
Power
Case
Mouse
Logitech Wireless
550w Generic
Lian Li PC-A70B (Soon to be modded)
Logitech Wireless
Mouse Pad
Desk :D
View all
hide details