hello,
I think this is the max stable here: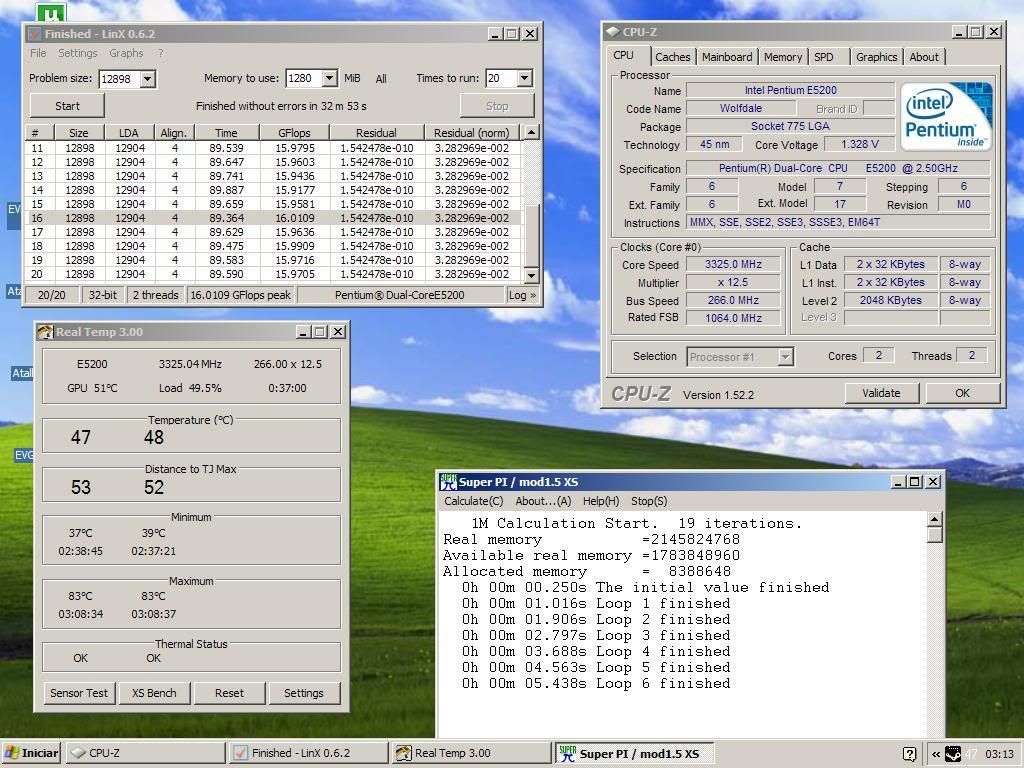 not that great... but I'm using the retail cooler (and this one is not in a great shape, it was broken and I fixed with some glue lol), at stock clock the max temp is under 60ºc in the linx, room temp is like 20ºc or less
I think I need a new heatsink (a r0 e5xxx to lol)... I'm using 1,36v in the bios (but in cpuz during linx is 1.312 the minimum, in everest 1.31 running linx and 1.34 idle) I think, with 1,35+- I get error in linx... the mb is a gigabyte g31m s2l... I think even with better cooling this chip will not clock to high...
the max temperature is quite high, but while gaming is a lot lower, like in the 50-60....
one question, the "eist" still reducing the clock when the cpu use is low (6x mult), but it's not lowering the voltage anymore, is there any way to lower it? sometimes I let the PC only downloading stuff and there is no need for 1.3+v...
after using only AMD cpus since 2003 I'm a bit lost with this
sorry about my poor english
Edited by HMBR - 9/9/09 at 11:45pm
CPU
Motherboard
Graphics
RAM
i5 3GHz
OEM Pegatron h61
HD 5850 @ 925MHz
8GB
Hard Drive
Cooling
OS
Monitor
Samsung 1tb
C2D e6300 Intel HSF
Win10
HP 19"
Keyboard
Mouse
Audio
generic AT with PS/2 adapter
wheel mouse optical 1.1
alc 662
View all
hide details
CPU
Motherboard
Graphics
RAM
i5 3GHz
OEM Pegatron h61
HD 5850 @ 925MHz
8GB
Hard Drive
Cooling
OS
Monitor
Samsung 1tb
C2D e6300 Intel HSF
Win10
HP 19"
Keyboard
Mouse
Audio
generic AT with PS/2 adapter
wheel mouse optical 1.1
alc 662
View all
hide details