Right, here's the story... we were contacted by someone who's Skulltrail system was overheating massively and wanted us to cool the thing down.
So we did...
Case:
Silverstone TJ07
Board:
Intel Skulltrail
GPU:
nVidia 280GTX
Cooling
DDC Ultra with EK Top
Feser 480 Rad w/ Medium Speed Yates
Apogee GTZ CPU Blocks x2
EK Full Cover 280GTX Block w/ EK Backplate
XSPC Bay Reservoir (Black)
XSPC 7/16" Hose
Primochill UV Green Coils
Feser 1 Black
This isn't gonna be bling'd up at all, just a kick ass cooling system going in it.
Could this be why it was overheating previously?
Lots of ArtiClean & tissues later we have...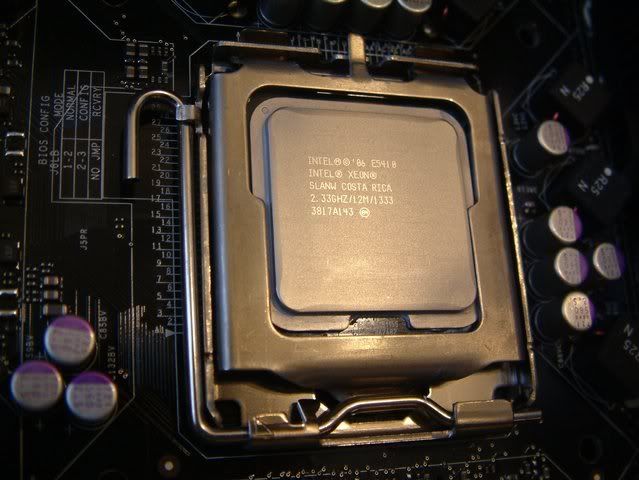 CPU
Motherboard
Graphics
RAM
Q6600
Asus P5K3
Leaktek 8800GTS 640Mb
2GB DDR3
Hard Drive
Optical Drive
OS
Monitor
500GB SATA
DVD-RW
XP
2x 19" Widescreens
Keyboard
Power
Case
Mouse
Logitech
Coolermaster 850W
Lasered & Painted Akasa Omega
Microsoft Habu
Mouse Pad
Bugs Bunny!
View all
hide details
CPU
Motherboard
Graphics
RAM
Q6600
Asus P5K3
Leaktek 8800GTS 640Mb
2GB DDR3
Hard Drive
Optical Drive
OS
Monitor
500GB SATA
DVD-RW
XP
2x 19" Widescreens
Keyboard
Power
Case
Mouse
Logitech
Coolermaster 850W
Lasered & Painted Akasa Omega
Microsoft Habu
Mouse Pad
Bugs Bunny!
View all
hide details