Everything is new so I am positive I am screwing something up.
Board, 780i ftw.
Cards gtx280 with evga waterblocks.
Case lianlipc-p280
I can get the card to go low enough to click with the plastic sli locks on the mobo. Its almost as if the mobo is too low!
Can someone figure out what I am doing wrong here? Pictures below, sorry they are crappy.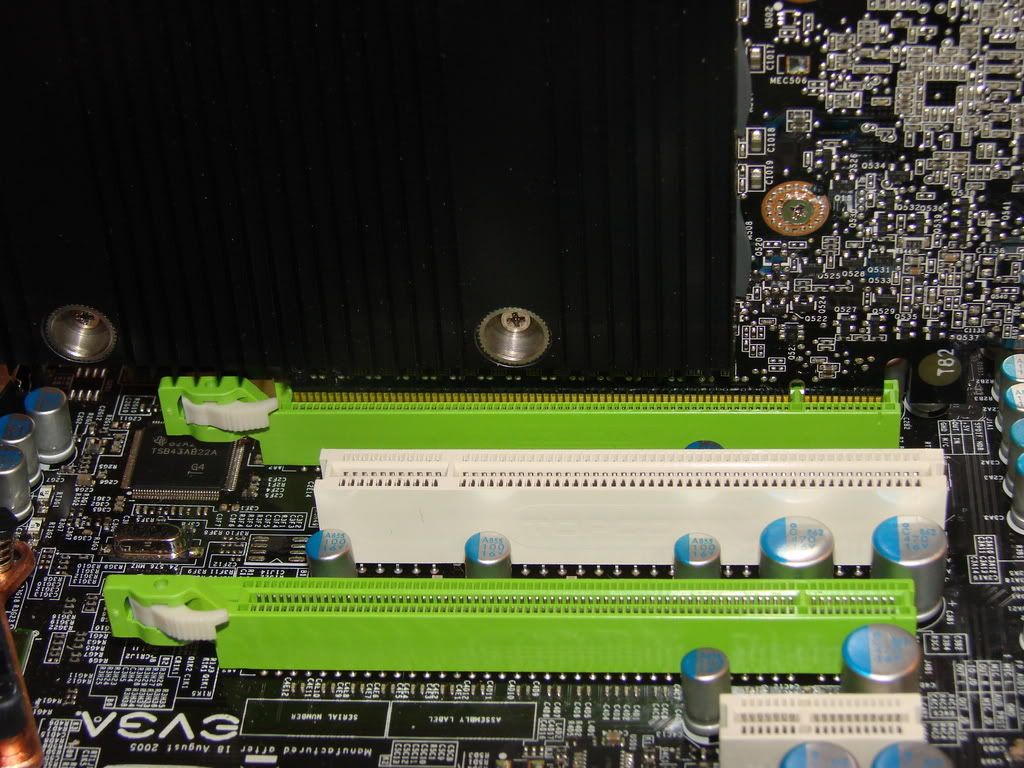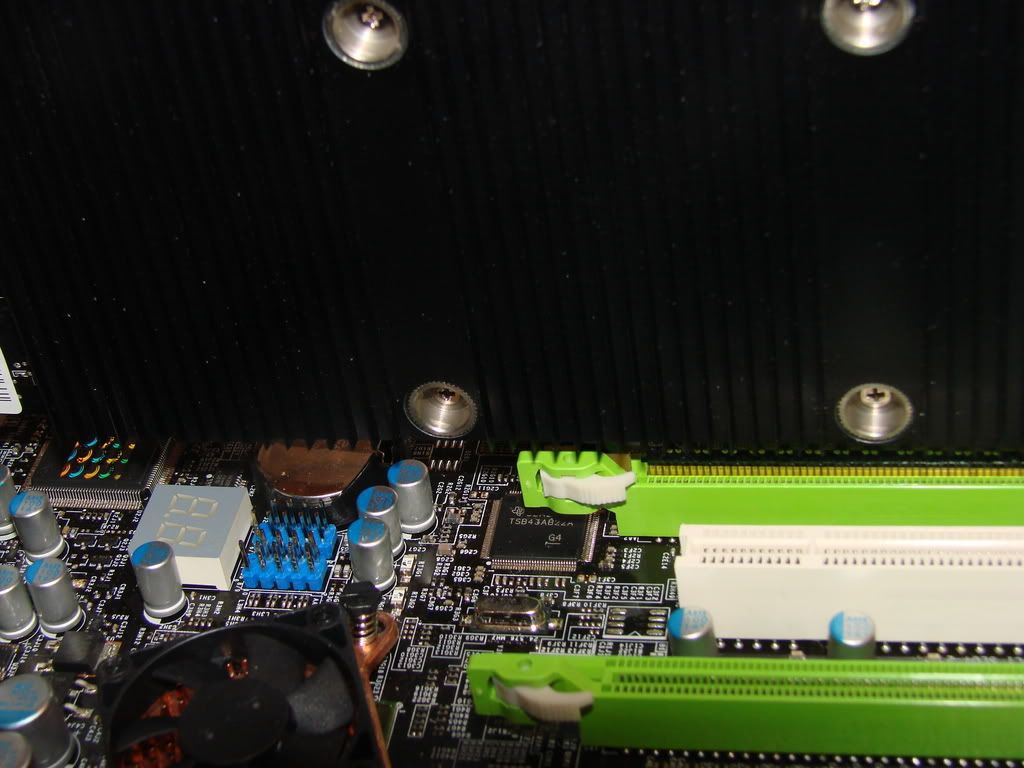 You see here I screwed it in tight, but the video card is not fitting properly..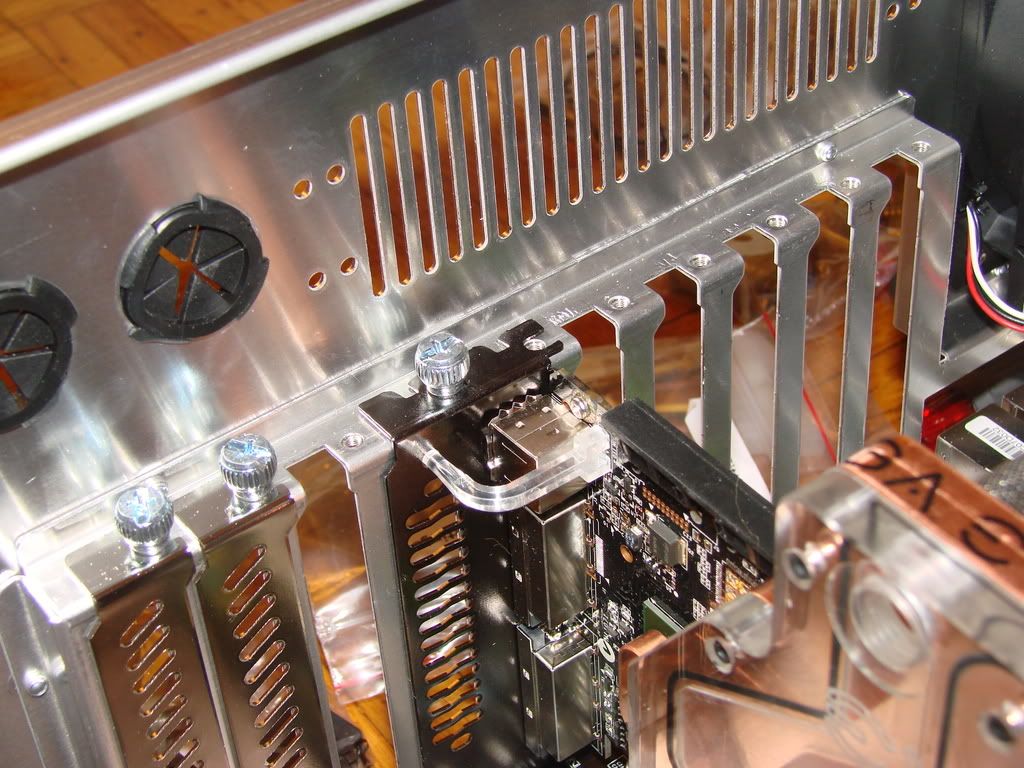 CPU
Motherboard
Graphics
RAM
I7 2600k Sandy Bridge@4200 mhz , 1.24 v stable
P67 FTW
3x EVGA gtx 480 hydrocooled
ddr3 2133 gskill ripjaws.
Hard Drive
Hard Drive
Optical Drive
Cooling
2x 300 gig velociraptor in Raid 0 for strorage,
120 gig corsair SSD boot drive
dvd r/rw
480 mm bix radiator dedicated to video cards, 1...
OS
Monitor
Keyboard
Power
windows 7 x64
3x dell 2408wfp
check
Toughpower 1200watt
Case
Mouse
Mouse Pad
Audio
Lian-Li pc-p80
check
check
Bose sound system
Audio
Bose sound system
View all
CPU
Motherboard
Graphics
RAM
I7 2600k Sandy Bridge@4200 mhz , 1.24 v stable
P67 FTW
3x EVGA gtx 480 hydrocooled
ddr3 2133 gskill ripjaws.
Hard Drive
Hard Drive
Optical Drive
Cooling
2x 300 gig velociraptor in Raid 0 for strorage,
120 gig corsair SSD boot drive
dvd r/rw
480 mm bix radiator dedicated to video cards, 1...
OS
Monitor
Keyboard
Power
windows 7 x64
3x dell 2408wfp
check
Toughpower 1200watt
Case
Mouse
Mouse Pad
Audio
Lian-Li pc-p80
check
check
Bose sound system
Audio
Bose sound system
View all
CPU
Motherboard
Graphics
RAM
I7 2600k Sandy Bridge@4200 mhz , 1.24 v stable
P67 FTW
3x EVGA gtx 480 hydrocooled
ddr3 2133 gskill ripjaws.
Hard Drive
Hard Drive
Optical Drive
Cooling
2x 300 gig velociraptor in Raid 0 for strorage,
120 gig corsair SSD boot drive
dvd r/rw
480 mm bix radiator dedicated to video cards, 1...
OS
Monitor
Keyboard
Power
windows 7 x64
3x dell 2408wfp
check
Toughpower 1200watt
Case
Mouse
Mouse Pad
Audio
Lian-Li pc-p80
check
check
Bose sound system
Audio
Bose sound system
View all
hide details
CPU
Motherboard
Graphics
RAM
I7 2600k Sandy Bridge@4200 mhz , 1.24 v stable
P67 FTW
3x EVGA gtx 480 hydrocooled
ddr3 2133 gskill ripjaws.
Hard Drive
Hard Drive
Optical Drive
Cooling
2x 300 gig velociraptor in Raid 0 for strorage,
120 gig corsair SSD boot drive
dvd r/rw
480 mm bix radiator dedicated to video cards, 1...
OS
Monitor
Keyboard
Power
windows 7 x64
3x dell 2408wfp
check
Toughpower 1200watt
Case
Mouse
Mouse Pad
Audio
Lian-Li pc-p80
check
check
Bose sound system
Audio
Bose sound system
View all
CPU
Motherboard
Graphics
RAM
I7 2600k Sandy Bridge@4200 mhz , 1.24 v stable
P67 FTW
3x EVGA gtx 480 hydrocooled
ddr3 2133 gskill ripjaws.
Hard Drive
Hard Drive
Optical Drive
Cooling
2x 300 gig velociraptor in Raid 0 for strorage,
120 gig corsair SSD boot drive
dvd r/rw
480 mm bix radiator dedicated to video cards, 1...
OS
Monitor
Keyboard
Power
windows 7 x64
3x dell 2408wfp
check
Toughpower 1200watt
Case
Mouse
Mouse Pad
Audio
Lian-Li pc-p80
check
check
Bose sound system
Audio
Bose sound system
View all
CPU
Motherboard
Graphics
RAM
I7 2600k Sandy Bridge@4200 mhz , 1.24 v stable
P67 FTW
3x EVGA gtx 480 hydrocooled
ddr3 2133 gskill ripjaws.
Hard Drive
Hard Drive
Optical Drive
Cooling
2x 300 gig velociraptor in Raid 0 for strorage,
120 gig corsair SSD boot drive
dvd r/rw
480 mm bix radiator dedicated to video cards, 1...
OS
Monitor
Keyboard
Power
windows 7 x64
3x dell 2408wfp
check
Toughpower 1200watt
Case
Mouse
Mouse Pad
Audio
Lian-Li pc-p80
check
check
Bose sound system
Audio
Bose sound system
View all
hide details