Quote:
Originally Posted by
BradleyW
when i turn the pc on. this board makes the pc start up for 2 seconds then shuts down. Then it starts normal. why?
I get that happen when i turn off the power supply
But if I just shut down and leave the power supply on, it doesn't happen
Quote:
Originally Posted by
airplaneman
Also, I'm having trouble overclocking my RAM. It's Mushkin Redline PC8000 that is supposed to run at 1000. I have it set to 890 in the BIOS right now so last night I decided to bump it up to 1068. I raised the memory voltage from 1.84 to 1.94 and it booted fine so I left it. This morning I boot up and the computer won't boot, so I tried giving the memory 2.00 volts and it still wouldn't do it. Dropped the memory back to stock voltages and it seems to be working, but only at 890 MHz. Timings are 5-5-5 2T.
I did read that this board can over tighten the tRFC timing!
And it sets this timing more in line with what the ram could do at 800MHz
As you can see, mine is set to 70
Worth a look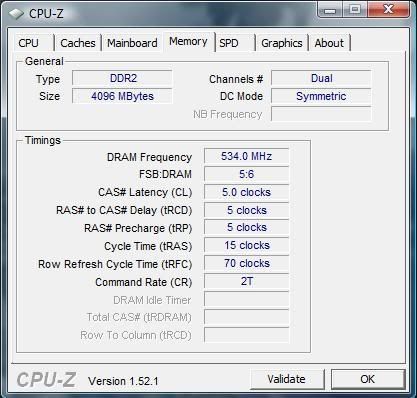 Edited by ACHILEE5 - 8/5/09 at 7:03am
CPU
Motherboard
Graphics
RAM
Intel® Core™ i5-3210M
Laptop
HD 4000
Corsair Vengeance 8GB
Hard Drive
Optical Drive
OS
Monitor
Samsung 840 250GB
DVD Multi
Windows 8
15.5 inch display (1366 x 768)
Keyboard
LED Back lit
View all
hide details
CPU
Motherboard
Graphics
RAM
Intel® Core™ i5-3210M
Laptop
HD 4000
Corsair Vengeance 8GB
Hard Drive
Optical Drive
OS
Monitor
Samsung 840 250GB
DVD Multi
Windows 8
15.5 inch display (1366 x 768)
Keyboard
LED Back lit
View all
hide details