The intent of this guide is to assist others in the difficult task of managing component cables within the HAF 932. It should be an easy feat in a case with as much space as this one. So I will demonstrate a few methods of how you can keep tidy cables, as I did wiht my Antec P180. For now I just went in and tidied up what I could with my current hardware and tried to make it look as clean as possible. I through in an Ultra X3 800w PSU, which helped immensely in reducing the number of cables coming out of the PSu. My PC P&C Silencer 750 had too many wires that were unused and there is no where in the the HAF 932 to hide them, so I would highly recommend getting a modular PSU with this case( though not absolutely necessary by any means).
So here is my first attempt at keeping things clean. I am assuming we all know how to screw in the mobo standoffs so I am starting here with the mobo aleady installed, also my hard drives are already in place, as well as my dvd-burner. Here is a shot of thow that looked
I also have the front panel cables in place too. I have 3 cables at the top (two black and one red) that I ran out of that hole (because they fit) and those I did not use. That was the 1394 and eSata cables. I coiled them and zip tied those together and pics are shown how they look on the backsider of the case.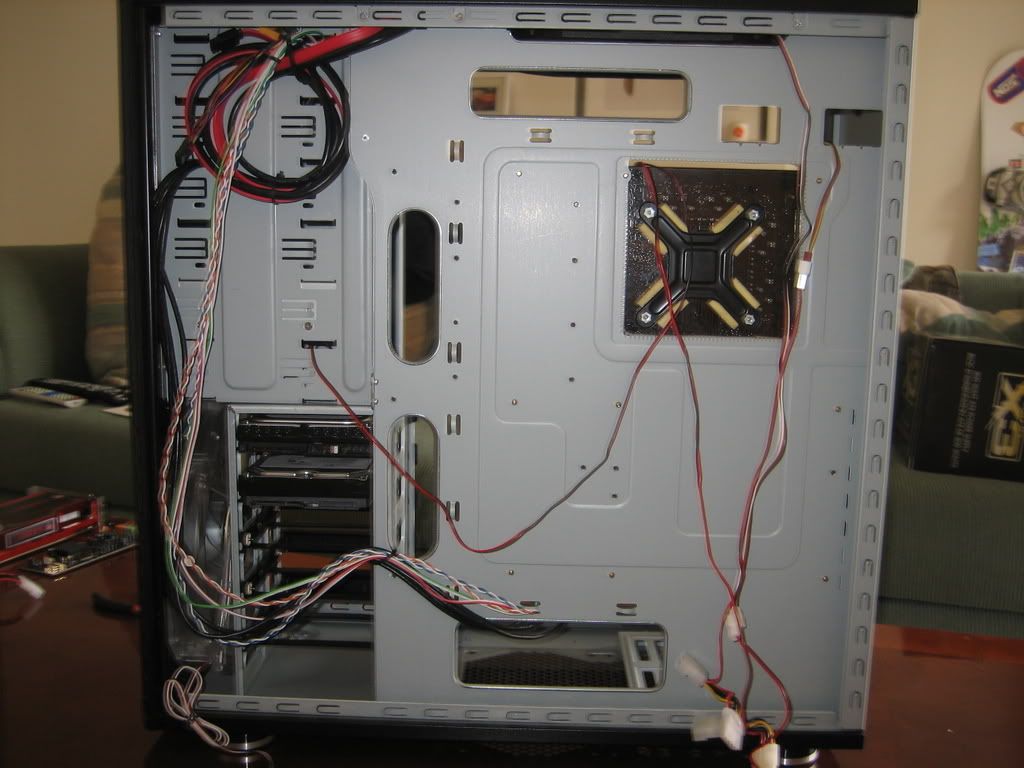 Here is a closer shot of the mess. I think I can clea this up a lot better, but this is just a rough draft so to speak.
Here is a shot of the x6 5.25" drive bays. You can see a little better where I ran the cables through and zip tied them down.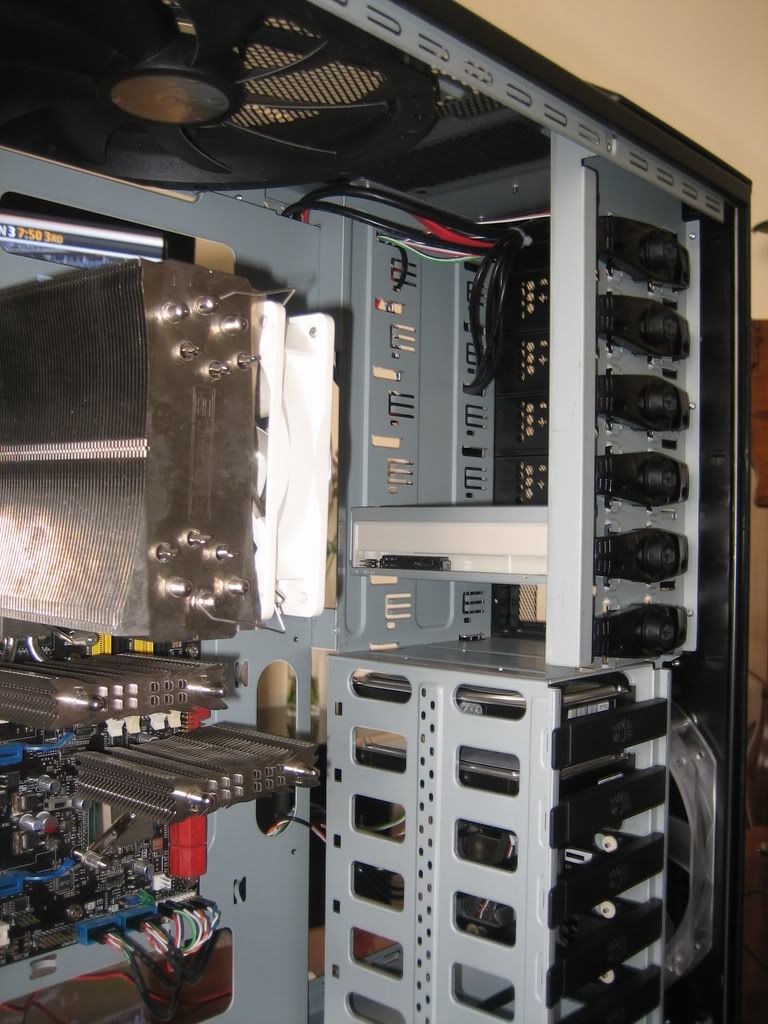 The new Ultra X3 PSU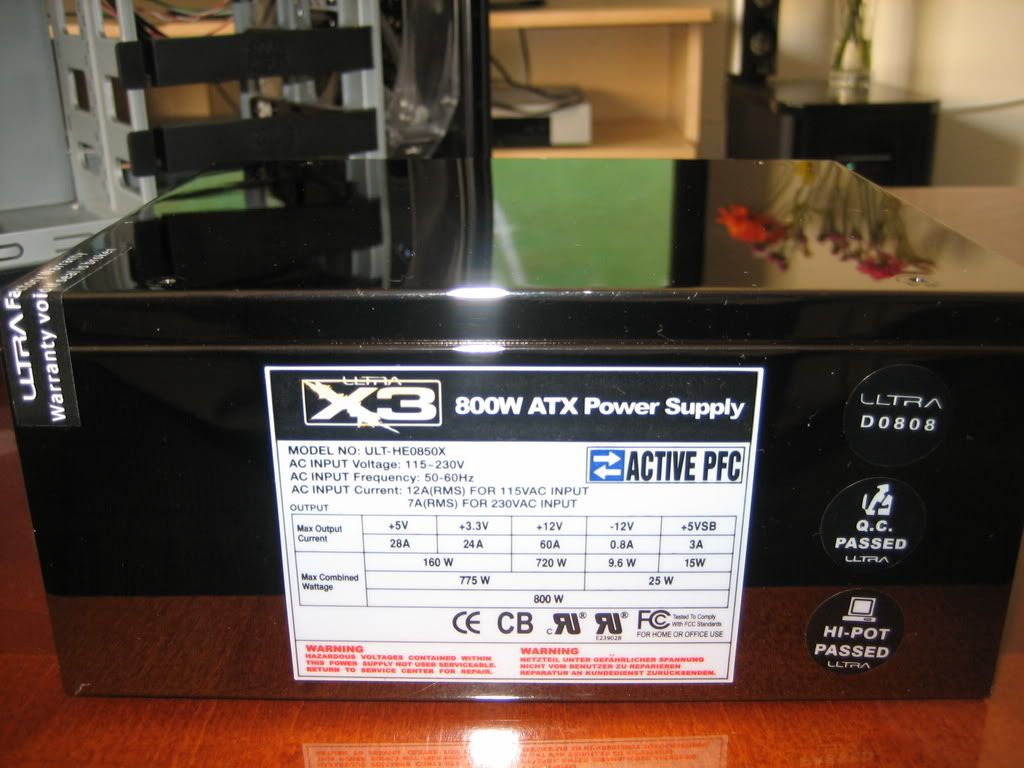 It has a tinted mirror finish, looks good to me.
Now My PSU is in place and ready for the cables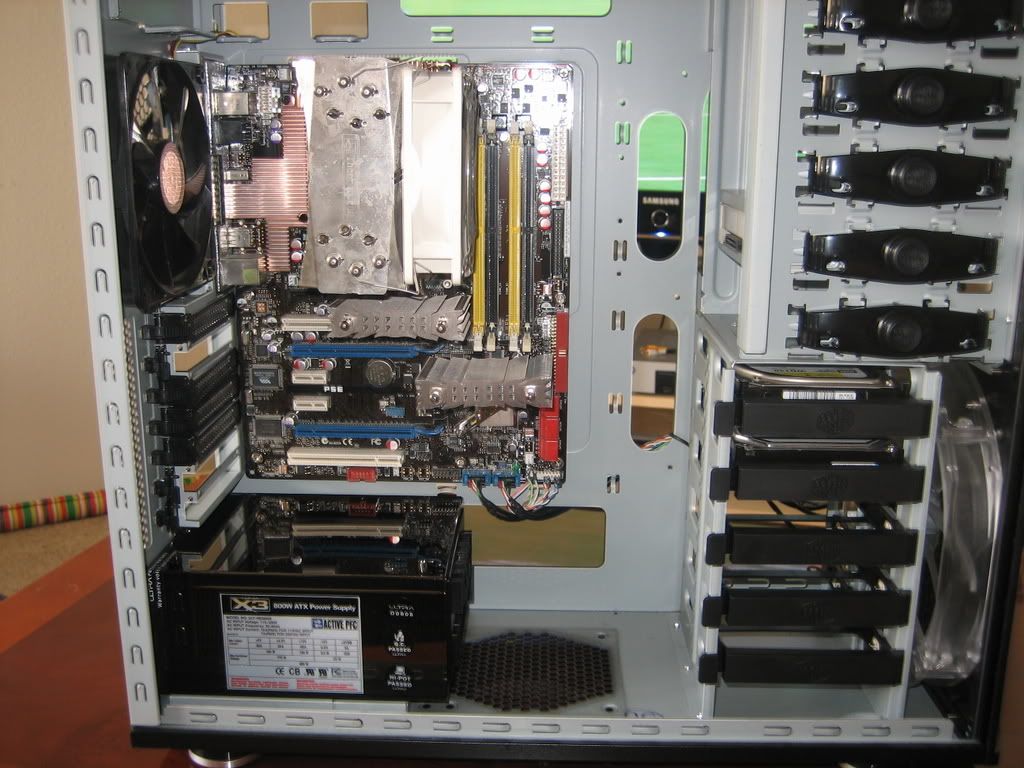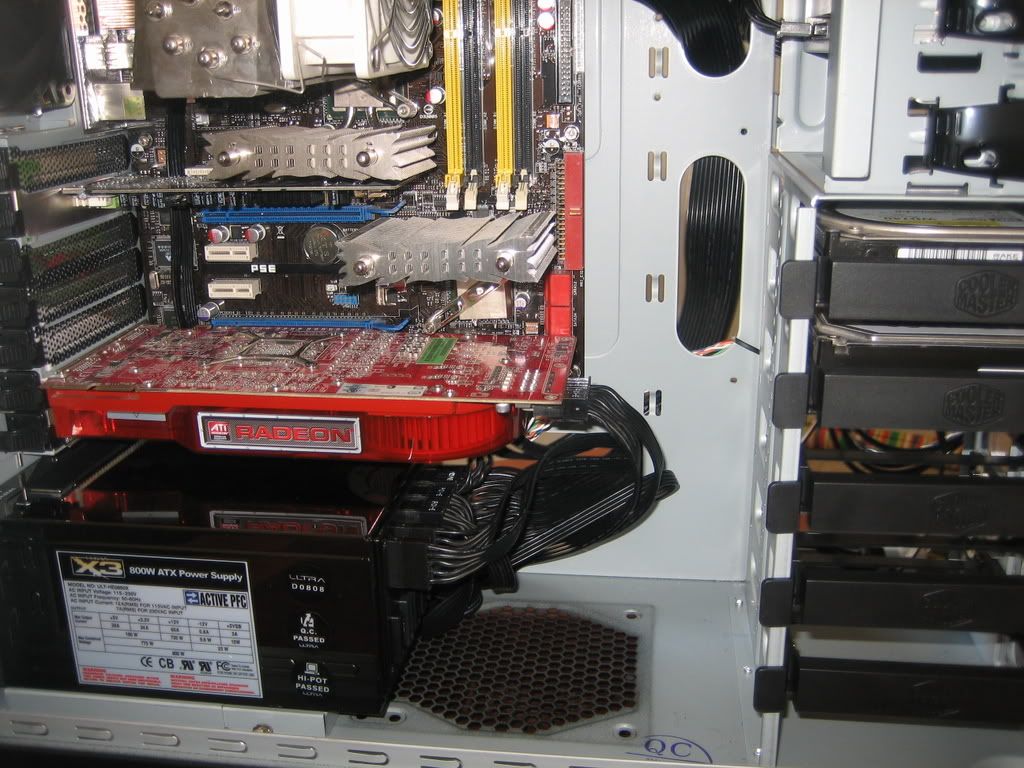 NowI have the 24-pin ATX power wire plugged in to the mobo. Luckily the cable was long enough. The 12V+ power cable is also plugged in. I have 2 6-pin PCI-E cables going to the GPU and one molex cable going out the back for the fans. My SATA cables are also in place, for the hard drives and another for the DVD-Burner. I wish I could use one for all 3, unfortunately the cable wasnt long enough, but I will try to get an extension for it, less cables = less mess.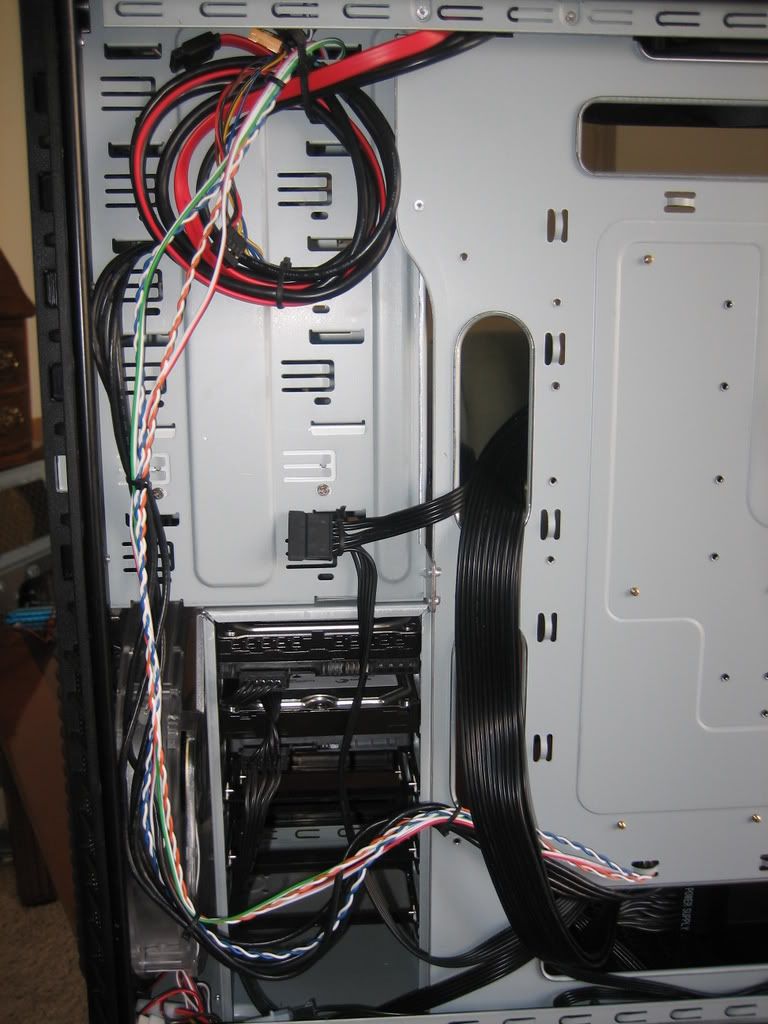 Here is a closer shot of the how many cables I am actually using.
Now I have teh SATA cables in place for the HDD's and DVD-Burner. And yes I know there is a guy in the picture, Dallas Cowboys head coach Wade Phillips. I took this shot while watching the game (bad idea). You can see the 12V+ power cable too now. it runs under the GPU and sounds card. I will be changing this in the coming days. I dont like that cable their.
Again, here is another shot from the other side. I still have a jumble of wires, which will soon be remedied.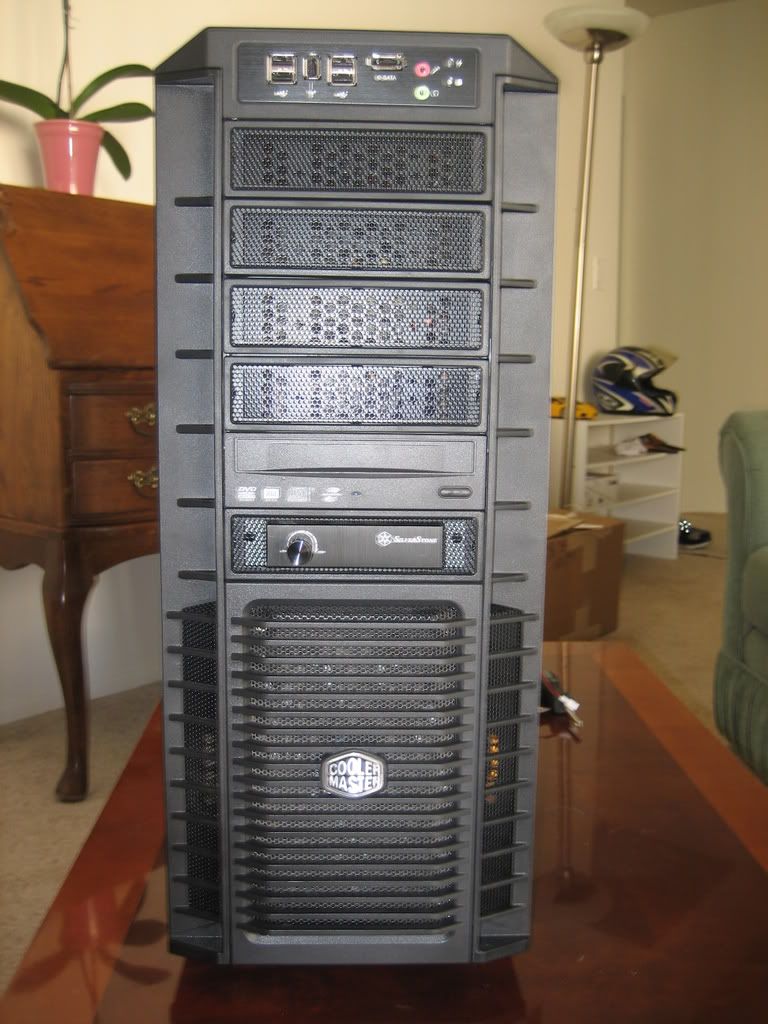 And that is all for now. I will be updating this regularly and I am open to all suggestions. Please post a couple of your own pics as well.
Update: 12-20-2008
Not much of an update but, new hardware = new pics
I got some new RAM as my old set died on me. I also got an extension for my 12v+ PSU cable and some new, black SATA cables. All the red ones I saw were a light shade of red, almost a dark pink color. I really wanted to dark red SATA cables, like the color of a fire truck I guess. Anyway here are a few shots of the inside: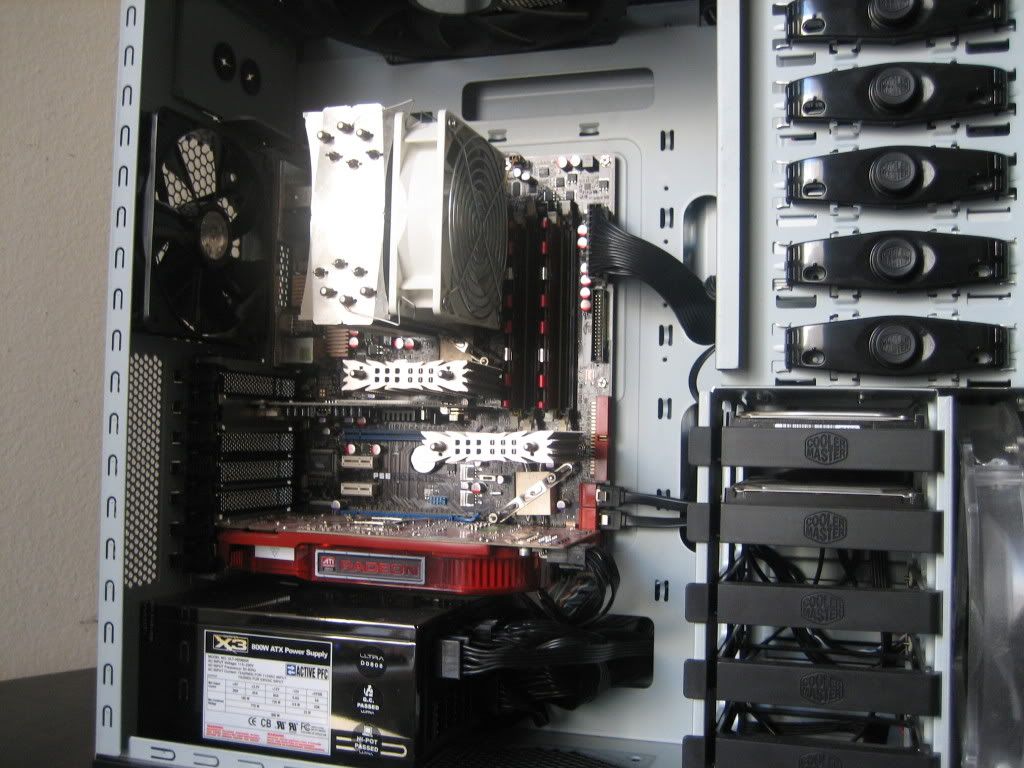 My Mushkin Redlines are running smoothly at 1066 right now



Instead of having the 12V+ PSU cable running on the top side of the motherboard, I was able to run it along the backside with the extesion. I just wish it were sleeved, oh well, I will have to do that myself. Also got some new




black SATA cables with one side angled. I have one for both my hard drives and one on my dvd-drive.





Paint job is still in the works and I still want to try some other ideas. I will keep you guys posted.




Update: 04/06/09


Ok so I got some cable management clamps, etc. from performance-pcs.com (courtesy of pepsi)and I have to say they came in very handy
. Unfortunately, the lady has my camera so I had to use the camera phone.

So I took everything out and the front intake fan as well (left the other fans in though). I kept all of the unused front panel cables up in the top left. I used a couple of clamps to basically hang them up like a hose, lol.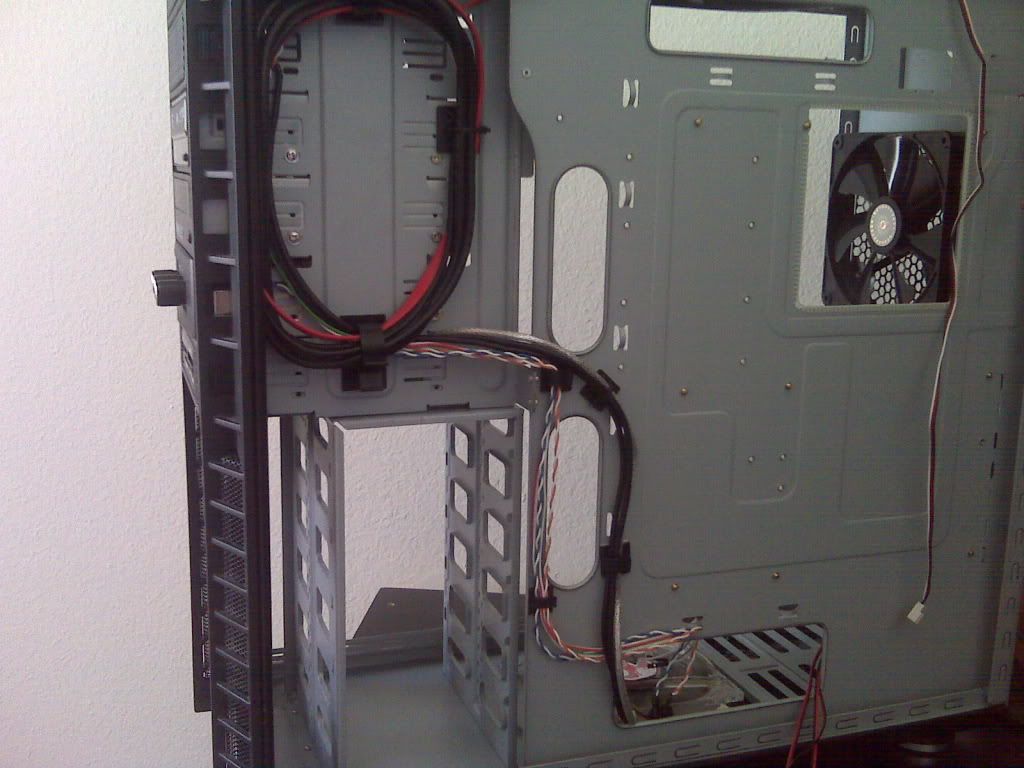 The bunch of red wires at the bottom right is for a fan controller on the the back panel, but I ended up not using and just the one on the front panel instead.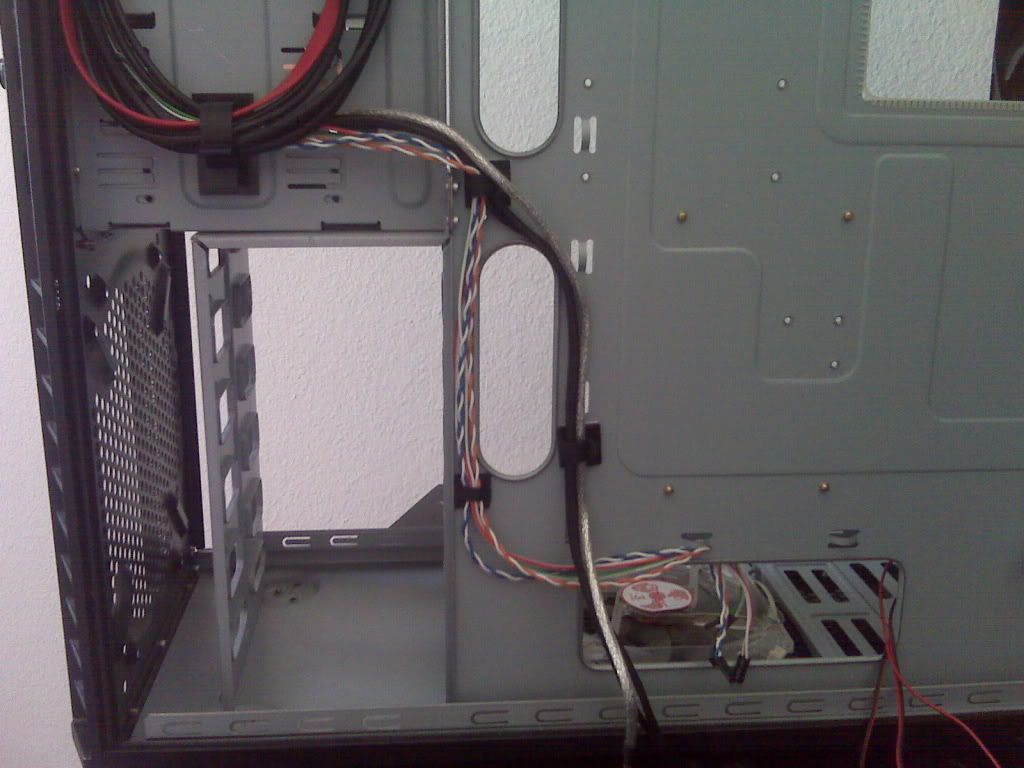 As you can see below, things got very tricky/complicated once I added my power supply. It looked pretty clean until then
.




I got the Mushkins in their, in my attempt for a red and black theme. And finally got a push/pull config going on my TRUE120
with a pair of Ultra Kaze's hooked up to my Silverstone fan speed controller.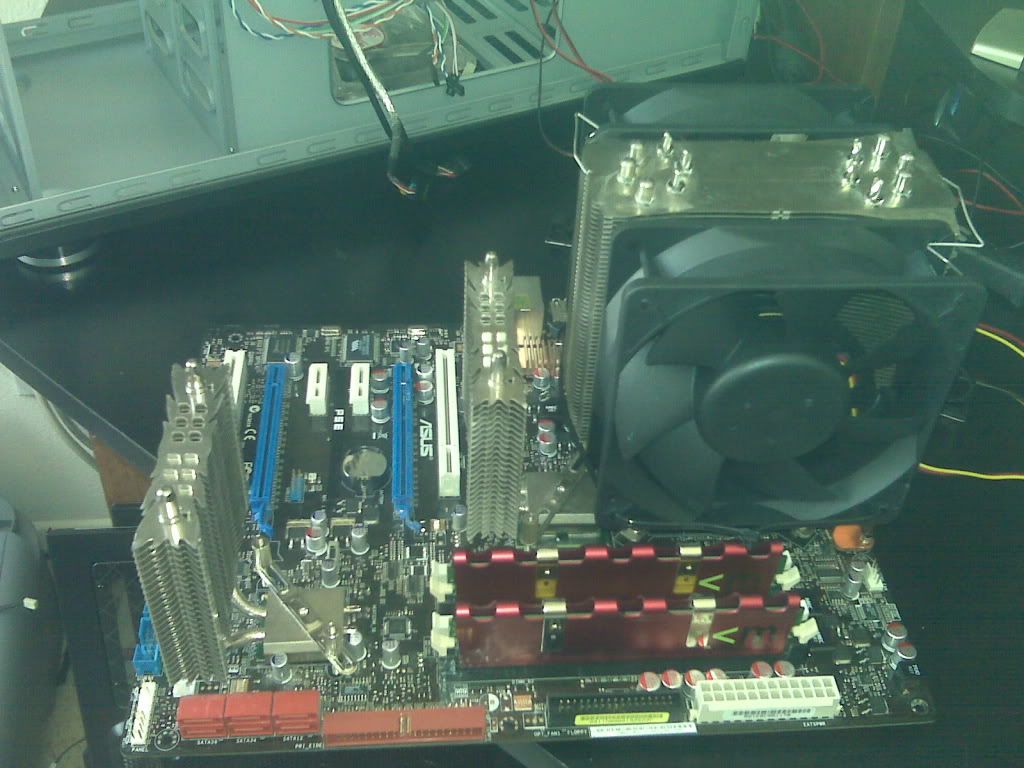 And here it is with everything in. Got the new GTX 285 in too. Its like McDonald's, Im lovin it
.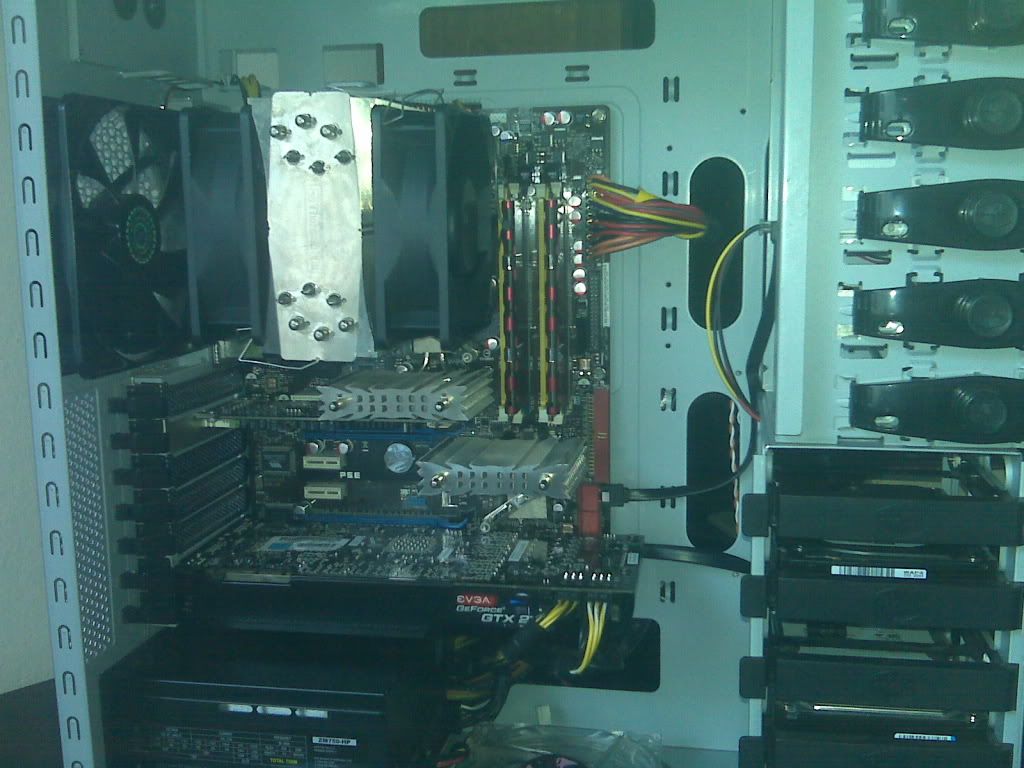 I also have a 120mm Red LED Antec Tri-Cool fan as an intake (with a filter on the outside of it). Not sure if it helps much but gets air to the GPU right above it.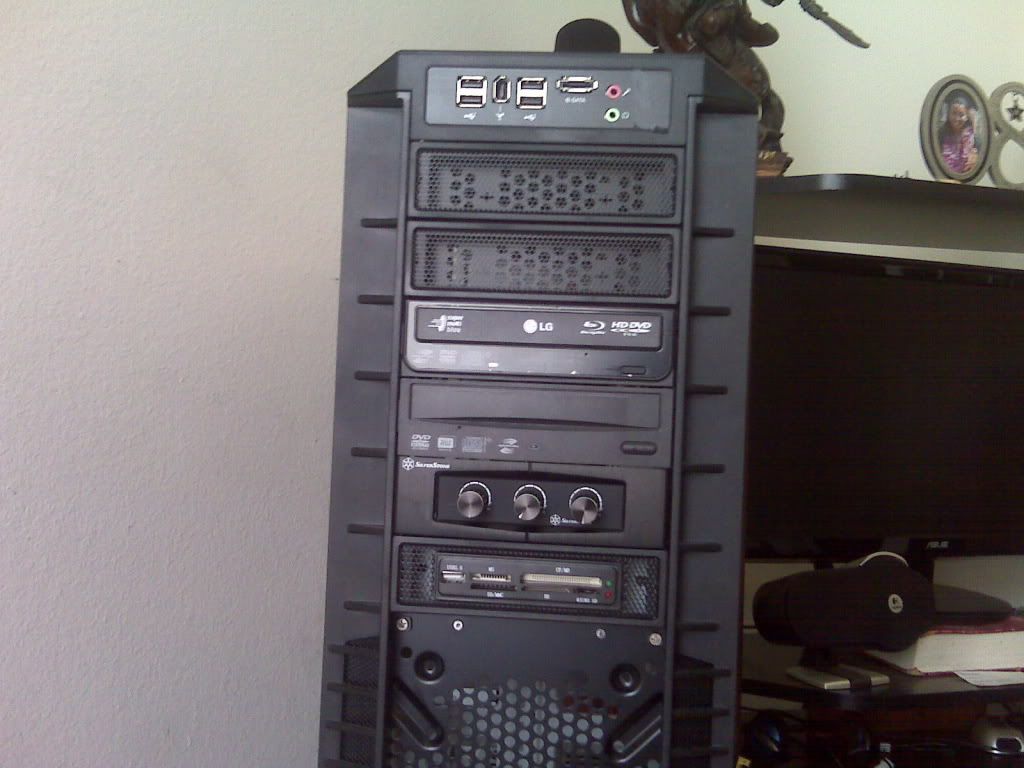 Here is the front with my new fan controller, and a media card reader, as well as a BD/HD DVD drive (which was moved to my other rig).

And that is it for now. Still not entirely satisfied with it. I know it can look a lot cleaner, its just those damn PSu wires that are all over the place. Any way, thoughts and advice are welcome and appreciated. Anyone with pics please post.

Edited by spacegoast - 6/16/09 at 10:27pm