http://news.yahoo.com/s/nf/20081212/...i7a9qBV8UjtBAF
Quote:
Acer, AT&T and RadioShack have teamed up to offer a deal that brings the Acer Aspire netbook to market for only $99. Netbooks are mobile computing devices with a screen size of five to 10 inches that run a full version of a client operating system, such as Windows XP or Linux.
The Acer Aspire, with integrated 3G wireless technology, usually sells for $500. AT&T is subsidizing the cost of the device, but customers have to sign up for a two-year AT&T DataConnect mobile-broadband service agreement. Plans start at $60 a month.
Netbooks Emerge in the U.S.

"Many people internationally are already enjoying the portability, on-the-go connectivity and affordability of this emerging new technology," said Peter Whitsett, RadioShack's executive vice president of merchandising. "We are proud to introduce this concept in the U.S. by offering a netbook with integrated 3G functionality in addition to full Wi-Fi capability."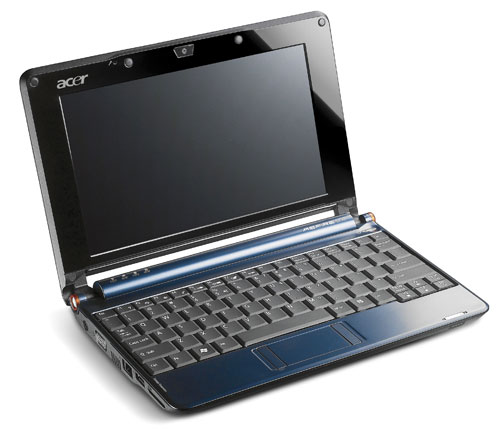 EDIT:
WHOOPS, MY BAD, REPOST!
http://www.overclock.net/hardware-ne...ook-catch.html
Edited by Diabolical999 - 12/13/08 at 2:11am
CPU
Motherboard
Graphics
RAM
i5 2500K @ 4.4GHz (1.34v)
Gigabyte P67A-UD4-B3
Gigabyte GTX 470 SOC @ 825MHz
4GB Corsair Vengeance DDR3 1600MHz (CL8)
Hard Drive
Cooling
OS
Monitor
Samsung Spinpoint F3 1TB
Cooler Master Hyper N520
Windows 7 Ultimate x64 SP1
ASUS VH236H 23" 1080p | 2ms
Power
Case
Audio
Corsair TX650w (V1)
Xigmatek Utgard
X-Fi Titanium Fatal1ty
View all
hide details
CPU
Motherboard
Graphics
RAM
i5 2500K @ 4.4GHz (1.34v)
Gigabyte P67A-UD4-B3
Gigabyte GTX 470 SOC @ 825MHz
4GB Corsair Vengeance DDR3 1600MHz (CL8)
Hard Drive
Cooling
OS
Monitor
Samsung Spinpoint F3 1TB
Cooler Master Hyper N520
Windows 7 Ultimate x64 SP1
ASUS VH236H 23" 1080p | 2ms
Power
Case
Audio
Corsair TX650w (V1)
Xigmatek Utgard
X-Fi Titanium Fatal1ty
View all
hide details