I need some help from all you PC-V2000 owners out there. I'm planning a mod for one of these babies and I need some decent measurements of a few internal dimensions to figure out if want I want to do is physically possible. Here's what I need: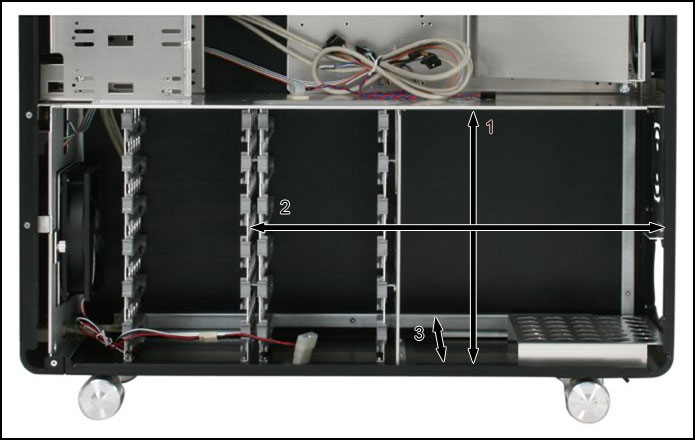 1: Distance from underside of divider to floor.
2: I plan on removing the 2nd HDD rack and I need to know how much space is left between the 1st rack and the back of the case.
3: Usable space available on the floor, between the door rails.
Going just by the picture I estimated 1 to be 10" and 2 to be 16". I need some fairly precise measurements (metric preferably) and any help would be great. Thanks!
CPU
Motherboard
Graphics
RAM
i7 920 [4.2GHz] [1.325V]
ASUS P6T Deluxe V2
2x XFX 5870 [1000/1250]
G.Skill 3x2GB 1600MHz
Hard Drive
OS
Monitor
Keyboard
X25-M 80GB, 320GB WD Scorpio Black
Vista x64
2007FP-3007WFP-2007FP-1080p 32"
OCN Ducky Brown
Power
Case
Mouse
Silverstone ST85F-P
whiteOut
G9
View all
hide details
CPU
Motherboard
Graphics
RAM
i7 920 [4.2GHz] [1.325V]
ASUS P6T Deluxe V2
2x XFX 5870 [1000/1250]
G.Skill 3x2GB 1600MHz
Hard Drive
OS
Monitor
Keyboard
X25-M 80GB, 320GB WD Scorpio Black
Vista x64
2007FP-3007WFP-2007FP-1080p 32"
OCN Ducky Brown
Power
Case
Mouse
Silverstone ST85F-P
whiteOut
G9
View all
hide details