Hello everyone.
I had a request to show off this cpu block.
Anyhow First off i would like to thank dean for these wonderful samples. I will throw them on my rack this weekend and do some tests with it.
But the high res pictures...
When you open the nice box this is what it comes with:
The number 1 question that is to be asked is will BP compressions fit? I think most likely:
Theres a lot of room as you can see with koolance compressions: (ewww sorry about the dirty compression, didnt clean up after)
How big is the block? Here is some comparisions:
So how does this thing look under? As you open the block its in 3 pieces:
Closeup of the fine detail koolance spent on the micropins:
Is it overall sexy?
Performance numbers will come this weekend. Im getting prep'd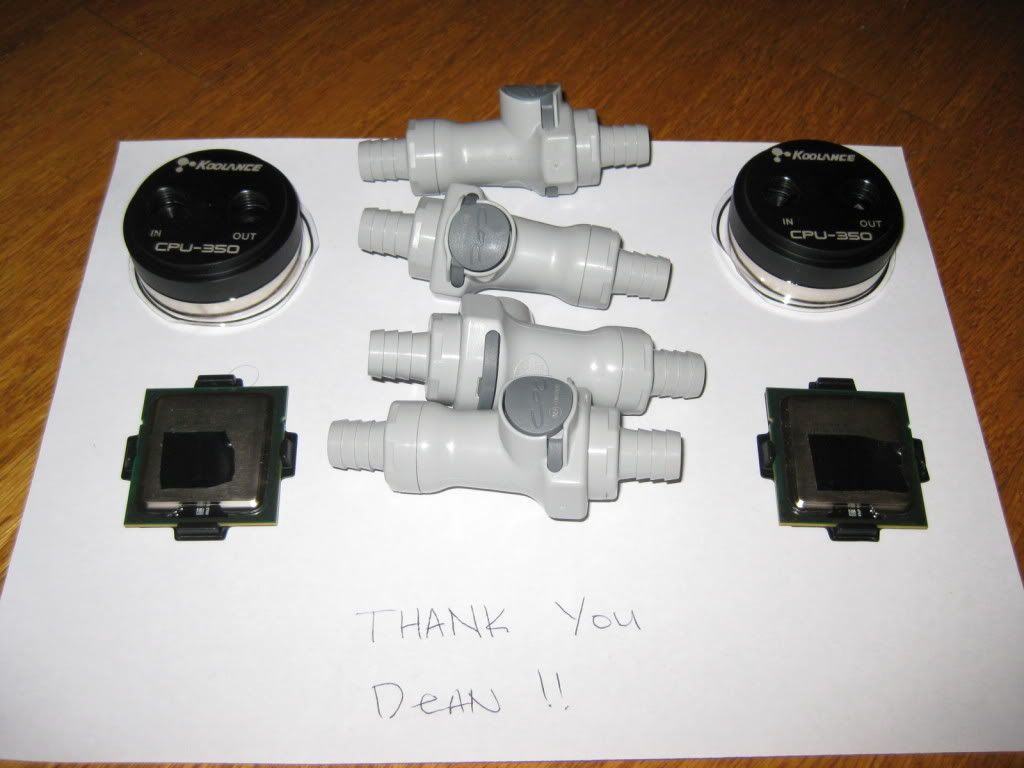 Thank you for reading. :up:
I am in the middle of a rebuild right now. So numbers will come when that is finished. I should be done tomorrow night, with numbers.
Hopefully! I had to tear down my main build to replace it.
Here is the WIP if you wish to follow it. If WIP's are allowed here, i will post one here if you like.
It maybe a bit extreme..
http://www.xtremesystems.org/forums/...d.php?t=210791
Edited by NaeKuh - 12/13/08 at 9:21pm
CPU
Motherboard
Graphics
RAM
i7 990X
eVGA Classified E759
eVGA GTX 580 x 2 + GTX 550Ti
Corsair Dominators
Hard Drive
Monitor
Power
Case
Intel G2 x 3 in R0 + C300 256GB - Gaming
Gateway 2485W x 2 + Asus 27 LED center
AX1200
MM + Pedistool
View all
hide details
CPU
Motherboard
Graphics
RAM
i7 990X
eVGA Classified E759
eVGA GTX 580 x 2 + GTX 550Ti
Corsair Dominators
Hard Drive
Monitor
Power
Case
Intel G2 x 3 in R0 + C300 256GB - Gaming
Gateway 2485W x 2 + Asus 27 LED center
AX1200
MM + Pedistool
View all
hide details