The Story
Ever since I upgraded my rig last summer, I found that I rarely needed the power of a 4870 and a OCed quad. So instead of scrapping my old 4400 X2 rig, I still use that for my file server/web surfing rig and just fire up my main one when I want to game. That's when I got my ideas for this case. Why not cram both rigs into one case? For that I needed something bigger than my current Stacker STC-T01. I never though something that can accommodate up to 12HDDs, 2 PSUs and an E-ATX board wouldn't be big enough. Then I saw a good deal on a new case.
The Plan
My victim will be a Tagan Black Pearl. It is basically a PC-V2000. The goal of this project is to be simple and sleek, with tasteful lighting accents. No ricer here. The front and top (maybe back and bottom as well) will have one piece of acrylic with a polished piece of aluminum sandwiching the acrylic between it and the case. The acrylic will be lit from underneath with LEDs creating a nice glow from the edge of the acrylic.
The inside will feature a custom HDD rack made from acrylic if I can get enough airflow through it, if not I will modify the existing HDD racks. The bottom will house the secondary mATX rig and both PSUs. I will use cable extensions attached to a custom I/O panel for the the mATX board for VGA, PS/2, USB, etc. The bottom motherboard tray will be moved away from the left side of the case a few inches to act as an area to the hide the extra cables from both PSUs (and there are a lot of them). There will also be a polished aluminum panel with acrylic behind it (with similar LEDs accents as the outside) in the upper chamber to help with cable management.
Both side panels will have mesh intakes for the HDD bay and the PSUs since the front will be closed off and I don't want to the PSUs to be the sole exhaust from the bottom (I have 4 40mm fans I will put above the PSUs to help with airflow in the bottom chamber).
Current State

: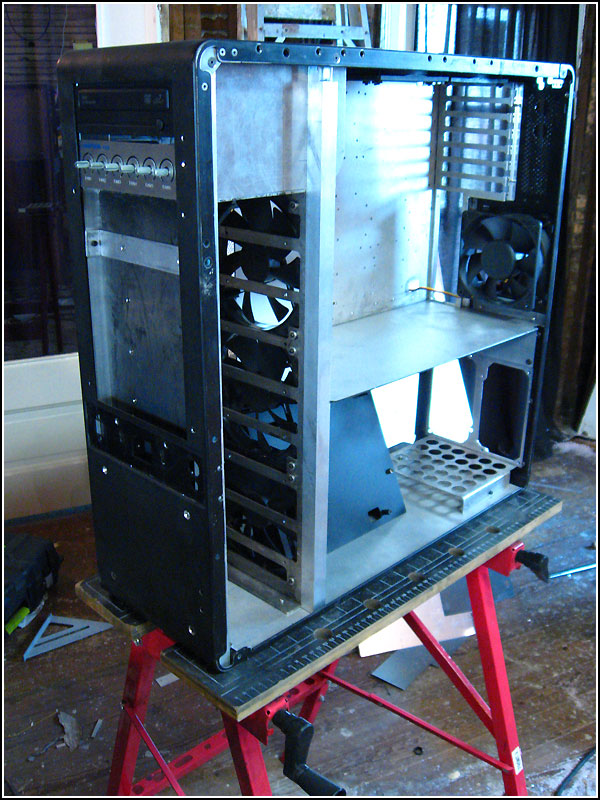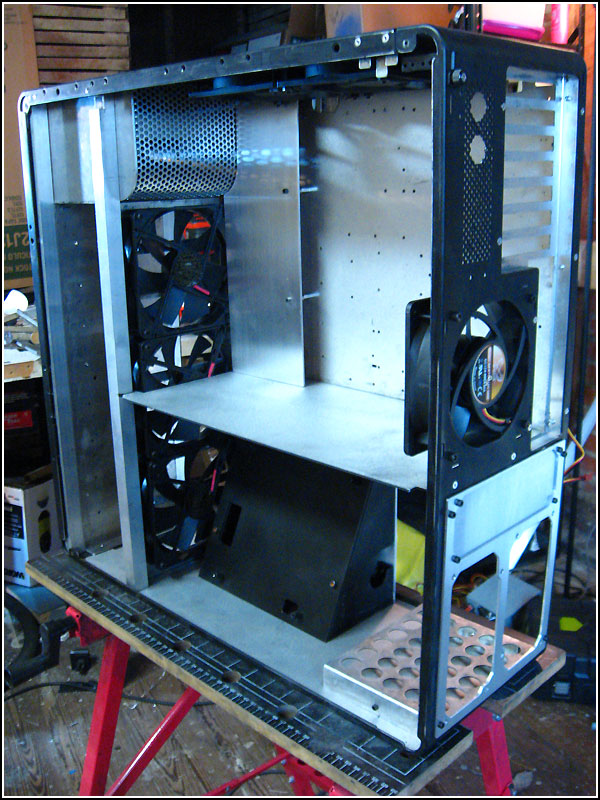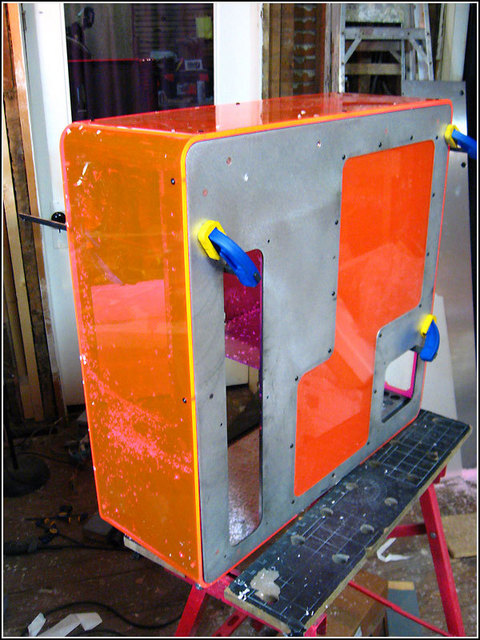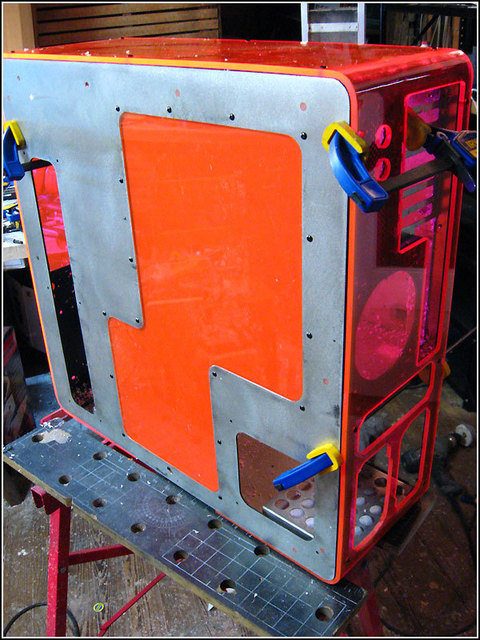 Edited by shinji2k - 10/31/09 at 8:36pm
CPU
Motherboard
Graphics
RAM
i7 920 [4.2GHz] [1.325V]
ASUS P6T Deluxe V2
2x XFX 5870 [1000/1250]
G.Skill 3x2GB 1600MHz
Hard Drive
OS
Monitor
Keyboard
X25-M 80GB, 320GB WD Scorpio Black
Vista x64
2007FP-3007WFP-2007FP-1080p 32"
OCN Ducky Brown
Power
Case
Mouse
Silverstone ST85F-P
whiteOut
G9
View all
hide details
CPU
Motherboard
Graphics
RAM
i7 920 [4.2GHz] [1.325V]
ASUS P6T Deluxe V2
2x XFX 5870 [1000/1250]
G.Skill 3x2GB 1600MHz
Hard Drive
OS
Monitor
Keyboard
X25-M 80GB, 320GB WD Scorpio Black
Vista x64
2007FP-3007WFP-2007FP-1080p 32"
OCN Ducky Brown
Power
Case
Mouse
Silverstone ST85F-P
whiteOut
G9
View all
hide details