Thanks everyone. A lot of the recent work hasn't been too picture-worthy. Basically the bends of the acyrlic have some ripples/uneven bits and they've been bugging me. There were also a few deep scratches. I sanded those down with some 320 grit and then I broke out the buffer. Here's an example.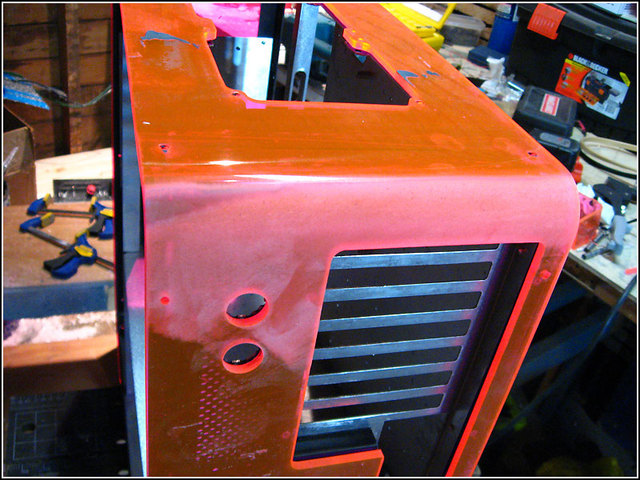 That whole top area of the corner was sanded down and buffed already. And the buffer.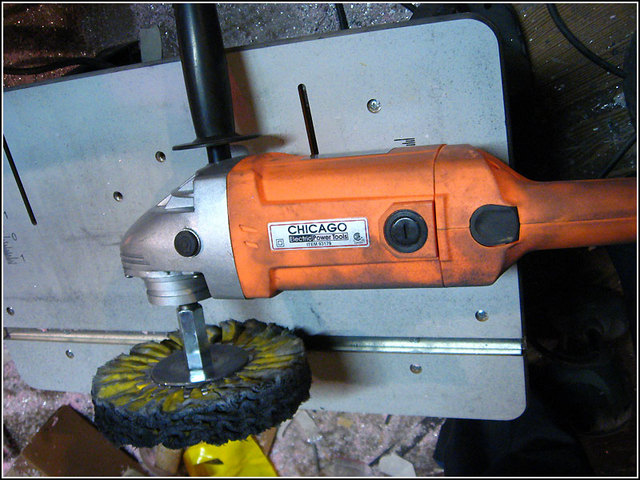 I've ordered the three levels of Nexus polish but I'll wait to do that after paint. I've also been working on the fan controller. Since I've added the extra 1/4" of acrylic I need different knobs and extensions. I ordered some alu knobs from Mouser, but they won't be in until Tuesday. Until then I've been keeping busy with some 3/8" alu rod I grabbed from the hardware store.
I cut it to length ~1" and for some reason I focused on the floor.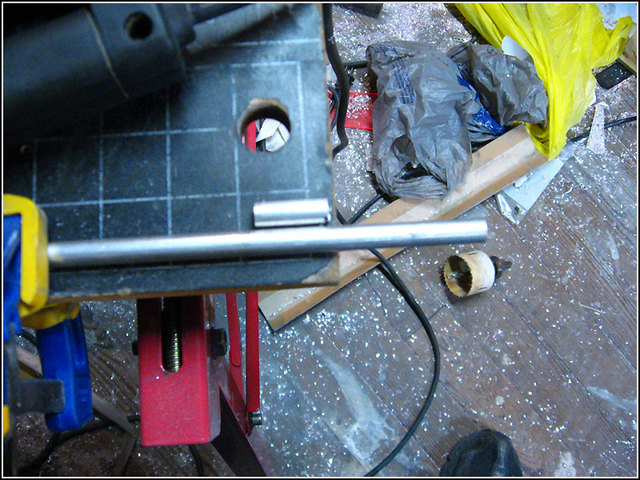 A lathe would be nice, but I make do.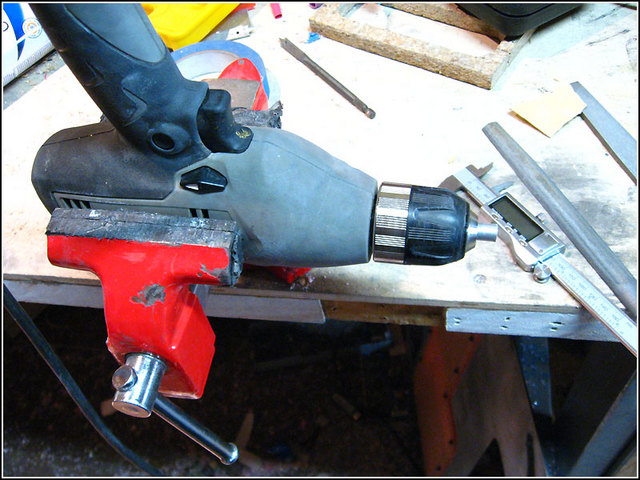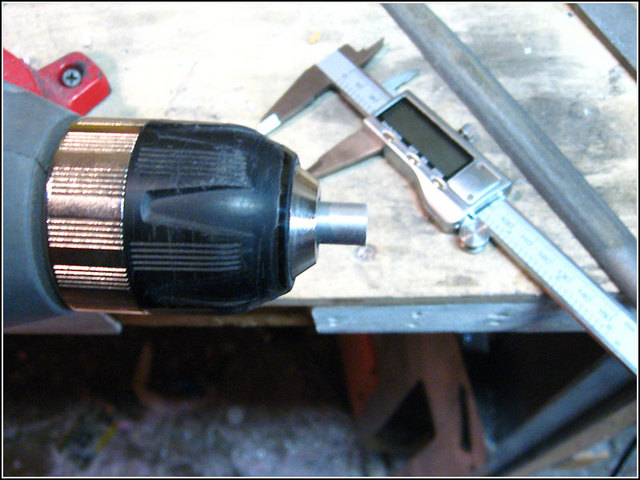 After I ground it down to 1.05" I drilled out a 15/64" hole (closest I have to the 6mm of the knob shaft).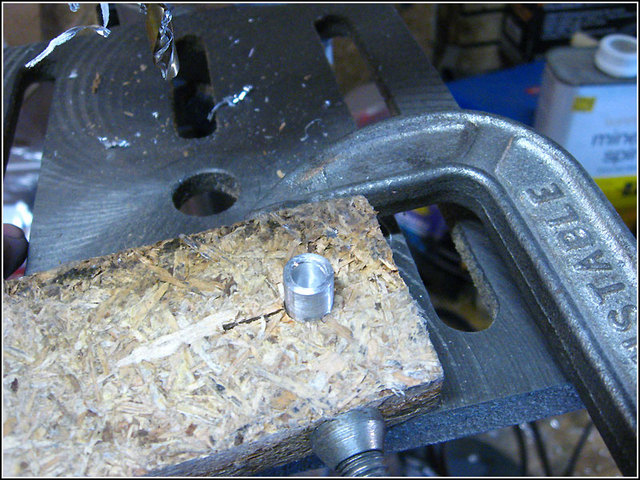 Like a glove. I'll either glue these on or I may try to find a set screw that will work.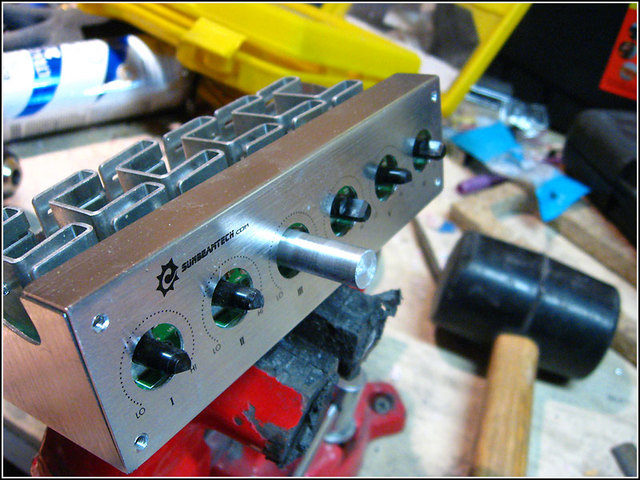 After a bit of work I notched the extension for the new knobs. They have a 1/4" opening and mount with a set-screw.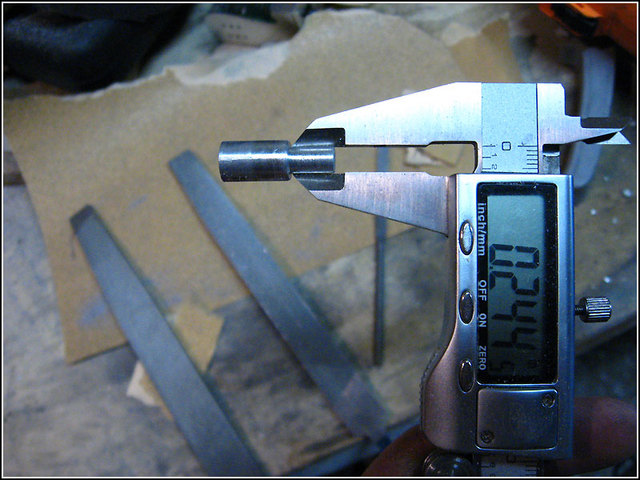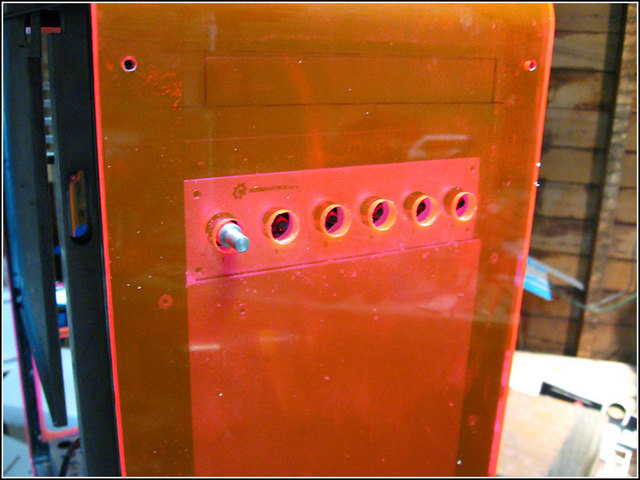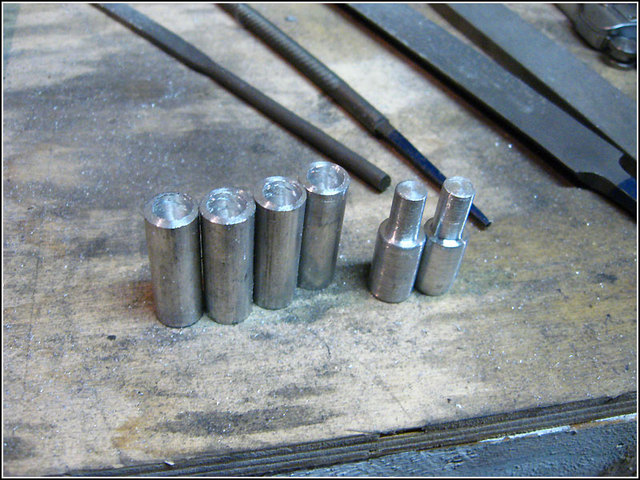 That's as far as I've gotten. I think I'm going to kill the bearings in that drill before this is done. I never did like it, no loss if it does.
CPU
Motherboard
Graphics
RAM
i7 920 [4.2GHz] [1.325V]
ASUS P6T Deluxe V2
2x XFX 5870 [1000/1250]
G.Skill 3x2GB 1600MHz
Hard Drive
OS
Monitor
Keyboard
X25-M 80GB, 320GB WD Scorpio Black
Vista x64
2007FP-3007WFP-2007FP-1080p 32"
OCN Ducky Brown
Power
Case
Mouse
Silverstone ST85F-P
whiteOut
G9
View all
hide details
CPU
Motherboard
Graphics
RAM
i7 920 [4.2GHz] [1.325V]
ASUS P6T Deluxe V2
2x XFX 5870 [1000/1250]
G.Skill 3x2GB 1600MHz
Hard Drive
OS
Monitor
Keyboard
X25-M 80GB, 320GB WD Scorpio Black
Vista x64
2007FP-3007WFP-2007FP-1080p 32"
OCN Ducky Brown
Power
Case
Mouse
Silverstone ST85F-P
whiteOut
G9
View all
hide details