http://www.bit-tech.net/hardware/200...-cpus-review/1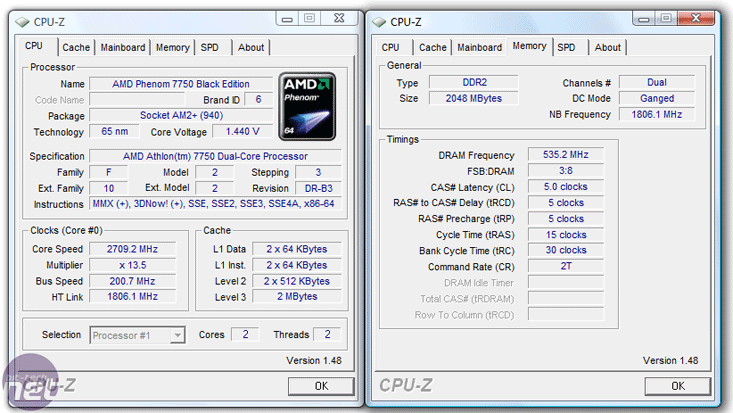 Quote:
Overclocking
We thought the 89W TDP should unlock some additional overclocking headroom, but it doesn't seem to have been the case. Turning on the Advanced Clock Calibration (ACC) on the Asus M3A79-T, cranking up the voltage to 1.5V (slowly increasing from 1.45V) we managed to crank up the multiplier only and eke out just 3.1GHz stable which is somewhat disappointing as we were hoping for something nearer 3.5GHz. In contrast, the retail Intel E5200 hits 4GHz without even getting out of breath at just 1.4V.

In terms of winning back the enthusiasts, AMD needs to get its 45nm parts out in a jiffy for overclockers to be satisfied. 3.1GHz is still pretty good and we might just be one CPU among many launching today that doesn't seem to be capable of super high clocks, however it doesn't bode well to the potential of further retail speeds over 2.7GHz in the future.

Conclusions
The Athlon X2 7750 is pretty much the same price as the Intel Pentium Dual Core E5200 at the time of writing, but its performance is mostly better overall. Considering we have recommended the Intel Pentium Dual Core E5200 for the last few months on the trot in our buyers guide, we'd have to conclude the 7750 is also a very good processor that should give this a run for its money.

It actually feels good to write something positive for AMD after such a time of Conroe domination, because for a small part it's great to have some serious competition again. We'd have to harp back to the sub 1GHz, 180nm P3 (Coppermine) versus Athlon (Thunderbird) fight to get that sort of playing field again.