I have this board here...the asus p5n32-e sli plus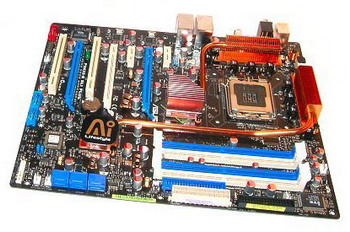 hanging out in its RMA box. My question is "will tri sli work on this board?"
I am not worried about a 5-10% drop in FPS because of the 16x 16x 8x effect that using tri sli on a 680i chipset has... I just need to have 3 GPUs in there, with the convenience of being able to play a game on them every now and then.
This is at core a folding project, but it is also a daily computer so of course every now and then it will be running games..
CPU
Motherboard
Graphics
RAM
i5 2500k
Asus Max iv gene-z
xfx 6870 black
kingston hyperx ddr3-1600
Hard Drive
Power
2x wd black 1tb in raid0
ocz 750w
View all
hide details
CPU
Motherboard
Graphics
RAM
i5 2500k
Asus Max iv gene-z
xfx 6870 black
kingston hyperx ddr3-1600
Hard Drive
Power
2x wd black 1tb in raid0
ocz 750w
View all
hide details