Quote:
Originally Posted by
ssgwright
awesome thanks! 10-12 gauge??? wow I didn't realize I need that monster of wire! ok well I go see what I can pick up this weekend
hey Ira any way you can post some more pics of the meanwell hooked up? I've read up a little bit and will probably get the crydom relay but I just want to get a good look at the back of the psu and wiring.
thanks
edit: ok I just ordered the relay from ebay D2425 right? thanks again ira
Yup, D2425 is the one. I use 12 guage multi-strand copper, I have used 10 but its a little bit heavier and harder to work with.
I'll try to get you some pic's here in a day or two. I have my MeanWell mounted to my bottom shelf of my bench and I'll have to move a bunch of stuff off it to get it out. I may not be able to get it out with my TEC loop set up. But if nothing else I'll get some of the front and I'll be glad to get some of the back if I can get to it..
..I'm a slob Man, you wouldn't believe all the crap I have stacked in that bottom shelf the past month or so since I've just been dice'ing and WC'ing..
..I have a kitchen table as my desk with a really big 3 shelf tech station, a big wall shelf above that with my 480 and some other stuff on it and I barely have room for my key board and mouse..
..I get cramps in my mouse hand because I only have about a 4" circle of clutter free area to move it around on. The bad part is I'm not exaggerating by much. One reason is because i have a sealed actively cooled 5 gallon bucket res, that thing takes up a lot of room just for it and its cooling loop.
I should be ashamed...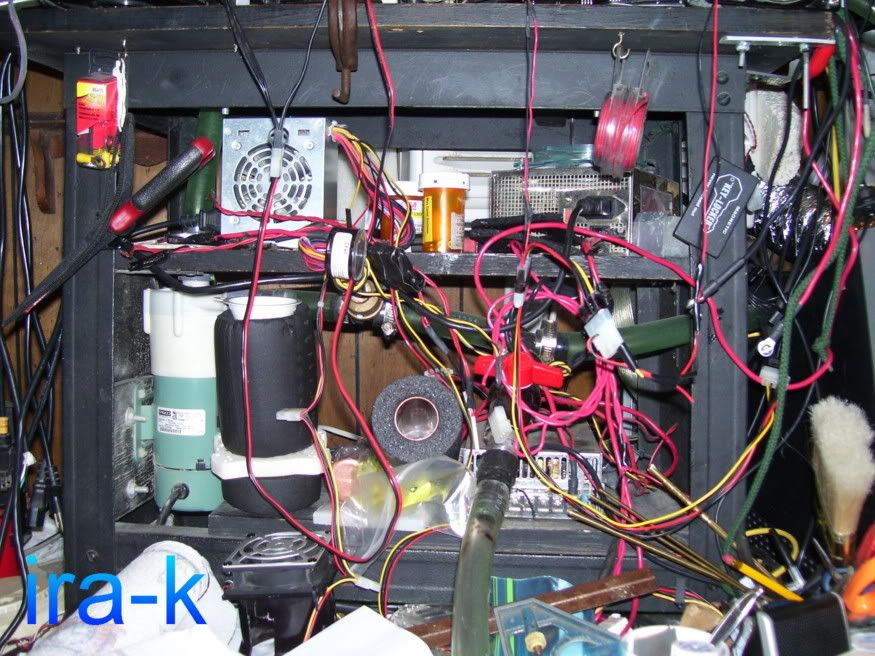 Edited by ira-k - 1/22/09 at 4:00pm
CPU
Motherboard
Graphics
RAM
E8600 4545Mhz*9 w/1.29V
DFI DK P45
XFX 8800 GS
D9GKX & D9GMH
Hard Drive
Optical Drive
OS
Power
2x Seagate 160 Perp. RD-1
2x Asus
Vista Premium
Corsair HX 620
Case
Open Bench
View all
hide details
CPU
Motherboard
Graphics
RAM
E8600 4545Mhz*9 w/1.29V
DFI DK P45
XFX 8800 GS
D9GKX & D9GMH
Hard Drive
Optical Drive
OS
Power
2x Seagate 160 Perp. RD-1
2x Asus
Vista Premium
Corsair HX 620
Case
Open Bench
View all
hide details