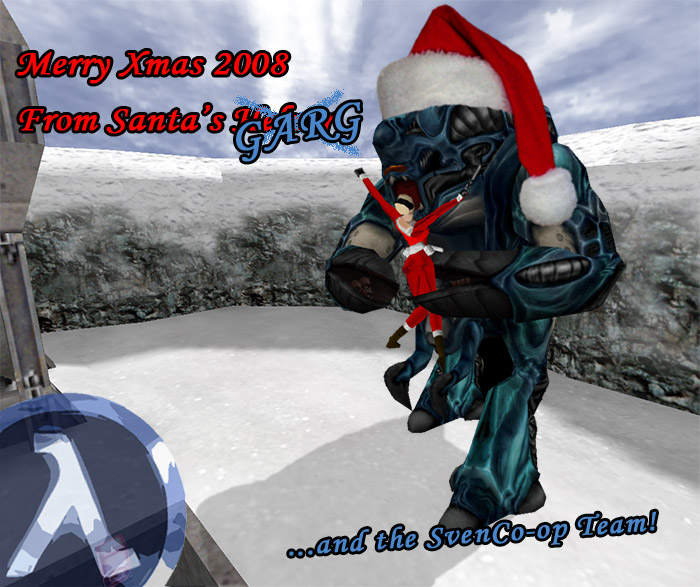 Quote:
Well, it's been a while, but after years of waiting, finally the time has come to tell you that Sven Co-op 4.0 was a hoax all along, and everything was photoshopped.
Quote:
More seriously: I know you've been waiting a ridiculously long time, and I apologise. It's not that we haven't been doing anything, though. Download links are below the list of changes made just since this September. Note that commits (each line) can contain anything from a tiny tweak to multiple new features, so they're not any specific guide, but you get the general idea. The team has been working really hard lately, and I'm genuinely proud of them -- it really feels like they've achieved the impossible at this point
.
Check their website for more info:
http://www.svencoop.com
Download links:
http://halflife2.filefront.com/file/;96637
http://www.hlrse.net/svencoop40b.exe
http://www.svencoopcentral.com/request.php?728
http://www.exp.de/download.php?id=16171
http://www.epicsize.net/hlrse/Offici...vencoop40b.exe
http://xeoservers.com/downloads/svencoop40b.exe
http://www.hrothunder.com/sc4/svencoop40b.exe
http://datadyne-co.pimpinjuice.net/s...vencoop40b.exe
http://sc.svencoop.org/files/svencoop40b.exe
http://www.incy247.com/svencoop4/svencoop40b.exe
http://downloads.nacl-h2o.net/getfil...oop40b&ext=exe
To all you with question marks above you head:
It's a cooperative Half-Life modification where you play against AI controlled enemies and solve puzzles.
The first version was released allmost 10 years ago.
No, it does not work without Half-Life.
Merry christmas to you all!