Just re formatted with my new graphics card to vista and I'm getting this when installing things...
seems to install things just fine though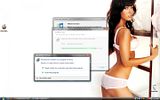 I'm also getting an error code when trying to launch games which I believe is the fault of xfire.
another error i'm getting is one when trying to update windows
overall my experience with 64bit windows vista has been horrible. Should I just go to 64bit XP or 32 bit vista?
Edited by evilspongebob72 - 12/25/08 at 4:28am
CPU
Motherboard
Graphics
RAM
E8400 | 3.8GHz | 1.31v
GA-P35C-DS3R
ATI Sapphire 4870 512MB
4GB OCZ Platinum XTC
Hard Drive
Optical Drive
OS
Monitor
Samsung Spinpoint F1 320GB | Seagate 250GB Storage
Pioneer DVD-RW DVR-216D
Windows Seven x64
BenQ G2410HD 24" 1080p
Keyboard
Power
Case
Mouse
Logitech G15 Gaming Keyboard
Corsair TX Series 650W
Antec Nine Hundred Two
Logitech G5 Gaming Mouse
View all
hide details
CPU
Motherboard
Graphics
RAM
E8400 | 3.8GHz | 1.31v
GA-P35C-DS3R
ATI Sapphire 4870 512MB
4GB OCZ Platinum XTC
Hard Drive
Optical Drive
OS
Monitor
Samsung Spinpoint F1 320GB | Seagate 250GB Storage
Pioneer DVD-RW DVR-216D
Windows Seven x64
BenQ G2410HD 24" 1080p
Keyboard
Power
Case
Mouse
Logitech G15 Gaming Keyboard
Corsair TX Series 650W
Antec Nine Hundred Two
Logitech G5 Gaming Mouse
View all
hide details