OK I got this Zenith E44W48 LCD monitor this week used and since it has both VGA and DVI inputs I thought it would be easy to use it as a monitor. It isn't.
I just did a fresh install of Vista 64 today. I have nothing on it except the drivers and all available updates on it. It is all set up for watching TV, the media center is all set up, and I have a TV card that works great on my 15" CRT screen. However when I try starting it up I can see the BIOS screen, and it looks like it will boot into Windows, it gets as far as the windows loading screen with the little dots going across the bottom but it never gets into windows. I'm using a VGA cord for now and I was going to get a DVI cable so it would be digital but it won't go all the way into Windows. Am I missing a program that would help, like I said fresh install. Where am I going wrong? The TV works great, it has many inputs, although it's only 1080i I have both PS3 and Xbox hooked up to it and I was hoping for PC also, but no go so far.
Here's a page from the manual showing the inputs and the resolutions it supports. I tried 800X600 an both 60hz ans 75hz and 1024X768 in 60 and 75hz also. None will allow me to get into Vista but I can get into and see the BIOS fine. I'm stumped. I need help please.
Edit: Sig rig BTW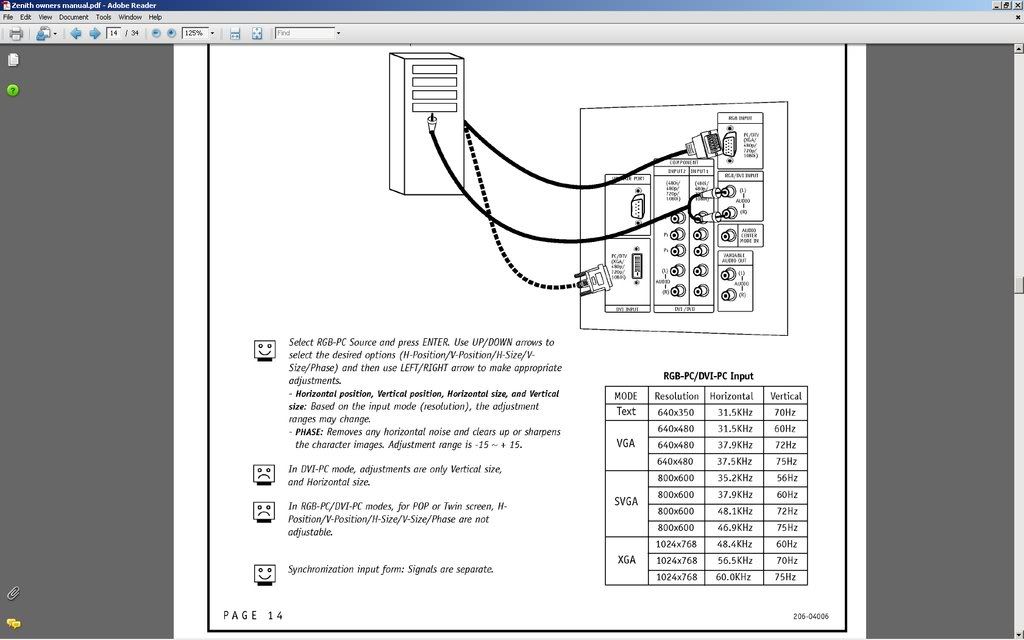 Edited by x2s3w4 - 12/26/08 at 5:17pm
CPU
Motherboard
Graphics
RAM
Q6600G0 L728B205 OC to3.6
Asus Maximus Formula
Sapphire Radeon 3870
4X1GB Crucial Ballistix
Hard Drive
Optical Drive
OS
Monitor
WD 320GB
2 X Sony DVD combo
Vista ultimate 64
ViewSonic VX2235wm 22-inc
Power
Case
PC Power & Cooling Silencer 750 Quad
Cheap
View all
hide details
CPU
Motherboard
Graphics
RAM
Q6600G0 L728B205 OC to3.6
Asus Maximus Formula
Sapphire Radeon 3870
4X1GB Crucial Ballistix
Hard Drive
Optical Drive
OS
Monitor
WD 320GB
2 X Sony DVD combo
Vista ultimate 64
ViewSonic VX2235wm 22-inc
Power
Case
PC Power & Cooling Silencer 750 Quad
Cheap
View all
hide details