Quote:
Originally Posted by
bs6851
I didnt real define it so that no matter what program you use for stability testing is fine. If the oc is the one that you will using all the time then that ok by me. I dont see a reason why someone would lie just to get to the top of a thread. And this is supposed to be a place where you come to help and be helped by other q9650 more then a competition. I hope that defines it for you if you have any further question please let now. Thanks for your interest in the Q9650 Club
Here´s my Q9650@450 4,05GHz 4x2 OCZ Reaper ver3@1080 555 15 tRD7 Strong as I did some test run in my Rampage Formula before I swap my E8600 back.
Q9650 E0, VID 1,2375, Batch L824B301, 1,288 under LinX load, water.
I don´t have any CPUz validation but I have screenies with 50 loop LinX (5+hrs, max problem size and max memory use), 6hrs with four instances of P95 blend. I don´t know if it´s enough proof to join the club.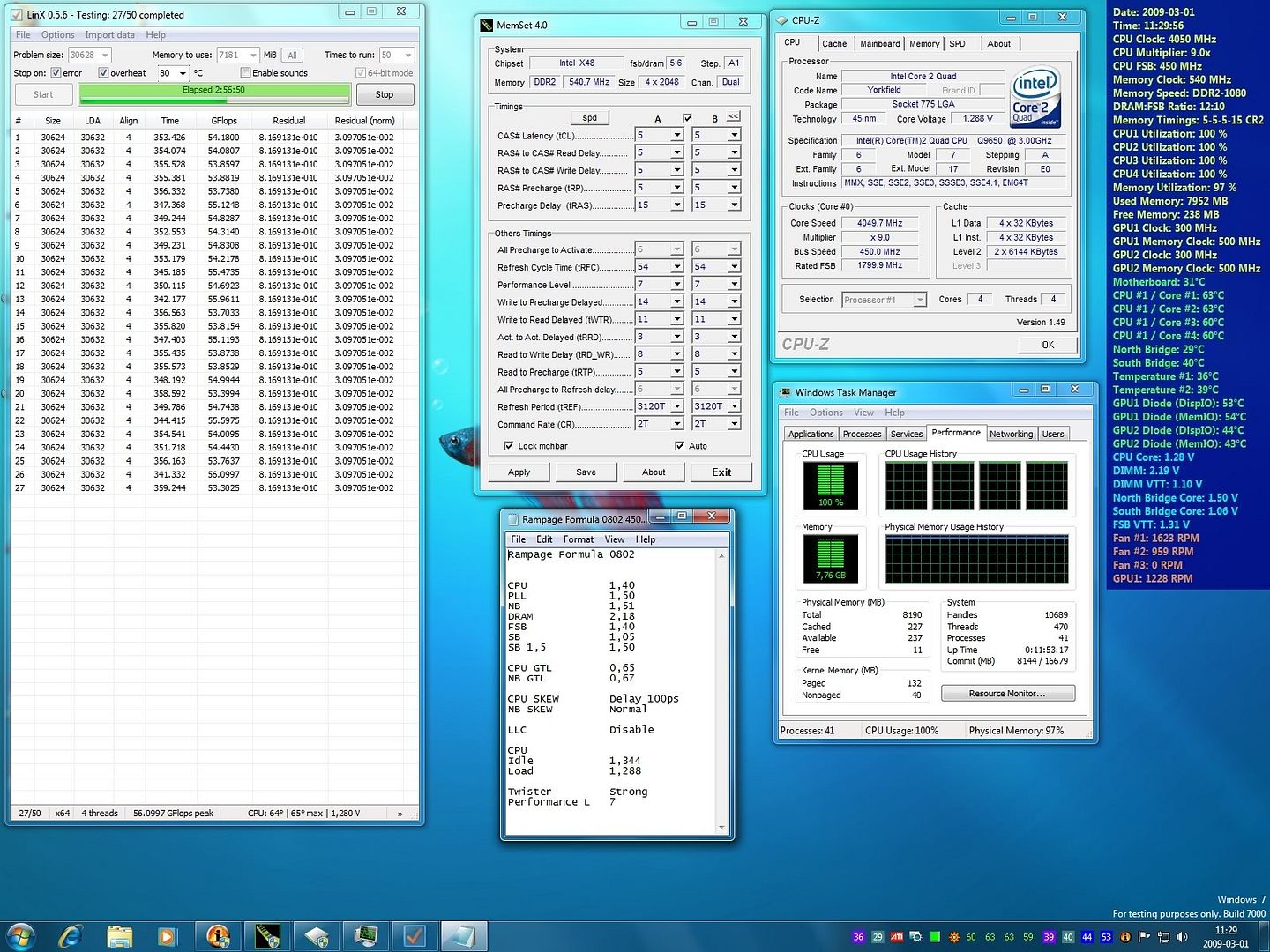 CPU
Motherboard
Graphics
RAM
Core i7-2600K cooled by Heatkiller Rev 3.0 LT
ASUS P8Z68 Deluxe
EVGA GTX 580 SC in SLI cooled by Koolance VID-N...
2x4GB G Skill RipjawsX 1600C8
Hard Drive
Optical Drive
OS
Monitor
Intel SSD 510 120GB / 250GB + WD Black Caviar 1TB
Samsung DVD
Win 7 64-bit
Samsung 2443BW @ 1920x1200
Power
Case
Corsair HX850
Lian Li PC-343B
View all
hide details
CPU
Motherboard
Graphics
RAM
Core i7-2600K cooled by Heatkiller Rev 3.0 LT
ASUS P8Z68 Deluxe
EVGA GTX 580 SC in SLI cooled by Koolance VID-N...
2x4GB G Skill RipjawsX 1600C8
Hard Drive
Optical Drive
OS
Monitor
Intel SSD 510 120GB / 250GB + WD Black Caviar 1TB
Samsung DVD
Win 7 64-bit
Samsung 2443BW @ 1920x1200
Power
Case
Corsair HX850
Lian Li PC-343B
View all
hide details