I bought a x1 PCIe riser for $8 on eBay.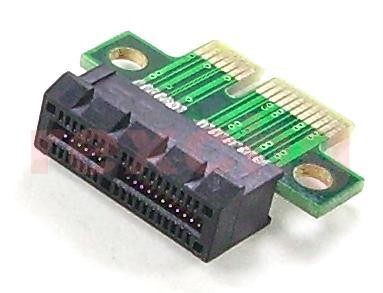 I used a Dremel to cut out the backend of the slot. This way I could fit any PCIe card into a x1 PCIe slot. The advantage of this is that you won't be voiding the motherboard or video card warranty. The results? It works!
The only thing to watch out for is that the card sags a little bit since it does not have the full slot for support. Be careful in vertically mounted mobos so that the card doesn't come into contact with the next card down.
I used a screw to hold the card into the bracket.
It works!
CPU
Motherboard
Graphics
RAM
i7 920 [4.28GHz, HT]
Asus P6T + Broadcom NetXtreme II
VisionTek HD5850 [900/1200] + Galaxy GT240
2x4GB G.Skill Ripjaw X [1632 MHz]
Hard Drive
OS
Monitor
Keyboard
Intel X25-M 160GB + 3xRAID0 500GB 7200.12
Window 7 Pro 64
Acer H243H + Samsung 226BW
XARMOR-U9BL
Power
Case
Mouse
Mouse Pad
Antec Truepower New 750W
Li Lian PC-V2100 [10x120mm fans]
Logitech G9
X-Trac Pro
View all
hide details
CPU
Motherboard
Graphics
RAM
i7 920 [4.28GHz, HT]
Asus P6T + Broadcom NetXtreme II
VisionTek HD5850 [900/1200] + Galaxy GT240
2x4GB G.Skill Ripjaw X [1632 MHz]
Hard Drive
OS
Monitor
Keyboard
Intel X25-M 160GB + 3xRAID0 500GB 7200.12
Window 7 Pro 64
Acer H243H + Samsung 226BW
XARMOR-U9BL
Power
Case
Mouse
Mouse Pad
Antec Truepower New 750W
Li Lian PC-V2100 [10x120mm fans]
Logitech G9
X-Trac Pro
View all
hide details