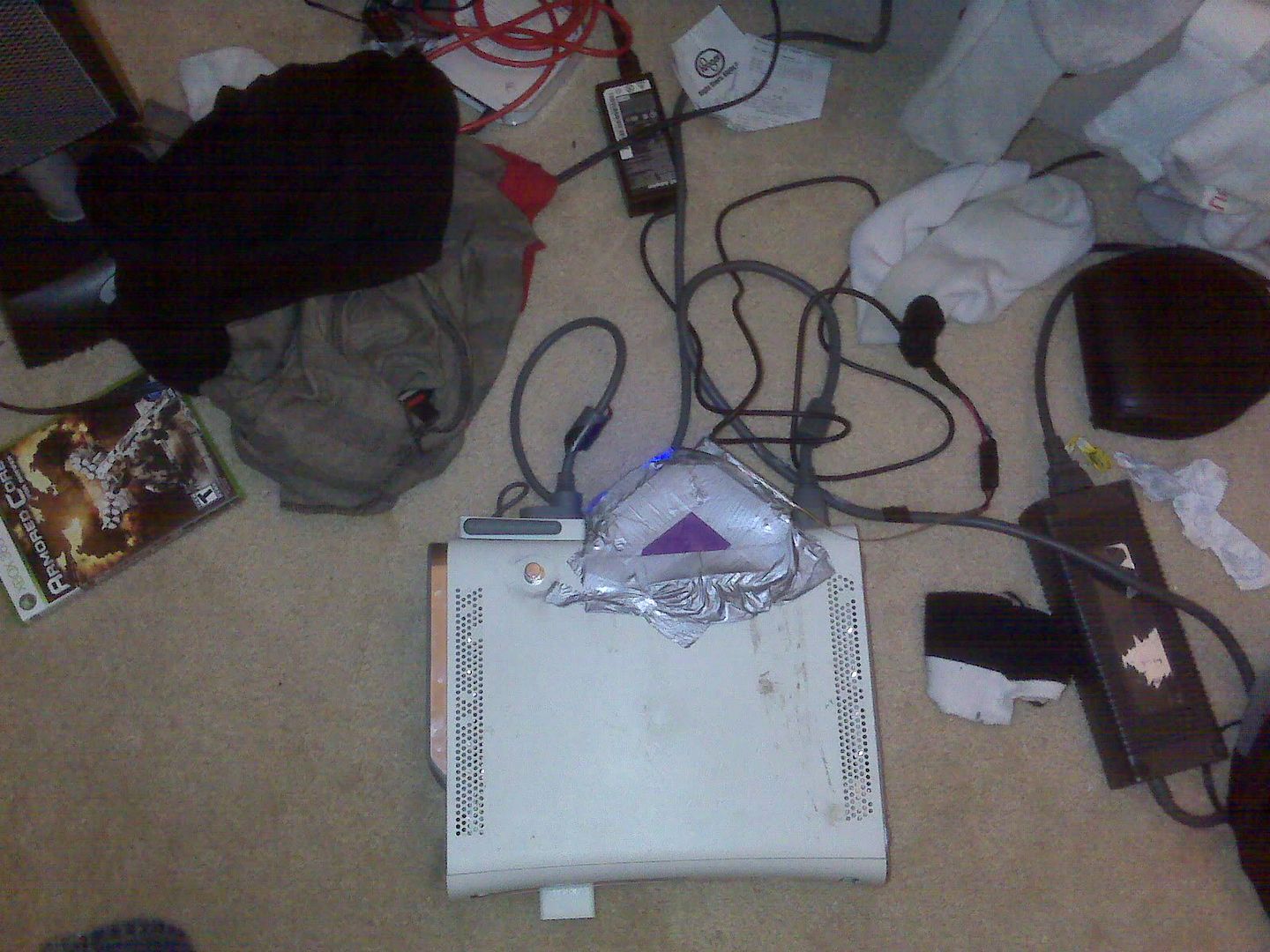 Please note:
THERE IS NO INTERNAL FAN!!!!
I purposely removed the old ones and put this on the back. The old one moved about 29CFM. The Talismoon WisperFan moves around 46CFM. This one moves more like ~60-70CFM
Also it is cool to the touch for the most part, even on the bottom after I play 8 hours + and it is luke warm. The top is cool. The exhaust is ****ing hot! Why they hell they didn't go with a different architecture for the processor and GPU, I have no idea.
I have had my 360 this way for more than a year now >_>
CPU
Motherboard
Graphics
RAM
Core i5 750 3.99 (190x21) 1.376v Load
ASUS P7P55d-E Pro
GTX 670 FTW <- Poor overclocker :(
8GB (4x2GB) G.Skill DDR3 1600
Hard Drive
Hard Drive
Optical Drive
OS
Samsung 830 Evo 128GB
2x 2TB
Some DVD drive
OSX 10.10.4
Monitor
Power
Case
Mouse
Asus 1080P Crap
TX 750
HAF 922
G400s
Mouse Pad
Other
Apple Keyboard
Xbox One controler
View all
CPU
RAM
Hard Drive
Hard Drive
C2D 2,26GHz under volted @ .978v
8GB
Crucial M4 64GB SSD
500GB Scorpio Black
OS
Monitor
Keyboard
Mouse
OS X 10.0
1280x800
Built-in
Trackpad
Audio
Built-in
View all
hide details
CPU
Motherboard
Graphics
RAM
Core i5 750 3.99 (190x21) 1.376v Load
ASUS P7P55d-E Pro
GTX 670 FTW <- Poor overclocker :(
8GB (4x2GB) G.Skill DDR3 1600
Hard Drive
Hard Drive
Optical Drive
OS
Samsung 830 Evo 128GB
2x 2TB
Some DVD drive
OSX 10.10.4
Monitor
Power
Case
Mouse
Asus 1080P Crap
TX 750
HAF 922
G400s
Mouse Pad
Other
Apple Keyboard
Xbox One controler
View all
CPU
RAM
Hard Drive
Hard Drive
C2D 2,26GHz under volted @ .978v
8GB
Crucial M4 64GB SSD
500GB Scorpio Black
OS
Monitor
Keyboard
Mouse
OS X 10.0
1280x800
Built-in
Trackpad
Audio
Built-in
View all
hide details