A while back I ran the intel burn test and I passed 5 passes. Today I upgraded my cooling and I ran it again... this time it failed.
So now I'm started to think that maybe my ram timings can be tweaked a bit. The stock settings for these guys is [1066mhz] 5-5-5-15 (2.0V-2.1V)
As you can see the timings are pretty loose right now... so here's my question.
Since they running at 800mhz, should my timings be tighter or looser then the stock timings?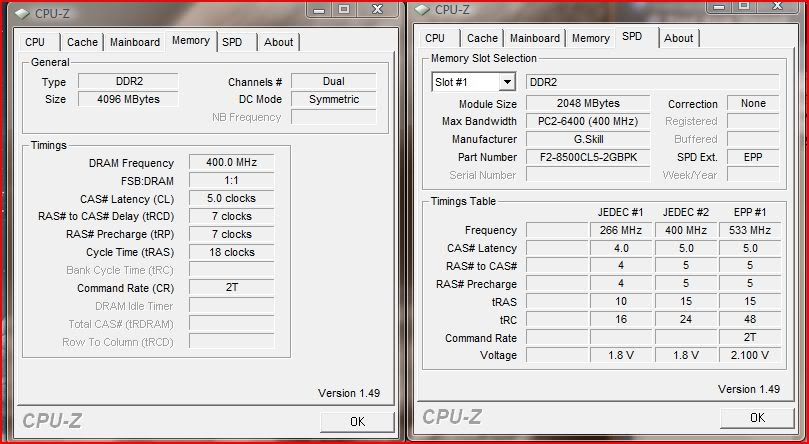 Any suggestions on how I should proceed would be greatly appreciated.
CPU
Motherboard
Graphics
RAM
Q6600 GO @ 3.6ghz (1.42 Vcore)
Gigabyte GA-EP45 UD3P
Gigabyte 7950 Windforce + 6770 XFX
G.Skill 8GB DDR2 1066mhz
Hard Drive
Optical Drive
OS
Monitor
OCZ Agtility 2 60Gigs + 4TB 3 drives
LG DVD
Win7 64bit
24' Gateway
Keyboard
Power
Case
Mouse
Logitech Wireless
(1)PCP 610W + (2) Theramltake 650W VGA
Armor Case
MS Optical Mouse
View all
hide details
CPU
Motherboard
Graphics
RAM
Q6600 GO @ 3.6ghz (1.42 Vcore)
Gigabyte GA-EP45 UD3P
Gigabyte 7950 Windforce + 6770 XFX
G.Skill 8GB DDR2 1066mhz
Hard Drive
Optical Drive
OS
Monitor
OCZ Agtility 2 60Gigs + 4TB 3 drives
LG DVD
Win7 64bit
24' Gateway
Keyboard
Power
Case
Mouse
Logitech Wireless
(1)PCP 610W + (2) Theramltake 650W VGA
Armor Case
MS Optical Mouse
View all
hide details