I am right now trying to put together a decent computer guide for all those people out there, who, like myself not long ago, need a place to start. I noticed when I learned everything that I needed to know to confidently purchase and the build my computers that I had to scour the internet, looking all over the place, to find the information I needed. The first edition of the guide is meant only to help the uneducated with just reading basic label, but the final goal it to get all the information together then a person would need to shop for, build, overclock, and maintain their own computers.
I have this part proof read, checked for basic accuracy, and finished. I would appreciate it if people could read this and point out any mistakes I made, any spelling or grammatical errors, or anything that would be difficult for somebody with a basic knowledge of computers to understand. All people who provide help will be mentioned under the screen name of their choice in the "thanks section" of this guide, when the first edition of it is to be released. I really appreciate any help I can get with this so that it can be as effective and helpful to others as possible when finished. I will plus rep rather generously for any good help.
-----------------------------------------------------------------
Memory
RAM, or random access memory, is the largest form of cache in your computer. It is not the fastest kind of memory, but there is a lot more of it then device cache, and it is a great deal faster then the paging files of a hard drive. What RAM does is hold relevant data that your computer needs to do the tasks at hand. When you load a program from your hard drive (like a web browser) the most relevant data for that application is copied and stored in your memory. When the CPU needs to do something to make the web browser run, it fetches in from the memory, instead of the hard drive. This is because RAM transfers data to the CPU about 100x faster then the fastest hard drive, and does so with almost not latency (hesitation) in doing so.
A well built computer should always have plenty of memory installed for optimal performance and smooth functioning. RAM isn't really like other parts of a computer, where the more you have the better you are off. Your computer, depending on the application, only needs so much memory to run smoothly, and then more is just over kill. However, not having enough memory can cripple your system and make even simple tasks run at a snails pace.
All kinds of data is stored in the memory for reference, and everything in your computer uses it to some degree, including video cards and audio processors. It is like a template if you will, with notes and half completed calculations and instructions your computer needs to get going. For some programs, like hard core video and photo editing, the amount of system memory can be more important then the actual speed of the rest of the computer. For the average desktop and gamer, RAM plays an important part.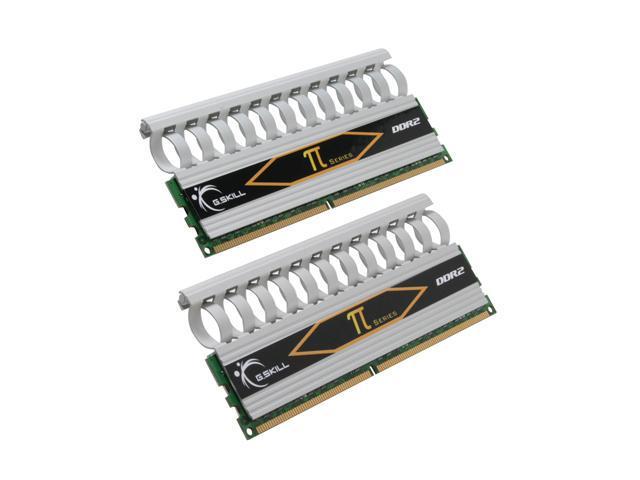 Tech Spec
Capacity 2GB (2 x 1GB)
Speed DDR2 800 (PC2 6400)
Cas Latency 4
Timing 4-4-4-12
Voltage 2.0V
Heat Spreader Yes
PC 6400/800mhz:
These both mean pretty much the same thing. They are two different measurements of the same type of speed. The higher the number, the faster the memory kit is. Not difficult to figure out there.
2 x 1gb:
This a memory kit, which means you buy more then one memory stick equal to 2gb of memory. Memory kits are often sold in a dual channel kit like this one. This is because most motherboards run dual channel memory, and most processors need two memory sticks to meet the bandwidth needs of the computer. In a proper dual channel, the speed and capacity of the RAM is doubled. With two sticks of DDR2 800 memory like these, your system would use them similar to one 2gb stick of DDR 2 1600. The new nehalem processors run of a triple channel instead, which works pretty much just the same. The difference is memory kits designed for that platform or sold in sets of three, and the motherboard uses all three of them together to triple the bandwidth and the capacity.
Cas latency 4/4-4-4-12 timing:
These number represent the timings of the memory kit. The "timings" relate to the latency of the RAM, or how long it takes for them to appropriately react, and it also equates fairly directly to speed. RAM with a lower number on the timings performs better then the RAM clocked at the same speed with higher numbers on the timings. These are often referred to as "tight" vs "loose" timings. How this works is when the CPU seeks data on the memory, the memory has to refresh a certain number of times when delivering the data, so as to deliver all the information to the CPU without errors. The less times it has to refresh, the faster it can make the switch from memory to CPU. There are actually many more timings than those listed above, but those first four have the greatest impact on performance.
2.0V:
This is the voltage of the memory kit. Lower voltage is better because they produce less heat and have more room to overclock. Standard DDR 2 memory runs at at 1.8v. Standard DDR memory runs at 2.2v. Standard DDR 3 memory runs at 1.5v. Anything rated to run higher then that is factory overclocked, like this memory here.
DDR2:
The above is a DDR2 memory kit. DDR stands for dual dynamic rate, it has become the memory standard for the last ten years. DDR 2 followed DDR, and not long ago DDR 3 was released to follow DDR 2. The relationship between them works like this: DDR memory has the lowest speed and highest voltage but the lowest timings, DDR 2 is faster with looser timings and decreased voltage, and DDR 3 memory is yet faster with the loosest timings and the lowest voltages. DDR 2 also fits into a 240 pin slot on motherboards, while DDR memory uses a 184 pin slot. DDR 3 also uses a 240 pin interface but DDR 3 memory does not fit in a slot designed for DDR 2 memory and vice versa. When you are buying memory, you need to check what type it so as to be sure that your processor and motherboard supports the use of that type of memory.
Heat Spreader:
This is the copper or aluminum casing on the memory kit. This casing is designed to absorb and dissipate heat, which it does better then the silicon the memory is made out of. I would not recommend buying a memory kit that does not come with memory heatsinks, because they will run hotter, and because memory with heatsinks are much safer to overclock and are likely of better quality than those without.
--------------------------------
I will be editing in links to threads like this one, as I complete more sections and post them like I did here. If anybody could follow and read one of these links as I update them, I would appreciate that tremendously.
Help me with my CPU thread:
http://www.overclock.net/amd-cpus/46...cpu-guide.html
Or with my GPU thread:
http://www.overclock.net/ati/469805-...ml#post5701733
Or with my HDD thread:
http://www.overclock.net/hard-drives...ml#post5701870
or with my motherboard thread:
http://www.overclock.net/intel-mothe...ml#post5702027
Edited by mothergoose729 - 3/2/09 at 1:55pm