My computer is named Catie. It's a nice one but it's from Rent-A-Center, pending my shallow pockets, and a credit score I can express with my fingers.
Catie needs to go away. I don't have the money. Now, I can't very well get by with no internet access, a lot of my job hunting is done online, and it's my only way to get ahold of people. I use Skype and email a lot. This is my lifeline, it really is. Time to size up my resources. Some parts from a garage sale, some more stuff that's abandoned.
This is what I see.
You know what that is, right?
Potential.
Here we are looking at a Pentium 2, a Pentium 3, a menagerie of motherboards, a pile of power supplies, a handful of hard drives, an ordeal of opticals, and gob of graphics adapters. And a riffraff of RAM. A mountain of mice. A ... mess of ... mmm ... eh. Stuff.
Time to pick out the best parts and put them together.
Okay, the first problem is finding a case that fits a motherboard.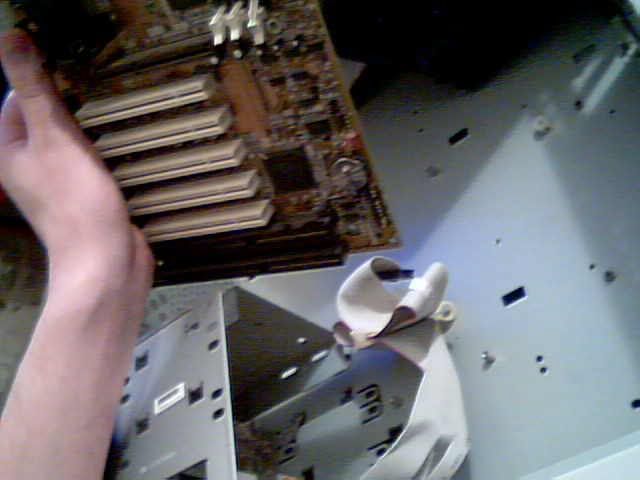 These do not fit.
Starting too big ... let me just find a CPU that fits a motherboard and I will mod the case accordingly.
These do not fit. Fail. o_o
Okay ... do I at least have a case/powersupply combo that fits and has wires that reach?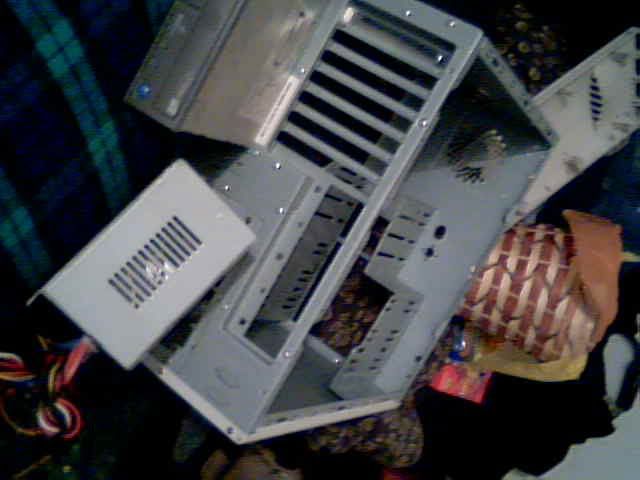 These do not fit.
Think, CH ... think ....
let's start with extreme basics here. I don't give a damn if I use the nVidia TNT2 or the ATi Rage Pro, I just need to get this sucker to POST. Proof of concept.
Okay, several hours of work go into cutting up cases, cutting out power switches and mixing and matching them to the pin configuration I've selected. Found an 80gb hard drive and obtained Windows 2000.
But still ...
No compatable cases with my power supplies or my motherboards. We are doing this balls out. Got a pentium 3 though, and it will probably run on this pentium II motherboard ... both are slot I, pin-compatable. Some work will need done in the BIOS.
Okay. No power switches on these cases path the motherborad correctly. No cases match the power supply. The case is not gonna happen.
That's right. Go commando.
Let's do this dudes.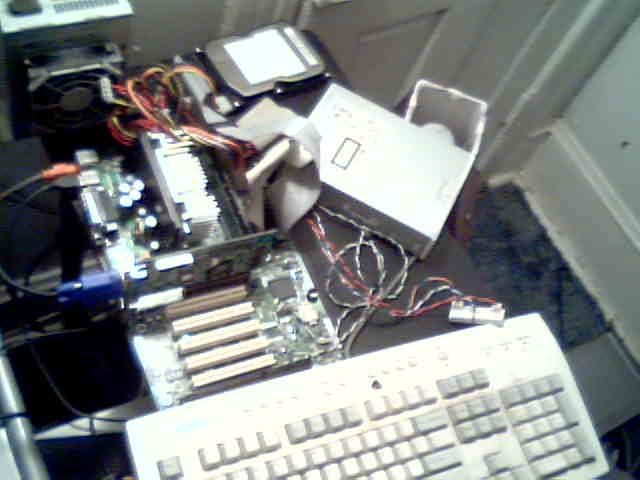 Somewhere, an Intel engineer is screaming, "THAT PENTIUM 3 IS PASSIVELY COOLED, YOU HAVE NO AIRFLOW!"
I have a good response to that though.
Shut up.
Time to press the power button.
(I'm joking I actually got one to work)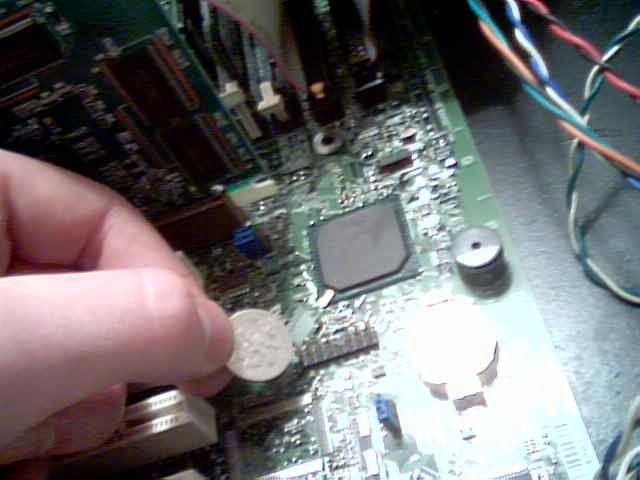 Beep ... whirrrr ... click click .... beep-beep ...
Okay ... I don't know why that worked ... CPU is at the wrong speed, hard drive is not responding, and the A-drive is causing errors. Time to sort through the BIOS for a couple hours ...
Where is that Windows 2000 iso ...?
Well now.
I said myself this was hopeless.
Guess not.
As NTFS writes itself on this hard drive, that vibrates noisily on my wooden stand, somewhere a rip in space and time takes place, as the irrational functionality of a broken series of computers working in tandem destroys the laws of the universe.
CPU
Motherboard
Graphics
RAM
C2D P8700 @ 2533
Asus G72GX (Intel P45)
GTX 260M
6gb DDR2-800
Hard Drive
Optical Drive
OS
Monitor
500gb SATA
DVD-RW
7 Premium x64
Laptop Display 1600 x 900
View all
hide details
CPU
Motherboard
Graphics
RAM
C2D P8700 @ 2533
Asus G72GX (Intel P45)
GTX 260M
6gb DDR2-800
Hard Drive
Optical Drive
OS
Monitor
500gb SATA
DVD-RW
7 Premium x64
Laptop Display 1600 x 900
View all
hide details