Quote:
Originally Posted by
ehume
I think you are confusing two types of fans. The 9S1212H
4
011 is identical to the 9G1212H
4
011 except for something that drops the sound pressure level 4 dB. Hence the 'S' in the name. Their rpm's and blade shapes are absolutely identical. What you're thinking bout is the 9G1212H
1
011. The number following the speed designation is Sanyo's code for the frame thickness: 4 for 25mm, 1 for 38mm. The 9G1212H
1
011 indeed has a significantly higher static pressure.
You can see the 9G1212H
1
01 and the 9S1212H
4
01 in items 1 and 4 of my sig, especially chapter 6 of item 4.
I would recommend the 3000 rpm AP-29 instead. You can do a PWM mod on that and get a PWM Gentle Typhoon that revs to 3000 rpm. Nothing better than that. In general I have found that GT's and 9S's are comparable, so go with the PWM. My next fan purchase will be an AP-29.
Nope, no confusion - and yes there is a difference between S-type and G-type
1. S-Type has 4 struts where as the G-Type only has 3
2. S-Type has a much smaller impeller hub compared to the G-Type
3. Stats listed in the product specifications show the main performance differences:
S-Type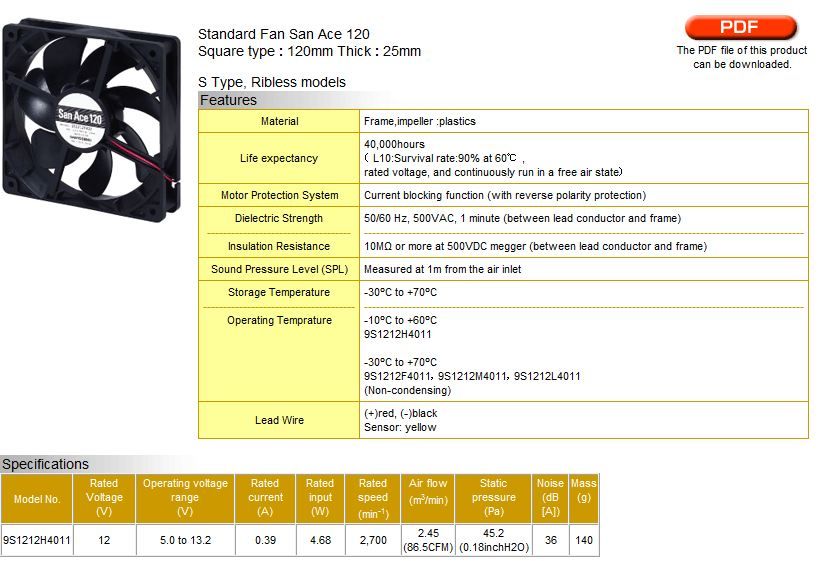 G-Type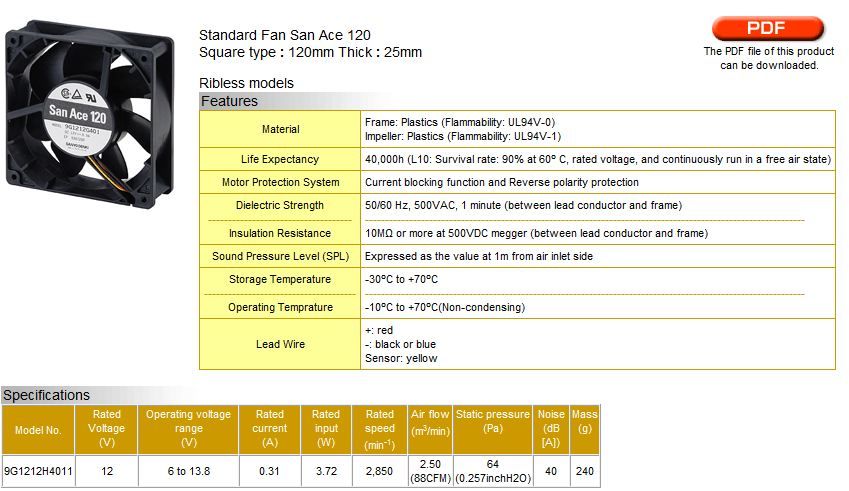 Edit - I re-read what i had originally and it sounds like I am being snippy, so please forgive me if it appeared that way
Edited by vercomtech - 4/9/12 at 7:12pm
CPU
Motherboard
Graphics
RAM
Intel Core i7 2600k
ASUS Maximus IV Extreme-Z
ASUS MATRIX GTX580
Corsair Dominator GT
Hard Drive
Optical Drive
OS
Power
Corsair GT SSD 120
External - "Need my space"
Windows 7 Professional x64
Corsair Professional AX1200
Case
Corsair Graphite 600T
View all
hide details
CPU
Motherboard
Graphics
RAM
Intel Core i7 2600k
ASUS Maximus IV Extreme-Z
ASUS MATRIX GTX580
Corsair Dominator GT
Hard Drive
Optical Drive
OS
Power
Corsair GT SSD 120
External - "Need my space"
Windows 7 Professional x64
Corsair Professional AX1200
Case
Corsair Graphite 600T
View all
hide details