I just got a new Asus EEE PC 1000HE netbook, and I had been excited about getting it for a long time. I was nervous about getting it at first, and I was not all sure what an netbook was capable of, and what I could expect. After playing with it I am rather pleased, and I decided to right this review so that others considering a netbook can benefit from my experience with it, and make a decision of that about whether or not my netbook or another is right for them.

Hardware:
First, we will start with the hardware. As far as netbooks go, the Asus 1000HE has some respectable specs. It features the refined 280 atom processor, which is clocked at 1.66ghz and features a 667fsb. The atom processor is a single core, 45nm, packaged with hyper threading. The netbook boasts the respectable power of the intel integrated 945 express chipset graphics. Reference model comes packaged with a 160gb 5400 rpm HDD, 1gb ddr2 single channel memory (I opted for an upgrade to 2gb), a SD card reader, three USB 2.0 ports, LAN output, wireless N, as well as a headphone and microphone jack. Most unique for the HE is the extended six cell battery, which is rated for up to 9.5 hours of battery. Later in the review I put this claim to the test.
Here is a newegg link:
http://www.newegg.com/Product/Produc...82E16834220505
Size and Appearance/Packaging and Accessories
The Asus EEE PC 1000HE features a nice glossy exterior. The whole package weighs a modest 3.2 pounds ( <1.5Kg). The it has "92% the size of a standard keyboard..." which is inaccurate. It features full alphabet, 12 function keys, two shift keys, in fact everything you would expect to see on a keyboard except a number pad. Many of them have been shrinked, but not so much that they become cumbersome or difficult to use. The letter keys are about the size of a scrabble piece, and my large hands have little trouble typing on them. In fact, this review was written on the netbook being reviewed.
The netbook is 10 inches in size, measured from end to end horizontally. This is a little longer then a pencil. Here are a few pictures to give you an idea: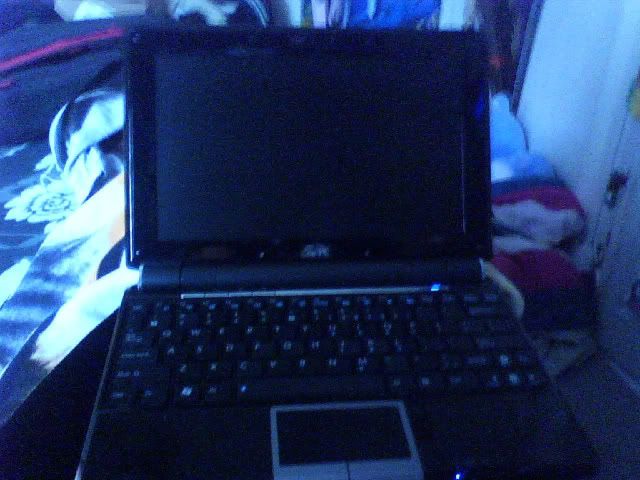 I have big hands:
A woman's hand for comparison:
The netbook comes with a soft black pouch, and a rather nice carrying bag. All of cables had a Velcro strap that makes packaging them very easy. Comes with a small charger, approximately 10 feet (roughly 2.8 meters or so) in length. The bag in soft and lush in side, and includes plenty of space for a few books, pencils and spiral bound notebooks for school. Adjustable shoulder strap allows for easy portability.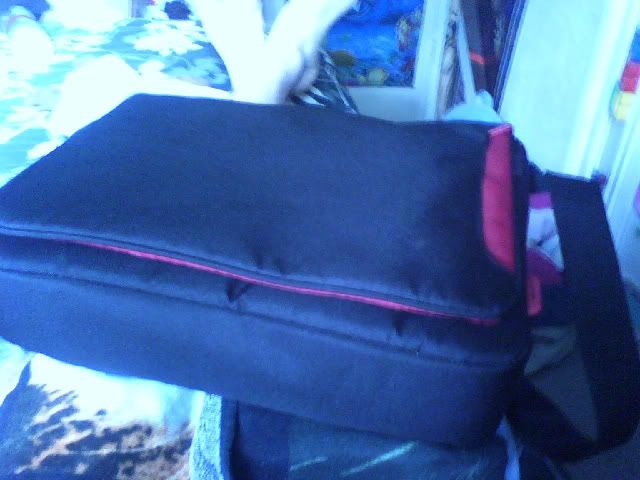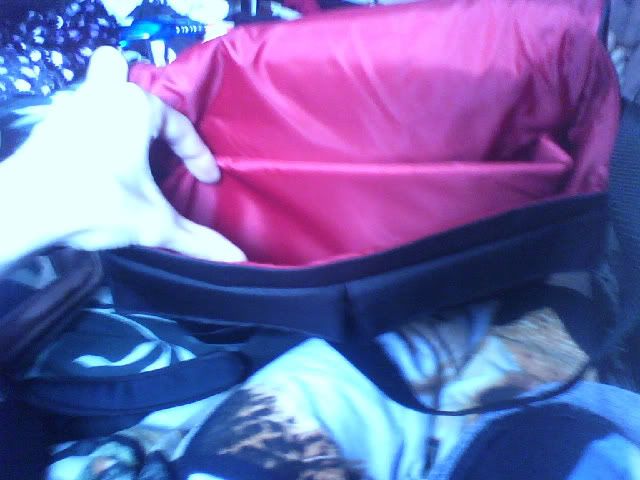 Battery
One of the major selling points of the HE is the "extended battery". Supposedly this can net you 9.5 hours of battery on one charge. Any person who has ever owned a laptop though knows to take that with a grain of salt. My tests proved that the HE does not get 9.5 hours of battery in reasonable circumstances. However, the battery life on it was very respectable and the "all day computing" moniker is somewhat well deserved.
For all my test I disabled the web came, LAN (but not wireless) and blu tooth devices in the bios. The LCD back lighting was at 100%, and never adjusted. Disabling audio and USB controllers, and lowering back light can result in better results, but I figured that this would be a good "typical" setting for most.
In my first test I loaded the system with a combination of prime95 in small ffts and ATI tool in the artifact test (furmark required openGL 2.0 support that the 945 express chipset did not have). I also plugged in my USB Kingston data traveler 100 thumb drive, and played mp3 files at full volume from it. The idea was to simulate full load of all system components. Under these settings the net book achieved a battery life of 4 hours and 18 minutes.
I then took the opportunity to measure the recharge time. From empty to full charge took 3 hours and 48 minutes.
I then tested the battery in real world load. Letting the netbook idle in windows, I placed a heavy object on the keys to keep it from entering sleep mode. The CPU load was at zero, but all devices were enabled. The idea was to simulate the load of mild web surfing or word processing. Under these circumstances, the battery lasted almost exaclty 6 hours and thirty minutes, before it went into sleep mode and refused to come out.
Performance
Wifi
: The wireless capabilities of the netbook were very good. I found it to be noticeably better then my girlfriends 2 year old HP laptop. Using a crappy six year old wireless belkin router, I found I could get wireless connectivity to it in any part of my house. I do not have a resort or mansion, but I do have a decent size home with a large back yard, and the netbook could connect to it rather easily from anywhere indoors or in my backyard. I was even able to stay connected from parts of my neighbors property, although I found connecting back to the router after losing connection difficult from that distance.

General Performance (personal opinion)
: My experience with my netbook has left me satisfied with the overall speed. The netbook takes 38 seconds from pressing the power on to loading the desktop with the packaged windows XP. Web surfing, watching movies, and typing in word documents is not sluggish, although the speed surely isn't mind blowing.

Microsoft Office/Power Point/Excel
: This thing runs like a little champ with the latest version of microsoft office 2007. The native 1024x600 resolution is plenty for viewing web pages and writing reports, whatever.
Gaming
: Gaming performance on the netbook was disappointing to say the least. The 945 express chipset lacks 3d acceleration making a it a very poor performer in most games. The netbook was able to handle Warcraft 3 with ease, making it suitable for some older favorites. In general, frame rates at the highest settings fluctuated between 25-35fps. More then enough for an RTS:
Playing it though I found that setting the resolution to to 1024 by 768 resulted in a larger image then the screen. I had to scroll up and down to see all parts of the action, making 800x600 the best resolution for functionality. WoW however allowed for the image to be resized to the proper resolution. Problems still with that are explained below.
When I tried out another gaming favorite in rune scape though, results were quite disappointing. The game was mostly playable at the standard settings, but were pretty much unplayable in HD. Windowed mode was also a must. Framerates hovered between 15-22 at standard detail.
I also tried World of Warcraft, and if it could have played this game it would have gotten my seal of approval as a basic gaming machine. However, playing WoW on it was difficult. I don't game myself, so I just used the demo trial. In the starter area, with a lot of activity, framerates struggled to be steady at about 10fps. Moving to the lowest settings did little to help, moving frames up to a peak 15 fps. WoW was just barely playable, but in a heated battle with lots of quick reaction and spell casting, the netbook would absolutely not cut it. A screen shot: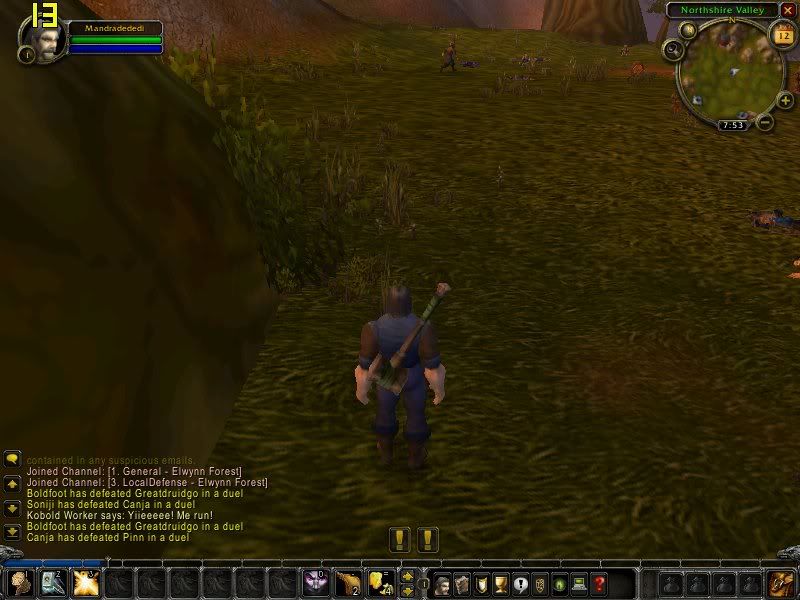 Experience Three Months Later (A review update):


After using the netbook solidly for several months I have come to learn more about the features, the pluses, and the shortcomings. In every way this machine is a very capable for web surfing and portable video watching. I have come to use the function keys quite often, which are very useful for enabling or disabling audio, wifi, back lighting, and screen resolution, as well as volume and and sleep mode, all on the fly. Flash and java games run well, but anything more serious then that is either impossible or takes editing and modifying on a level that makes it hardly worth it.
In a classroom this little wonder is immeasurably useful. Downloading a viewing PDF files is extremely convenient. I can productively study and work with nothing but a ten inch netbook anywhere, at any time of the day, spending more then eight hours away from any wall socket. It is not necessary for me to have to compete for wall outlets in libraries and cafes.
However, on a negative note, my power adapter has become extremely temperamental, frequently refusing to transfer power from a wall socket seamingly at random. Also, the the gloss is a pain to keep clean, and using even quality cleaning products can cause unattractive smearing. I find wetting windex on a paper tool, and then cleaning off the residue with a lightly damp lint free cloth works the best.

Conclusion
Overall I really like the netbook. At the modest price 389, you would have a hard time finding a cheaper and more practical solution for a mobile media, web surfing, and school or business. Has plenty of power for these basic applications.
When it comes to gaming though this model is seriously lacking. For some old favorites this will be fine, but MMO's forget it. It isn't happening. A small bump in graphical power could do a lot to make gaming a selling point. Perhaps the nvidia ion chipset could do a lot for that market segment. Maybe larrabee or a more powerfull OEM could help as well. The key is not to sacrifice efficiency and battery life.
Ok, to brake it down, pros and cons
Pros
Small, light, and very portable
Stylish and sleek
Great Battery life, far better then a notebook
Price
Packaged goodies
Excellent for web surfing and media files
Great WLAN
Cons:
Gaming performance is seriously lacking
Glossy exterior attracts finger prints- badly
Small keyboard is easy to use, but the over sensitive mouse pad results is my frequently accidentally highlighting, deleting and rearranging text on accident. Takes some getting used to.
My rating for the product: 8.5/10
It could be better in a lot of ways, but for what it is and as far as netbooks go it is one of, if not the best offer out there right now. I would highly recommend it.
Edited by mothergoose729 - 4/15/10 at 11:28am