Hi,
Up to now i've just accepted my build "as is" but want to try and squeeze some more performance out of it. Before I start to overclock it I want to make sure that all my settings are correct. I was looking at CPU-Z and looked at my memory settings: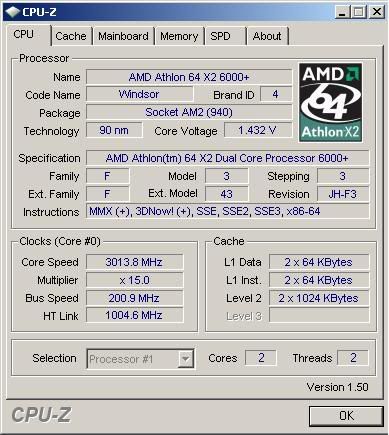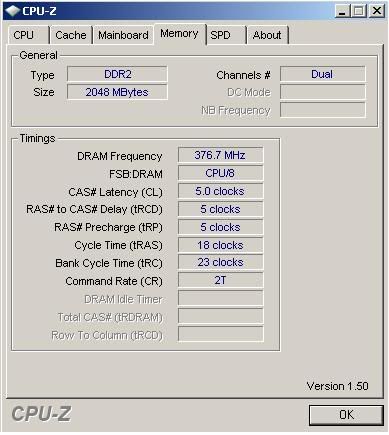 My memory is: Corsair TWIN2X2048-6400C4 DDR2 800
Looking at the Corsair Website it says:
Tested at latency settings of 4-4-4-12 at 2.1V
JEDEC standard 5-5-5-18 values at 800MHz
EPP standard 4-4-4-12 values at 800MHz
What does this mean, can I set them to 4-4-4-12 setting and would this be better than the 5-5-5-18 setting its seems to be currently set at.
Many Thanks
CPU
Motherboard
Graphics
RAM
AMD 64 6000+
ASUS M3N-HT Deluxe
XFX GTX260 Extreme 216 Core (x2 in SLI)
Corsair XMS2 TWIN2X2048-6400C4 PC2-6400 2x2GB Kit
Hard Drive
Optical Drive
OS
Monitor
Samsung F1 1TB 7200
Sony DVD/RW
Windows XP, 7
22" Widescreen TFT
Keyboard
Power
Case
Mouse
Logitech G15
Ernamax 650w
Antec P180
Logitech Wireless
View all
hide details
CPU
Motherboard
Graphics
RAM
AMD 64 6000+
ASUS M3N-HT Deluxe
XFX GTX260 Extreme 216 Core (x2 in SLI)
Corsair XMS2 TWIN2X2048-6400C4 PC2-6400 2x2GB Kit
Hard Drive
Optical Drive
OS
Monitor
Samsung F1 1TB 7200
Sony DVD/RW
Windows XP, 7
22" Widescreen TFT
Keyboard
Power
Case
Mouse
Logitech G15
Ernamax 650w
Antec P180
Logitech Wireless
View all
hide details