Summary: OCZ Vertexes in RAID-0 outperform WD Raptors in RAID-0 by a factor of four.
Both RAID block sizes are set to 128k, because the X38 onboard RAID controller doesn't allow larger sizes.
Pay close attention to the scale of the graphs. They are very different.
My first test was using HD Tach in compatibility mode. I like HD Tach, but it made me nervous to use it in compatibility mode.
Vertex Results: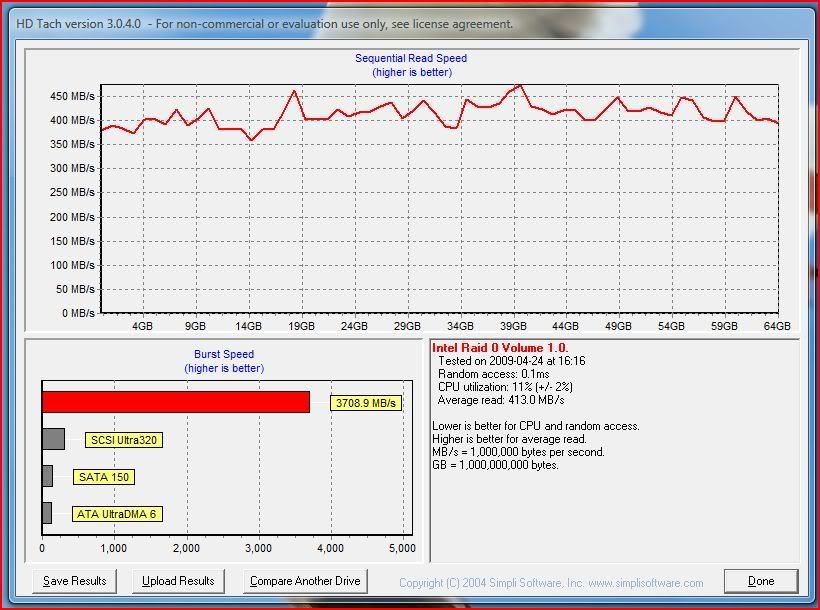 Raptor Results: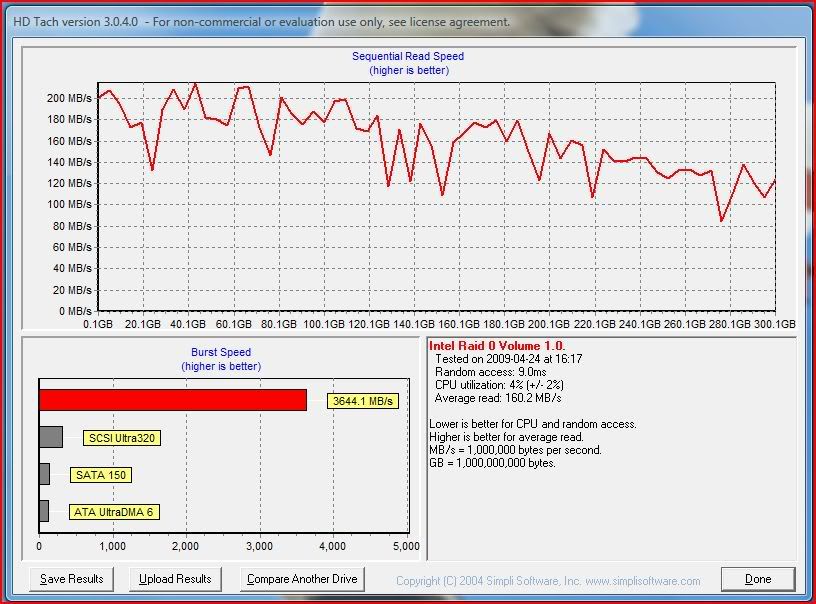 Then, I ran an Everest "read suite" test on both:
Finally, I did an HD Tune on both volumes using the default 64k chunk size (let me know if any of you want different chunk sizes tested; these can dramatically affect performance in RAID-0)
Vertex Results (notice the access times pegged at the bottom):
Raptor Results (not sure about the down-spike):
Finally, you can see that all of Vista with drivers installed leaves plenty of room for other stuff on the SSDs. Note that the Raptors are currently empty (perfect place for program files) and that I have a networked drive for all media/backup stuff in case my RAIDs die. Also, note the 80GB drive (e:\\), whose sole function is to handle the pagefile.
Edited by Dostoyevsky77 - 4/24/09 at 2:10pm
CPU
Motherboard
Graphics
RAM
E8400 @ 4.23 (470x9, 1.40v)
ASUS Rampage Formula X38 0403 (Maximus 1.03G Hack)
EVGA GTX 280 670/2430/1458 & EVGA 9600GT SC
4x1GB Ballistix PC2-8500, 1128MHz, 2.18v
Hard Drive
Optical Drive
OS
Monitor
2xWD Raptor 150 @ RAID 0 + Pagefile HDD
2 Sony DVD/RW
Vista Ultimate x64 SP1
Samsung 244T & Samsung 940B
Keyboard
Power
Case
Mouse
Logitech G15
1.1kW Tagan TG1100-U96
NZXT Zero (Modded)
Logitech MX Revolution
Mouse Pad
QPAD XT-R
View all
hide details
CPU
Motherboard
Graphics
RAM
E8400 @ 4.23 (470x9, 1.40v)
ASUS Rampage Formula X38 0403 (Maximus 1.03G Hack)
EVGA GTX 280 670/2430/1458 & EVGA 9600GT SC
4x1GB Ballistix PC2-8500, 1128MHz, 2.18v
Hard Drive
Optical Drive
OS
Monitor
2xWD Raptor 150 @ RAID 0 + Pagefile HDD
2 Sony DVD/RW
Vista Ultimate x64 SP1
Samsung 244T & Samsung 940B
Keyboard
Power
Case
Mouse
Logitech G15
1.1kW Tagan TG1100-U96
NZXT Zero (Modded)
Logitech MX Revolution
Mouse Pad
QPAD XT-R
View all
hide details