woah.. its been a while, and I've been busy taking a CalcII class so its been kinda hard to find some time to work on this build. But, good news, I got some updates for ya.
I've decided to turn this into a dual loop. one for the cpu and nb/sb and the other for the GPU's. Parts have been ordered and have already arrived. I ordered another MCP355 w/XSPC top to power the GPU loop.
I am also building a custom stand that will raise the pump for the GPU's off of the bottom of the case sa well as hide the PSU cables as they are fed behind the mobo tray. TDN1979 is Powdercoating the pieces as I type this.
I have just finished lapping my i7. This was my
first
lap job, and i think it turned out amazing. I used 400 / 800 / 1000 / 1500 / 2000 grit sandpaper. I also polished it with some IC Diamond, and it was well worth it. Descriptions below:
400 grit:
800 grit: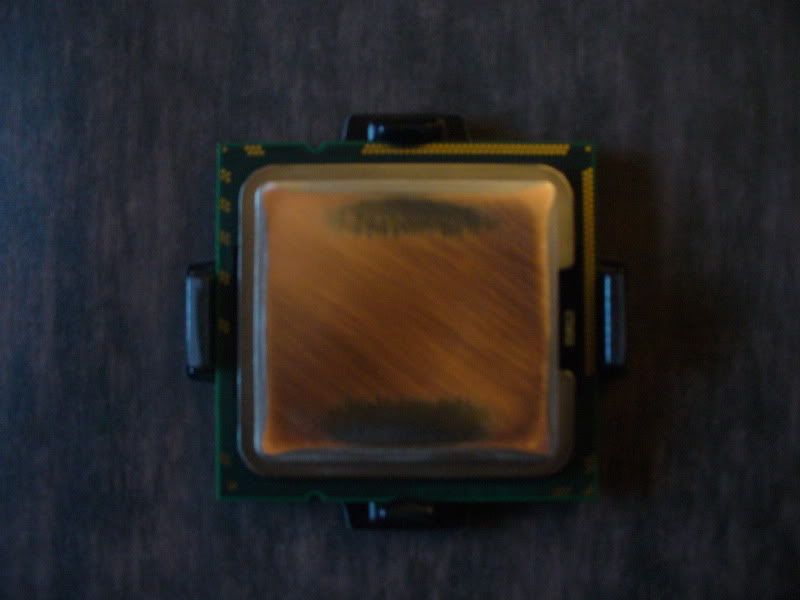 1000 grit:
1500 grit: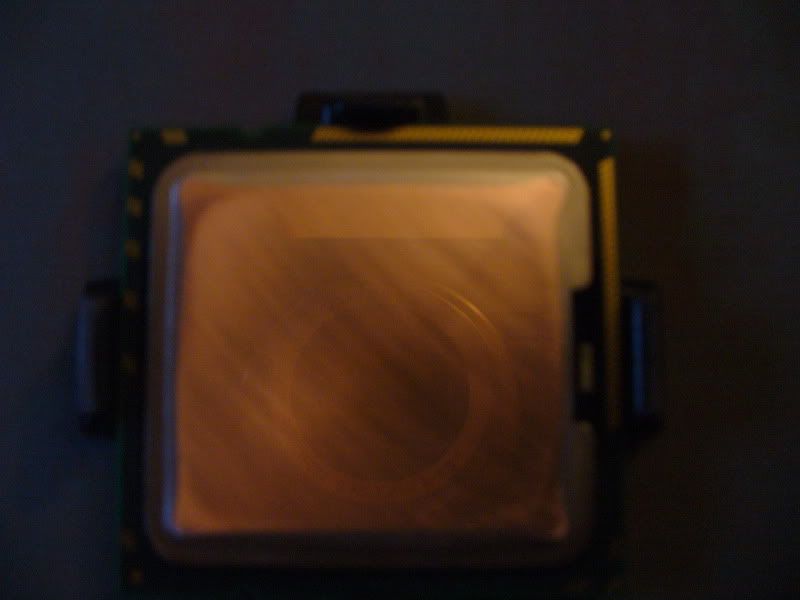 2000 grit:
I thought that I was gonna leave it at this. There were still scuff marks when looking at it form straight on, but at the right angle it it had a good reflection.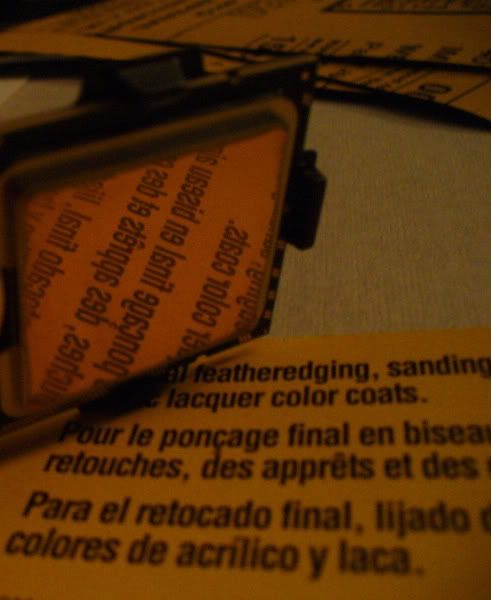 Polishing job with IC Diamond:
I read about this in the IC Diamond give-away thread in the forum so I thought I'd give it a shot.
Step 1: Warm up the TIM. I put some water in a glass and put it in the microwave for 45sec. I then let the IC Diamond sit in the glass for a few minutes:
Step 2: spread a little on the CPU, and wipe it in with a polishing cloth or a cloth to clean lenses. Repeat. I did this step 3 times.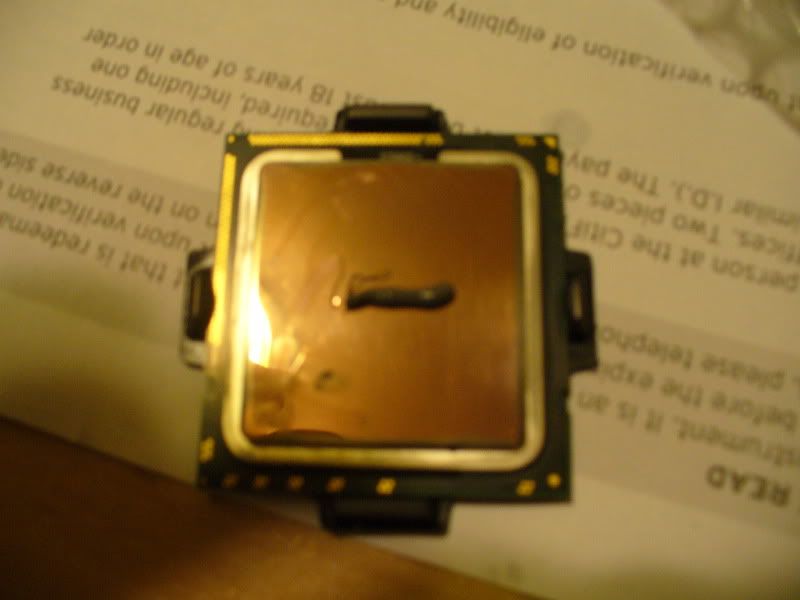 Step 3: take pictures of a perfect finish: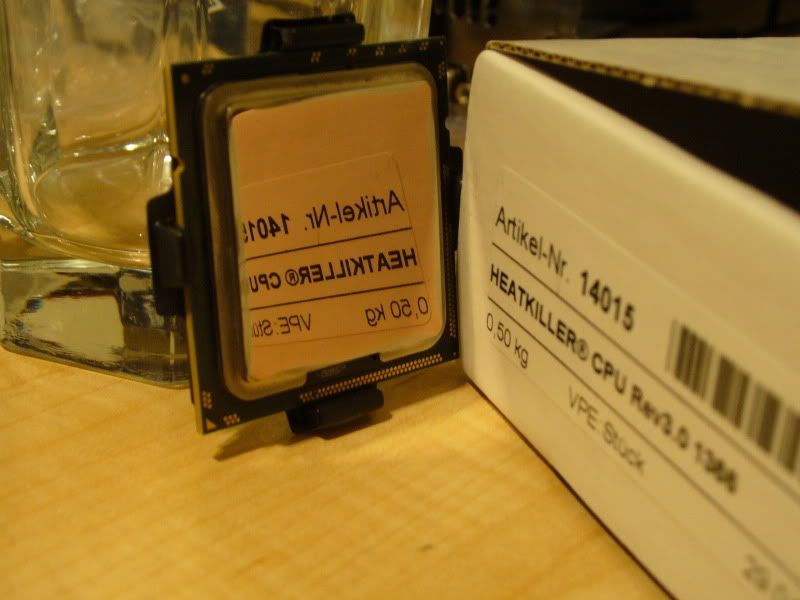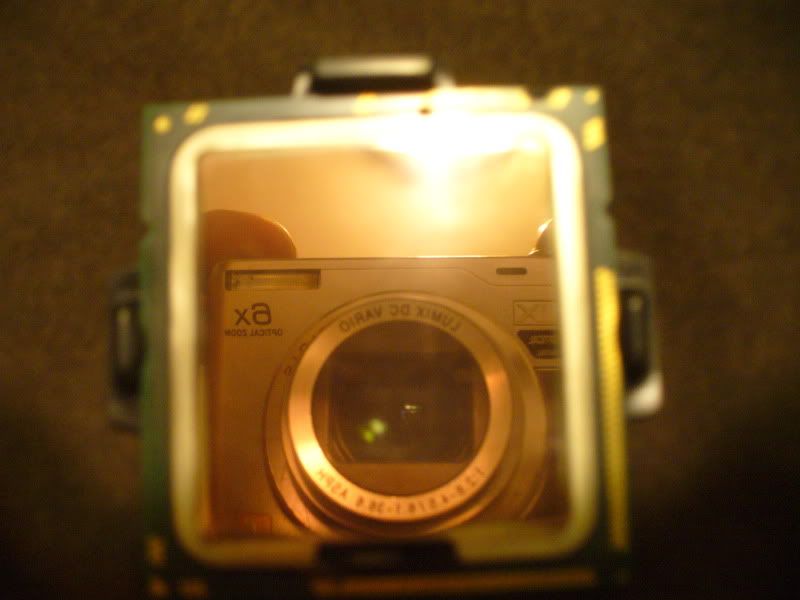 I'm about to start working on mounting the Bitspower NB/SB and the Heatkiller so that I can hopefully do my leaktesting tonight or tomorrow I want to get my CPU loop up and running while I wait on the parts from TDN1979.
Edited by SiNiSt3r - 6/15/09 at 8:51pm
CPU
Motherboard
Graphics
RAM
Intel I7
EVGA Classified
GTX 275 in SLI
Corsair Dominator 3x2GB
Hard Drive
OS
Monitor
Keyboard
150gb WD Raptors RAID 1 750gb WD RAID 1
Slackware
2x Asus VH226H 1080p 3840x1080
Logitech Slim
Power
Case
Mouse
Silverstone 1200
Silverstone TJ09
Razer
View all
hide details
CPU
Motherboard
Graphics
RAM
Intel I7
EVGA Classified
GTX 275 in SLI
Corsair Dominator 3x2GB
Hard Drive
OS
Monitor
Keyboard
150gb WD Raptors RAID 1 750gb WD RAID 1
Slackware
2x Asus VH226H 1080p 3840x1080
Logitech Slim
Power
Case
Mouse
Silverstone 1200
Silverstone TJ09
Razer
View all
hide details