Quote:
Originally Posted by
Pavo
for the love of god idle temps don't mean **** unless you post your ambient!!!! Give us a reference. If you're ambient is mid 20's than low 30's idle is fine. Now if your ambient is like 20degrees or less and your idleing at around 34 than yes you prob need to reseat it, but honestly post your ambients to give us an idea and a reference when talking about temps. Otherwise its just a bunch of numbers nothing more.
Ambient 39*C, CPU 43*C... You are telling me this is normal? :O
I'm about to purchase that TIM (probobly the TIM that comes stock on the H50) + 2x UK3000s! I will also use a fan shroud, and use electrical tape to make sure nothing gets out of the push/pull setup.. sound good?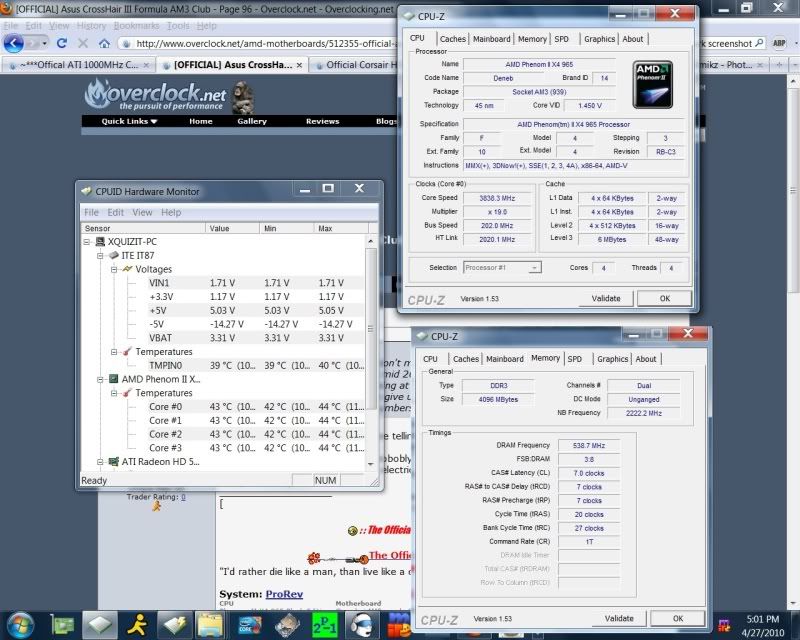 BIOS Settings:
Load Line calibration
extreme ov -
what do you guys have down for these?
My cpu voltage is shown in the picture, and everything else is on auto... Even my timings are on auto on my memory, except I upped the voltage..aren't I suppose to leave it lower than stock voltage..since it was posted for 7-8-7-24 @ 1600MHz 1.6v... and I have it around 1.7v and on auto (don't know why).. anyways.. I'm really lost...and I'm starting to think temps are a problem!
Edited by xquisit - 4/27/10 at 5:05pm